Interview: Paul M. Berger on "Subduction"
– Your story in the July/August issue of Fantasy & Science Fiction is about both literal and figurative "Subduction." For readers unfamiliar with the term, what is subduction?
Subduction is a geological process, which means I can only explain it with a massive oversimplification: When two tectonic plates collide head-on, the denser one gets pushed downward. It eventually disappears into the Earth's mantle, which is a layer where the pressures and temperatures are so great that solid rock flows like a slow liquid.
The friction and tension between the two tectonic plates causes earthquakes, and the collision can grow mountains. And when the edge of a plate encounters the mantle, it starts to melt, which leads to volcanoes. All this happens especially often where the plates under the Pacific Ocean meet the surrounding continents, which is why that area is called "the Ring of Fire."
In an amazingly cool instance of synchronicity, on the day that this issue of F&SF first appeared in bookstores, xkcd ran a comic titled "Subduction License."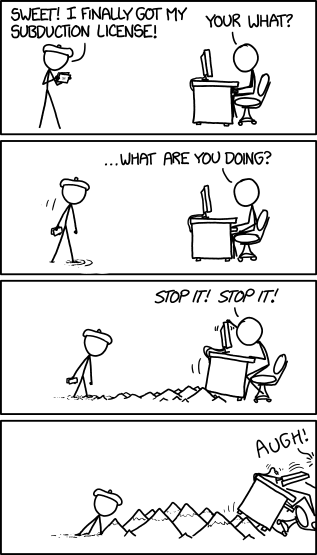 That pretty much sums it up.
– This is a contemporary fantasy that takes place in the Pacific Northwest. Is it a spoiler if I mention that there are dragons in this story?
Yeah. Yeah it is. Thanks a lot.
– Oh. Sorry!
So how would you describe Oliver, the protagonist of "Subduction"?
When we first see Oliver, he is a damaged, fragile shell of a man. He can't remember anything about himself, and he does a lot of watching and waiting because his conscious mind has no answers for him. He is, though, driven to act in odd ways by some other part of himself. His past and his personality are revealed to him in two or three stages throughout the story, until – just briefly – the whole situation is perfectly clear.
The inspiration for Oliver came from a couple of accounts of amnesia, one from someone I know personally, and in particular one news story that stuck in my mind from years ago: An American Fullbright scholar was traveling alone in India when he had a psychotic break caused by his anti-malarial medication, and he lost all memory of who he was and why he was there. He was taken in by people who assumed he was just another slacker drug addict, and because he was hungry for a persona he accepted that as his identity, until his memories started trickling back weeks later. Oliver is struggling with that same level of blank-slate vulnerability, and he is better than the people around him suspect.
– You're a docent at the American Museum of Natural History in New York. How does that work connect with and inform your fiction writing, in this story and in general?
What appeals to me about speculative fiction is that I love asking, "What if?" and then seeing how weird and beautiful the world around us could get. The American Museum of Natural History fits right in with that because it's a massive collection of things that demonstrate how weird and beautiful and thought-provoking the world already is. The tours I give go on far too long because the theme usually boils down to "Things That I Think Are Cool to Think About," and my visitors and I get excited to discuss them.
Subduction and the other geology concepts I reference in this story are all material I had to master in order to give tours in the Gottesman Hall of Planet Earth. The creatures are inspired by ocean life exhibits. And to be honest, I was totally stuck on the ending of this story, until the 120-year-old transformational dance masks in the Hall of Northwest Coast Indians came to mind, and I found a way to incorporate that idea into the plot.
– "Subduction is included in the free edition of F&SF for Kindle (http://www.amazon.com/Fantasy-Science-Fiction-Exclusive-Digest/dp/B004ZFZCKY/) and Kindle UK (http://www.amazon.co.uk/Fantasy-Science-Fiction-Extended-Edition/dp/B004ZFZ4O8/), so people have the chance to read it even without buying the issue. (Editor's note: you should totally still buy the issue.) Where can people go if they want to find some other stories by you?
My story "The Muse of Empires Lost" is reprinted in Rich Horton's Space Opera, which just came out – I'm a little stunned to be included in such an impressive table of contents.
Most of my stories have appeared in print anthologies, but "Stereogram of the Gray Fort, in the Days of Her Glory," which got some good critical attention, is online at Fantasy Magazine. There's also a podcast of it on Podcastle. (Ann Leckie does one of the voices!)
I had a lot of fun with "Small Burdens," which is on Strange Horizons.
A podcast of "Subduction" is currently in production by StarShipSofa.com.
And you can see a bit more about me at paulmberger.com.
– "Subduction" by Paul M. Berger appears in the July/August issue of Fantasy & Science Fiction. It's available in both print and electronic formats.
comments
Copyright © 2006–2020 The Magazine of Fantasy & Science Fiction • All Rights Reserved Worldwide
Powered by WordPress • Theme based on Whitespace theme by Brian Gardner
If you find any errors, typos or anything else worth mentioning, please send it to sitemaster@fandsf.com.

Designed by Rodger Turner and Hosted by: