Editor's Note for May/June 2015
Welcome to the 719th issue of the Fantasy & Science Fiction, which goes on sale today!
This month's cover is by Michael Garland, his 15th for the magazine, but his first since 2005. (He was the artist for one of my favorite covers for one of my favorite stories ever in F&SF, Bradley Denton's "Sergeant Chip" in the September 2004 issue.) Garland is one of the most stylistically diverse artists to ever do work for F&SF – even if you put his covers side-by-side-by-side you might not see any similarities. His art always captures the unique character of each story. (These days he's also become well known for writing and drawing picture books. You can see more of his work for children here.)
Garland's cover illustrates "Entanglements" by David Gerrold. "Entanglements" is the thematic sequel to "The Martian Child," which appeared in our September 1994 issue and went on to win the Hugo, Nebula, and Locus awards (and which, in 2007, was made into a film starring John Cusack). But you don't need to have read the original story to appreciate this new one.
Lisa Mason had an amazing career through the 1990s, which culminated in one of her stories being optioned and sold to Universal Pictures. She followed the story to Hollywood where she launched a new career writing screenplays. At long last she returns to our magazine. Her story "Teardrop" combines surfing, aliens, and Jupiter. You can see why we're glad to have her back.
"Teardrop" is the free story in this month's Kindle Digest edition. That means for the next two months, you can download and read it for free on any Kindle app.
Over the years, few writers who've appeared in F&SF have displayed as much range and versatility as Albert Cowdrey. His stories frequently defy genres as well as expectations. "The Laminated Man" in this month's issue is no exception.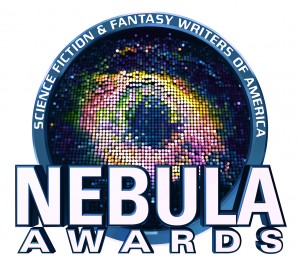 Sarah Pinsker's previous story for F&SF—"A Stretch of Highway Two Lanes Wide," in our March/April 2014 issue—is a finalist for this year's Nebula Award given by the Science Fiction and Fantasy Writers of America. "Today's Smarthouse in Love" in the current issue explores many of the same themes about the growing interdependence and independence of technology. Or maybe, it's just a charming love letter to houses both old and new.
"Four Seasons on the Forest of Your Mind" is Caroline Yoachim's first appearance in F&SF. She has a graduate degree in psychology, which she applies here to alien brains. Alien brains!
The Pleistocene era in North America was inhabited by mammoths and mastodons, dire wolves and saber-toothed cats, giant sloths and other enormous creatures. Which is something to keep in mind when you're planning to travel there, like the main characters in "Trapping the Pleistocene" by James Sarafin.
This month's novella is by Robert Grossbach. When I asked him if there was anything readers needed to know about "Entrepreneurs," he replied that there was just one: "Everything in this story is true," which will raise questions for you as soon as you start reading the story.
Amy Sterling Casil debuted in F&SF and published many of her early stories here. We are happy to see her return to these pages after many years with "In the Time of Love."
Our final story for the issue is "A Turkey With Egg on His Face." Rob Chilson explains that he wrote it as a result of re-reading a bunch of Avram Davidson's short stories. "I found myself thinking in an echo of his distinctive voice, and a number of elements came together to give me the basic idea for the story. Naturally it had to be written in my best version of Davidson. He had a unique ability to tell a story—from Avram to you—without getting himself between you and it. That's not easy, son!" Many people know Davidson as a writer, but not everyone knows that he was also editor of F&SF for several years.
The issue also has all the usual columns, which you can read online. Charles de Lint reviews new books by Alice Hoffman and Michelle Gagnon, Melissa F. Olson and others. Elizabeth Hand reviews new books by Kelly Link, Eleanor Arnason, and John Connolly. Film reviewer David Skal discusses "Into the Woods" and "Predestination," the latter based on Heinlein's "All You Zombies—" which was originally published in F&SF.
You can order print or digital copies of the issue here: https://www.sfsite.com/fsf/toc1505.htm
Have a great read!
comments
Copyright © 2006–2020 The Magazine of Fantasy & Science Fiction • All Rights Reserved Worldwide
Powered by WordPress • Theme based on Whitespace theme by Brian Gardner
If you find any errors, typos or anything else worth mentioning, please send it to sitemaster@fandsf.com.

Designed by Rodger Turner and Hosted by: