– Tell us a bit about "In the Time of Love."
The story is dedicated to Christopher Hull, who is a visionary genius and maker. Among many other important projects he has done, Chris was the original development team leader for the Amazon Kindle. He is part of our publishing venture, Chameleon (mentioned below). In being around Chris and other "makers," I came to see their different way of perceiving the world. I had been thinking about and researching basic physics questions like "What is time?" and "What is space?" I learned of the amplituhedron – a developing tool used by physicists to explore the as-yet misunderstood nature of space and time on a quantum level.
– What was the inspiration for this story, or what prompted you to write it?
A few years ago when I was living in Playa del Rey, I had a charming neighbor who often grilled at the same time I did. One day we were grilling and I mentioned I was a sci-fi writer. "I'm global personnel director for Northrop," he said. He averred he loved sci-fi and talked about some of the Northrop-Grumman projects that were in development. "You know 'beam me up Scotty?'" he said. "We're working on that." Yes – an actual "transporter." I said, "I bet if people actually started using that, they'd use it to make it easier to steal things and get away, and to cheat on their partners." He laughed and agreed with me.
If you really think about it, such a transporter would be like texting on steroids. "Where are you?"
"Oh, just at the store, honey — be back in a minute."
Then, I got to know Chris and became close friends with him. I started thinking about the difference between theory and application. When I learned of the amplituhedron ("ampy") in the story, I pictured Chris making it. If someone actually made something that could alter the progress of time (in the story, it's portrayed as "stopping time"), chances are – they'd first use it exactly as Brian did in the story. Later, they might feel differently. They would change their perception of how such a thing could be used. If – they were similar to Chris – and the other makers I know.
– Was "In the Time of Love" personal to you in any way?  If so, how?
See above. Brian in the story is a "maker." His emotional intelligence is a poor match for his inventive intelligence and skill. I was interested in writing not just on the topics, but the difference between people like me, and people like Brian.
– What kind of research, if any, did you do for this story?
It was an outgrowth of my ongoing interest in theoretical physics, and also my journey in understanding the work process of visionary makers. I guess you could call that "research." I made friends with Annika O'Brien the roboticist a couple of years ago. One of the first things she said when I got to know her was "I can smelt aluminum and make a swarm of hovercopters!" Well, most mornings I'm lucky to be able to make pancakes. That joy of creation and discovery is part of the story. It runs across every person with these extraordinary abilities that I know.
– What are you working on now?
My partner Bruce White and I are finishing a story for an anthology called Forbidden Thoughts. It's about an ordinary guy whose life collides with a society of 40,000 year old Amazon women who've discovered their impending mortality, and need to reproduce before they die. Most of my time is spent on Chameleon Publishing and our slate of authors and publications. I am also writing an extensive article for Analog about Kalev Leetaru, the visionary creator of the GDELT project (Global Database of Events, Language and Tone). GDELT is the real-world realization of what Asimov called "psychohistory". It covers every global news event in the majority of world languages and media from 1979 to the present. It's extraordinary, as is Kalev, whose ambition is to change the world by showing it what it really is, not what it thinks it is. I am halfway through the second book in my series of fantasy novels (Like Fire, Like Light, Like Life). The first book will be published next year by Chameleon Publishing, with illustrations (already complete) by award-winning illustrator Kirbi Fagan.
– You have your own press, Chameleon Publishers – could you tell us about that?
Chameleon is "making books like oreos and treating writers like Henry Ford." Only two of our founding team have extensive experience in the publishing industry. The rest are comprised of Fortune 100 executives like Bruce White, top tech recruiters like Laurie DeGange, and creators of the devices upon which e-books are read, like Chris Hull. We are incorporating the legacy imprint of Alan Rodgers Books (4,000 titles in the Ingram catalog) and are not using a traditional publishing model. We are focusing on long-term author partnerships and the business model is based on emerging, successful companies in North America I have worked with as part of my business development practice over the past four years. We are still in proof of concept phase, but have released our first major new book: Is SHE Available? by Igor Goldkind. Igor is one of our partners and a founder. For two decades, he was the top graphic novel publicist in the UK and Europe, and is himself, a visionary creator. I can put Is SHE? into a concise context now thanks to Mal Earl, who is one of the 26 internationally-known artists whose work is featured in the book, which is far more than a single book, but rather an ongoing transmedia project. "There really is nothing quite like it out there. A synthesis of sequential storytelling, beat poetry and visual design… Words are not enough. You have to see it to believe it!"
20 percent of North American adults regularly buy and read books, yet we have nearly 100 percent literacy. It is our belief that the reason more people do not buy and read books regularly is that they are not presented work that interests them, in market channels to which they'd respond. In no other industry in which I, or any other Chameleon partner has worked, is the basic product and worker so-little valued and the work process so unexamined or taken for granted.
The system of publishing, whether traditional publishing, or self-publishing, is broken as far as meeting the needs of a population with near-100 percent literacy, in a world where more women than men have achieved college education for more than a decade (by 2020, more women than men will graduate from college in all but a handful of nations worldwide).
At this point, I believe that our next revolution isn't the tech or maker revolution, it's the creativity revolution. Books are the only product yet-known by which complex ideas and feelings may be communicated across time and space. Don Quixote was the first novel, and the first bestseller, in 1605. And it remains a best-seller today. We are working with authors, artists, and designers with this in mind.
"In the Time of Love" appears in the May/June 2015 issue of F&SF.
– Tell us a bit about "Trapping the Pleistocene."
It's based on my last trip to the Pleistocene, except the otter scene; I made that up.
– What was the inspiration for this story, or what prompted you to write it?
A few years ago on www.trapperman.com, some of the people posting there were talking about how interesting it would be to trap the giant furbearers of the Pleistocene. I began playing around with that concept to see if I could make a story out of it. I wasn't aware of any other SF story focused on trapping furbearers, so I decided to try to write the first. At least I think it's the first.
– Was "Trapping the Pleistocene" personal to you in any way?  If so, how?
I grew up on the edge of farm country on the west side of Columbus, Ohio, so I thought it would be fun to set the story in that part of the country. I always loved the outdoors and spent a lot of time tramping the fields and woods behind my house. When I was in high school a friend showed me how to trap muskrats, and I was amazed that a fur buyer would actually pay you money for the pelts. I thought it beat working at McDonald's, so I began running my own trapline for muskrats, mink, raccoon, and fox, checking my traps every morning before school. There were no beaver or otter in Ohio in those days, or at least very few. (Individual trappers and trappers' organizations have been instrumental in restoring these and other fur-bearer populations in the Lower 48.) I should also mention that one of my brothers runs a seventy-mile wilderness trapline here in Alaska. It's his winter job; summers he works as a fisheries biologist.
– What kind of research did you do for this story?
Beaver behavior and trapping methods I learned from trapperman.com, to the extent they might be applicable to a beaver the size of a bear. Also I researched astronomy (thanks to www.cloudynights.com) and tried to figure out where some of the nearer stars might be positioned 25,000 years ago. That latter bit was a toughie; any inaccuracies should be blamed on the vagaries of our galaxy, not on the author.
– What are you working on now?
A mainstream novel. Also have a few science fiction and fantasy short story ideas percolating in my head, where things take a while to develop.
– Anything else you'd like to add?
Trappers get kind of a bum rap in today's world, and a lot of people don't even realize they still exist. Trappers tend to have a keen interest and love of the outdoors, and care about the renewable resources they harvest every fall and winter. Will trapping survive the next hundred years? For this story I imagined it might survive on agrarian enclaves that preserve the rural culture.
"Trapping the Pleistocene" appears in the May/June 2015 issue of F&SF.
Welcome to the 719th issue of the Fantasy & Science Fiction, which goes on sale today!
This month's cover is by Michael Garland, his 15th for the magazine, but his first since 2005. (He was the artist for one of my favorite covers for one of my favorite stories ever in F&SF, Bradley Denton's "Sergeant Chip" in the September 2004 issue.) Garland is one of the most stylistically diverse artists to ever do work for F&SF – even if you put his covers side-by-side-by-side you might not see any similarities. His art always captures the unique character of each story. (These days he's also become well known for writing and drawing picture books. You can see more of his work for children here.)
Garland's cover illustrates "Entanglements" by David Gerrold. "Entanglements" is the thematic sequel to "The Martian Child," which appeared in our September 1994 issue and went on to win the Hugo, Nebula, and Locus awards (and which, in 2007, was made into a film starring John Cusack). But you don't need to have read the original story to appreciate this new one.
Lisa Mason had an amazing career through the 1990s, which culminated in one of her stories being optioned and sold to Universal Pictures. She followed the story to Hollywood where she launched a new career writing screenplays. At long last she returns to our magazine. Her story "Teardrop" combines surfing, aliens, and Jupiter. You can see why we're glad to have her back.
"Teardrop" is the free story in this month's Kindle Digest edition. That means for the next two months, you can download and read it for free on any Kindle app.
Over the years, few writers who've appeared in F&SF have displayed as much range and versatility as Albert Cowdrey. His stories frequently defy genres as well as expectations. "The Laminated Man" in this month's issue is no exception.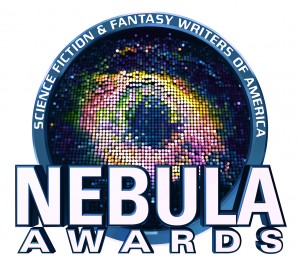 Sarah Pinsker's previous story for F&SF—"A Stretch of Highway Two Lanes Wide," in our March/April 2014 issue—is a finalist for this year's Nebula Award given by the Science Fiction and Fantasy Writers of America. "Today's Smarthouse in Love" in the current issue explores many of the same themes about the growing interdependence and independence of technology. Or maybe, it's just a charming love letter to houses both old and new.
"Four Seasons on the Forest of Your Mind" is Caroline Yoachim's first appearance in F&SF. She has a graduate degree in psychology, which she applies here to alien brains. Alien brains!
The Pleistocene era in North America was inhabited by mammoths and mastodons, dire wolves and saber-toothed cats, giant sloths and other enormous creatures. Which is something to keep in mind when you're planning to travel there, like the main characters in "Trapping the Pleistocene" by James Sarafin.
This month's novella is by Robert Grossbach. When I asked him if there was anything readers needed to know about "Entrepreneurs," he replied that there was just one: "Everything in this story is true," which will raise questions for you as soon as you start reading the story.
Amy Sterling Casil debuted in F&SF and published many of her early stories here. We are happy to see her return to these pages after many years with "In the Time of Love."
Our final story for the issue is "A Turkey With Egg on His Face." Rob Chilson explains that he wrote it as a result of re-reading a bunch of Avram Davidson's short stories. "I found myself thinking in an echo of his distinctive voice, and a number of elements came together to give me the basic idea for the story. Naturally it had to be written in my best version of Davidson. He had a unique ability to tell a story—from Avram to you—without getting himself between you and it. That's not easy, son!" Many people know Davidson as a writer, but not everyone knows that he was also editor of F&SF for several years.
The issue also has all the usual columns, which you can read online. Charles de Lint reviews new books by Alice Hoffman and Michelle Gagnon, Melissa F. Olson and others. Elizabeth Hand reviews new books by Kelly Link, Eleanor Arnason, and John Connolly. Film reviewer David Skal discusses "Into the Woods" and "Predestination," the latter based on Heinlein's "All You Zombies—" which was originally published in F&SF.
You can order print or digital copies of the issue here: https://www.sfsite.com/fsf/toc1505.htm
Have a great read!