F&SF, January 1962
For the past six or seven months, we've been doing a #TBT (Throw Back Thursday) feature on the F&SF Twitter account and Facebook page. For the new year, we thought it might be good to add them here where they can be easily found under the "F&SF History" tag.
* * *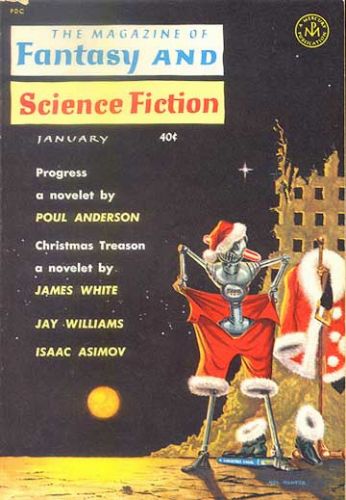 #TBT to the January 1962 issue of F&SF with this holiday lonely robot cover by Mel Hunter. We featured this cover last month as one of the classic Christmas-themed illustrations from F&SF, but the fiction is also worth noting.
The issue leads with "Christmas Treason" by James White, in which a group of children with special powers decide to help Santa Claus. Worried that Santa can't visit everywhere in the world, they hijack the world's ICBMs and replace nuclear payloads with toys. The children with talents in his story feel very much like a group of proto-X-men. (Prof. X and his gifted youngsters first appear in 1963.) White lived in Northern Ireland and was anti-violence, even in his fiction, a theme which shows up in this novelet.
White's story is followed by one of Grendel Briarton's Feghoots, this one about the migration of neo-beatniks to the moon around 1980. As might be expected, the only violence done by Feghoot is to the English language. Dig it or go back to Squaresville!
Then there's "A Time to Keep," Kate Wilhelm's first story for F&SF. There was a Special Kate Wilhelm issue in September 2001. Harrison is an English professor who keeps stepping through doorways to other, distressing places, with escalating effects as he returns. One of his colleagues and his doctor try to help him, but it may be too little too late. Fifty-four years after being published, Wilhelm's story still holds up very well.
It's followed by Jay Williams wry "Interplanetary Sex," which depends more on the mores of the period and seems quaintly dated today.
"The Deer Park" by Maria Russell appears to be her first and only published short story. The editor's intro says nothing about her. Russell's listing in isfdb states that her legal name is/was Mary R. Standard, without giving any source for the information. Our google-fu turned up a Mary R. Standard in NY during this period who commented on social and computer programming issues. The same? The writing in this story is polished and often beautiful, proof of some practice. One wonders where the other stories are and what happened to them.
"Please Stand By" by Ron Goulart, the second of his Max Kearney stories, concerns a man who turns into an elephant on holidays. It has been translated into numerous languages and reprinted at least a dozen times.
"Prelude to a Long Walk" is a short-short by Nils T. Peterson, one of three stories he published in F&SF in the early 1960s. The story begins (after an epigraphical quote): "He sat on his hill and watched the cities join one another. At first they touched gently like young lovers."
The issue ends with a second novelet, "Progress" by Poul Anderson, the second of his Sky People, or Maurai, adventures.
Add in a science column by Isaac Asimov and book reviews by Alfred Bester, and a poem by James Spencer on the last page that ends:
"And in the quiet of the night
We look out the window and watch
The planets circling like wolves."
…and you have another issue well worth 40 cents, even considering inflation. F&SF won the Hugo for Best Professional Magazine in 1963 for the stories it published in 1962.
comments
Copyright © 2006–2018 The Magazine of Fantasy & Science Fiction • All Rights Reserved Worldwide
Powered by WordPress • Theme based on Whitespace theme by Brian Gardner
If you find any errors, typos or anything else worth mentioning, please send it to sitemaster@fandsf.com.

Designed by Rodger Turner and Hosted by: