F&SF, January 1976
For the past six or seven months, we've been doing a #TBT (Throw Back Thursday) feature on the F&SF Twitter account and Facebook page. For the new year, we thought it might be good to add them here where they can be easily found under the "F&SF History" tag.
* * *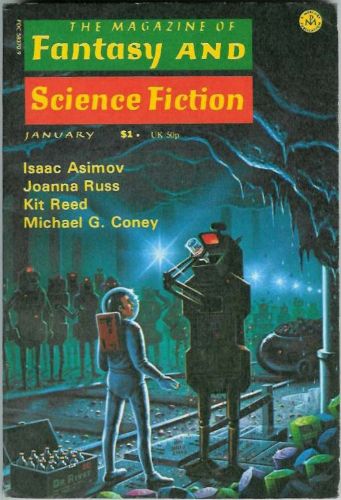 #TBT to the January 1976 issue of F&SF. David Hardy's cover illustrates "Doctor Rivet and Supercon Sal" by Gary K. Wolf. This issue contains science fiction, mystery, horror, and humor, and a couple stories ahead of their time.
The issue leads with "My Boat" by Joanna Russ, a story that starts out in a 1950s high school and ends by chasing Cthulhu. Any time you pick up a new Joanna Russ story, you're stunned all over again by just how brilliant and deft she can be. Reading Russ's treatment of the Mythos and the young woman central to her story calls to mind a recent anthology, She Walks In Shadows, a collection of Lovecraft-inspired stories by women edited by Sylvia Moreno Garcia and Paula R. Stiles.
The other stories in the issue show the usual variety. "Friday the Thirteenth" by Isaac Asimov is one of his Black Widowers mysteries, this time involving leap years and attempted assassination. "Horror Movie" by Stuart Dybek is both cinematic and horrific, starting with a room full of blood and ending with a hand full of knife. "Those Good Old Days of Liquid Fuel" by Michael G. Coney is the first of his Peninsula series about a Pacific Northwest spaceport. Coney's story was reprinted in Wolheim's and Saha's sixth annual World's Best SF anthology in 1977. Like a 1950s sci-fi movie, "The Attack of the Giant Baby" by Kit Reed cheerfully delivers everything the title promises and more.
The issue's main story is "Doctor Rivet and Supercon Sal" by Gary K. Wolf, a fun story about two grifters on a space mining colony. Like Russ's story, Wolf's novella feels ahead of its time and in this case could easily be the plot of a Futurama episode. Which is no surprise. Wolf went on to create Roger Rabbit, and has had a huge influence on adult cartoons.
The last story in the issue is "Time is Money" by Haskell Barkin, a comedy about advertising. Barkin was primarily a tv writer, penning episodes for Scooby Doo, The Love Boat, The Jetsons, 1980's Twilight Zone, and Darkwing Duck. The prophetic final line of his story is: "Well, I have seen the future, gentlemen. And it pays."
The columns are also notable in this issue. Algis Budrys's book column describes how bad editing screwed up John Brunner's proto-cyberpunk novel The Shockwave Rider. The novel contained two brothers, Josh and Jake, with different backstories, personalities, and roles. The US editor, seeing similar names, assumed Brunner wanted one character, changed them all to Josh, and published without sending proofs. Budyrs: "The result is a single character who is either a liar, a multiple personality, or a figure of mystery…" It provides an entertaining glimpse into publishing in the 1970s, a cautionary lesson for editors and writers, and an apology to readers. Baird Searles's film column discusses Michael Moorcock's script for the movie version of Edgar Rice Burroughs's novel The Land That Time Forgot. His verdict: one of the great pulp writers of the '70s could not salvage a terrible idea by of one the great pulp writers of the '10s. Isaac Asimov's second appearance in the issue is a science column devoted to lawyer jokes and the ozone layer.
The issue ends with the letters column, where reader and prolific letter writer Cy Chauvin asks "Do sf readers prefer trash?" The answer then, and now, is still "No." But readers do like to be entertained, and this issue does that.
comments
Copyright © 2006–2020 The Magazine of Fantasy & Science Fiction • All Rights Reserved Worldwide
Powered by WordPress • Theme based on Whitespace theme by Brian Gardner
If you find any errors, typos or anything else worth mentioning, please send it to sitemaster@fandsf.com.

Designed by Rodger Turner and Hosted by: