F&SF, January 1993
For the past six or seven months, we've been doing a #TBT (Throw Back Thursday) feature on the F&SF Twitter account and Facebook page. For the new year, we thought it might be good to add them here where they can be easily found under the "F&SF History" tag.
* * *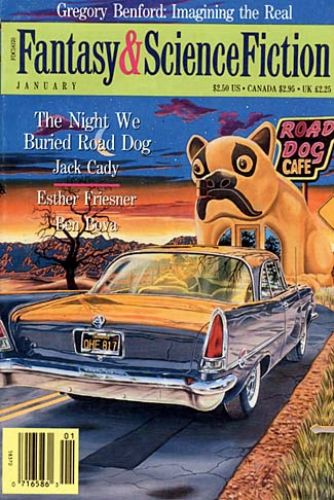 #TBT to the January 1993 issue of F&SF and this Kent Bash cover for "The Night We Buried Road Dog" by Jack Cady.
"The Night We Buried Road Dog" won the Stoker and Nebula awards, and was a finalist for the Hugo and World Fantasy Award. Former editor Kristine Kathryn Rusch, writing an intro to F&SF's 2009 classic reprint of Cady's novella, wrote that she didn't ask for a single revision. She added: "I'm not even sure the manuscript received much copyediting."
Cady's novella filled half the issue, but still left room for stories by Esther Friesner, Ben Bova, Diane Mapes, Nina Kiriki Hoffman, and Marina Fitch. Rusch's editorial marked the occasion of Algis Budrys' last books column for F&SF, which ran from September 1975 to January 1993. The issue also offered a science column by Gregory Benford, book reviews by Orson Scott Card, an F&SF Competition, and cartoons.
Cody's novella alone makes this one of the classic issues of F&SF. With everything else inside, it must have been a pleasure for subscribers to find this one in their mailbox.
comments
Copyright © 2006–2020 The Magazine of Fantasy & Science Fiction • All Rights Reserved Worldwide
Powered by WordPress • Theme based on Whitespace theme by Brian Gardner
If you find any errors, typos or anything else worth mentioning, please send it to sitemaster@fandsf.com.

Designed by Rodger Turner and Hosted by: