For the past six or seven months, we've been doing a #TBT (Throw Back Thursday) feature on the F&SF Twitter account and Facebook page. For the new year, we thought it might be good to add them here where they can be easily found under the "F&SF History" tag.
* * *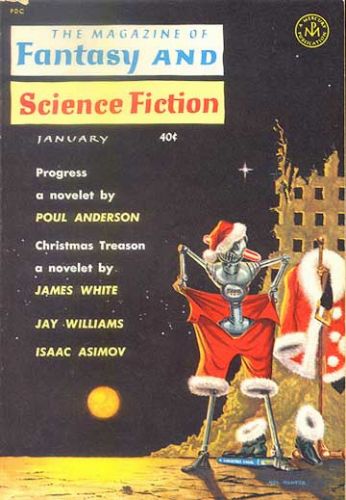 #TBT to the January 1962 issue of F&SF with this holiday lonely robot cover by Mel Hunter. We featured this cover last month as one of the classic Christmas-themed illustrations from F&SF, but the fiction is also worth noting.
The issue leads with "Christmas Treason" by James White, in which a group of children with special powers decide to help Santa Claus. Worried that Santa can't visit everywhere in the world, they hijack the world's ICBMs and replace nuclear payloads with toys. The children with talents in his story feel very much like a group of proto-X-men. (Prof. X and his gifted youngsters first appear in 1963.) White lived in Northern Ireland and was anti-violence, even in his fiction, a theme which shows up in this novelet.
White's story is followed by one of Grendel Briarton's Feghoots, this one about the migration of neo-beatniks to the moon around 1980. As might be expected, the only violence done by Feghoot is to the English language. Dig it or go back to Squaresville!
Then there's "A Time to Keep," Kate Wilhelm's first story for F&SF. There was a Special Kate Wilhelm issue in September 2001. Harrison is an English professor who keeps stepping through doorways to other, distressing places, with escalating effects as he returns. One of his colleagues and his doctor try to help him, but it may be too little too late. Fifty-four years after being published, Wilhelm's story still holds up very well.
It's followed by Jay Williams wry "Interplanetary Sex," which depends more on the mores of the period and seems quaintly dated today.
"The Deer Park" by Maria Russell appears to be her first and only published short story. The editor's intro says nothing about her. Russell's listing in isfdb states that her legal name is/was Mary R. Standard, without giving any source for the information. Our google-fu turned up a Mary R. Standard in NY during this period who commented on social and computer programming issues. The same? The writing in this story is polished and often beautiful, proof of some practice. One wonders where the other stories are and what happened to them.
"Please Stand By" by Ron Goulart, the second of his Max Kearney stories, concerns a man who turns into an elephant on holidays. It has been translated into numerous languages and reprinted at least a dozen times.
"Prelude to a Long Walk" is a short-short by Nils T. Peterson, one of three stories he published in F&SF in the early 1960s. The story begins (after an epigraphical quote): "He sat on his hill and watched the cities join one another. At first they touched gently like young lovers."
The issue ends with a second novelet, "Progress" by Poul Anderson, the second of his Sky People, or Maurai, adventures.
Add in a science column by Isaac Asimov and book reviews by Alfred Bester, and a poem by James Spencer on the last page that ends:
"And in the quiet of the night
We look out the window and watch
The planets circling like wolves."
…and you have another issue well worth 40 cents, even considering inflation. F&SF won the Hugo for Best Professional Magazine in 1963 for the stories it published in 1962.
– Tell us a bit about "The White Piano."
In one sense, the story is about love and loss, but the connecting theme is the love of great music. And we never lose that love. Music is about sharing feelings, it's possibly the most profound experience that human beings can create — at least, with our clothes on. I spent as much time researching and listening to the music as I did researching the history of the period.
– What was the inspiration for this story, or what prompted you to write it?
Sometimes I just start writing from an image or a scene and let that lead me into the story. The scene is a doorway into a new world, so the writing isn't just about the story–it's about discovering the world in which the story occurs. This one started with a dream about something scratching at a door, and somewhere in there was a smile as well. The story really came to life for me when I started researching the run-up to WWII. I needed the piano to have a special quality, it had to represent a joyous spirit.
– Was "The White Piano" personal to you in any way?  If so, how?
In one sense, it's a love-letter to my own grandmother. She didn't play the piano, but she was a maestro in the kitchen. Friday nights at her house were a great family gathering, the food never stopped coming, and neither my Mom nor my sister ever matched her recipe for stuffed cabbage. She was the most joyous and generous human being I've ever known in my life. She loved doing things for others. She was a short lady, a little bundle of energy, and she was always there, no matter what, and I still miss her — so "Gramma" in this story is my personal recreation of her spirit.
– What would you want a reader to take away from this story?
A smile — and a trip to the record store to discover previously unheard music. Some of the best times of my life have been spent browsing through the stacks at Tower Records, discovering adventures I would not have had otherwise. Maybe I'll write a story about a used book and record store….
There is one observation that I might add — much of my short fiction is contemplative, a short step in a character's transformation, not a big leap. Readers who expect a grand adventure will likely be disappointed, but I think the most profound adventure is the internal one — the discovery of self, and that's been a theme in a lot of my recent work.
– What are you working on now?
I've got the first chapter written to "Joseph," the sequel to "Jacob," my vampire novel. (The first chapter was "Monsieur.") I've got the first chapter written on a fantasy adventure, and I'm editing the fifth book in THAT series. (Yes, it's finished.) Thanks for asking.
"The White Piano" appears in the January/February 2016 issue of F&SF.  You can buy that issue here: https://www.sfsite.com/fsf/toc1601.htm
You can subscribe to F&SF here: https://www.sfsite.com/fsf/subscribe.htm
– What research did you do for "Braid of Days and Wake of Nights?"
Before I wrote a single word of the story, I spent a whole day with the tapestries and narwhal horns at the Cloisters, then another day walking the length and breadth of Central Park with the 1994 Colbert and Vollath map, which is a real beauty. While I was writing the story, Usman Malik advised me on drug regimens, and I turned repeatedly to Jay Lake's blog for his depictions of cancer and chemo. I also read multiple papers and grammars of AAVE for a couple of pages of dialogue, because I didn't trust my own ear to get it right, and Nisi Shawl very kindly looked my work over right before publication. My main difficulties were architectural, but thanks to the New York Landmarks Conservancy's Brownstone Guide, I now know far more than I ever needed to know about historical sandstone restoration, and a similar dive into windows meant that for a brief time I could jaw your ear off about six-over-sixes and Juliet balconies.
– When and how did this story come about?
The premise came in a flash one day, and the idea struck me with its rightness, like a big neon OF COURSE! I wrote the first draft at Clarion West in 2013, the week that Margo Lanagan was teaching, and I benefited enormously from her comments, as well as those of my classmates. Usman's medical expertise was invaluable. Nine or ten drafts later, C.C. Finlay helped me hammer out a decent title.
– What was your relationship to Jay Lake?
I met him at the 2012 Worldcon, exchanged several emails with him, and saw him at a few conventions afterwards. It was not a long acquaintance, but I gained a great deal by his advice and encouragement. The man radiated warmth and openness, and he gave and gave. Everywhere he went, he carried with him a zone of welcome at least eight feet in diameter. I think that in many ways he embodied the very best that the SF&F community had to offer, and if we could extend to each other the same kindness he did, and see each other as clearly as he saw people, we would have ourselves a small heaven.
"Braid of Days and Wake of Nights" appears in the January/February 2016 issue of F&SF. 
You can buy the issue here: https://www.sfsite.com/fsf/toc1601.htm
You can subscribe to F&SF here: https://www.sfsite.com/fsf/subscribe.htm
For the past six or seven months, we've been doing a #TBT (Throw Back Thursday) feature on the F&SF Twitter account and Facebook page. For the new year, we thought it might be good to add them here where they can be easily found under the "F&SF History" tag.
* * *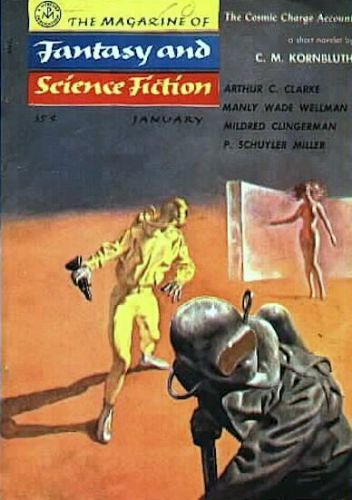 #TBT sixty years to the January 1956 issue of F&SF and this cover by Solovioff. It doesn't illustrate a story in the issue and we'll be honest, we don't have any idea what's going on in this picture.
Nicholas Solovioff was a Harvard educated artist whose range of work spanned magazines, technical illustration, and the military. He taught at Parsons, was Artist in Residence for the New York Port Authority, and served in Vietnam as a USMC combat artist. (We wrote about Solovioff a little bit before back in July of last year when we covered the July 1955 issue of F&SF.) He did a number of covers for F&SF in the 1950s and was known for them.
The issue opens with "The Cosmic Charge Account" by C. M. Kornbluth, a satire about publishing and Functional Epistemology. The novelet shows Kornbluth's mastery of pacing, humor, and big ideas. Kornbluth was only 34 when he died of a heart attack in 1958, on his way to the F&SF offices to become the next editor.
The issue also includes "What Goes Up…" by Arthur C. Clarke, in the Tales From the White Hart series and "On the Hills and Everywhere" by Manly Wade Wellman from his John the Balladeer series, plus short stories by Robert Abernathy, P. Schuyler Miller, Theodore Cogswell, and Paul Carter.
The issue closes with the other outstanding story in the issue, the semi-autobiographical "Mr. Sakrison's Halt" by Mildred Clingerman. Clingerman's story is a bittersweet fantasy about an old woman and a girl, outsiders stuck in a small town during Jim Crow. F&SF's editor, Anthony Boucher, called it "as fresh and clear a draft of imagination as even she as yet offered us." He included the story in The Best from Fantasy and Science Fiction: Sixth Series, which was reprinted several times over the next decade. Boucher dedicated the seventh volume in the Best From series to Clingerman, calling her "the most serendipitous of discoveries." Clingerman lived in Arizona where she was a founder of the Tuscon Writers' Club and taught at the University of Arizona.
The issue also includes "The Jet Propelled Couch," a psychological essay/story by Dr. Robert Lindner, who wrote Rebel Without A Cause (1944). The lengthy essay is a factual account of an atomic scientist who believed himself capable of travel to other dimensions of space and time and the therapist who eventually comes to believe him also. A fascinating account of sex, science fiction, and the suspension of disbelief. A reader on Twitter pointed out that Carl Sagan discusses this account in his book, The Demon-Haunted World.
Throw in a poem by Winona McClintic and a book review column by Anthony Boucher, and the 128 pages feel packed. A good start to a new year.
The January/February issue of The Magazine of Fantasy and Science Fiction is now on sale! You can order a single copy of the issue from our website or buy an electronic edition from Amazon or AmazonUK.

Usually we start with a story we love and commission a cover for it, but when Bob Eggleton sent us the Martian landscape that adorns this issue, we snatched up the illustration and went looking for stories to match. Eggleton did his first cover for F&SF in 1991 and won four Chesley Awards for his F&SF covers (May 1996, May 1998, August 1999, July 2003). It's been a few years since we featured his work on the magazine and we're glad to have him back.
THREE TALES OF MARS
We're also excited to share the three stories that we've lined up for this issue to go with the cover. We start with discoveries: in addition to his many literary achievements, Gregory Benford is Professor Emeritus of Physics at the University of California, Irvine, has been an advisor to NASA, and has served on the board of the Mars Society, so he's uniquely suited to write about Martian exploration. His novel The Martian Race (1999) and its sequel The Sunborn (2005), were about the first team of scientists-explorers to visit the fourth planet. With "Vortex" in this issue, Benford continues those Martian explorations. From beginning to ends: in our second Martian tale, "Number Nine Moon" by Alex Irvine, we have an adventure story about mankind's final day on Mars. And how things might have been: most stories set on our neighboring planet take place in the future, but Mary Robinette Kowal won the 2014 Hugo Award for "The Lady Astronaut of Mars," which is set in an alternate history where a Martian base was established in the 1950s using the technology available in that era. "Rockets Red" by Kowal is set in that same Bradburyian universe.
MORE GREAT FICTION
But the issue isn't all about outer space and other planets. "Smooth Stones and Empty Bones" in the debut story by Bennett North, a tale that skirts the borders of fantasy and horror to explore love and loss. That's followed by "The White Piano" a ghost story by David Gerrold, who last appeared in our September/October issue with his vampire story, "Monsieur."
We follow that with a group of science fiction stories that take place here on Earth, starting with "Caspar D. Luckinbill, What Are You Going to Do?" by Nick Wolven. Wolven's previous story for F&SFF&SF. "Robot From The Future," this issue's contribution, offers exactly what the title promises… and more. Leo Vladimirksy debuted in F&SF with the grim near future story "Collar" (March/April, 2014). He returns to that same desperate possible future in this issue with "Squidtown."
The issue also includes a generous helping of fantasy, set on other worlds and our own. "Touch Me All Over" by Betsy James is her second story for F&SF, following "Paradise and Trout" (July/August, 2015). She tells us that it began when she imagined a knife so sharp it would cut through anything humans could create. In recent years, one of the most popular series with our readers has been Matthew Hughes's tales from the Archonate universe. Of all the colorful Archonate personalities to traverse these pages – Guth Bandar, aspiring academic; Henghis Hapthorn, freelance discriminator; Luff Imbry, master criminal – perhaps none have been as welcome as Raffalon the Thief, who returns in this issue with "Telltale." Albert E. Cowdrey's stories can often be difficult to classify, which is just one of the reasons we love them. "The Visionaries" in this issue is one of those stories which straddles genre boundaries, but is very specific in its final effect.
The issue ends with "Braid of Days and Wake of Nights" by E. Lily Yu, who dedicates it in part to Jay Lake. Lake was one of the most prolific and promising young writers of the decade that stretched from 2004, when he won the John W. Campbell Award for Best New Writer in Science Fiction, to 2014, when cancer cut his life prematurely short. Like Lake, Yu is a winner of the John W. Campbell Award, taking home the trophy in 2012. This is her first story for F&SF.
That's 12 stories and over 80,000 words of fiction!
READ "VORTEX" FOR FREE
Every issue features one story that we also offer for free download online, via our free electronic digest for Kindle. (The UK version is available here.) This month's free story — which you can also find in the print edition — is "Vortex" by Gregory Benford. Even if you don't subscribe to the magazine, you can click on this link and read Benford's story and all the columns in the issue for free.
OH YES, THE COLUMNS
Charles de Lint reviews Mr. Mercedes and Finders Keepers by Stephen King, The Land Beyond All Dreams and Dragon's Luck by Bryan Fields, the Spirit Caller series by Krista D. Ball, and Hilo: The Boy Who Crashed to Earth by Judd Winnick. James Sallis reviews two new story collections, The End of the End of Everything by Dale Bailey and Ghost Summer: Stories by Tananarive Due. David J. Skal reviews the films "Air" and "Z for Zachariah." In our science column, Pat Murphy and Paul Doherty discuss terraforming Earth to address the effects of runaway carbon and global climate change. And in our Curiosities column, Graham Andrews takes a look at The Truth About Wilson, a 1962 novel about sports, war, and the fantastic by W. S. K. Webb.
LET US KNOW WHAT YOU THINK
After you read the issue, or even part of it, we hope you'll share your thoughts on one of these sites:
In the meantime… enjoy!
C.C. Finlay
Editor
Fantasy & Science Fiction