F&SF, February 1966
For the past six or seven months, we've been doing a #TBT (Throw Back Thursday) feature on the F&SF Twitter account and Facebook page. For the new year, we thought it might be good to add them here where they can be easily found under the "F&SF History" tag.
* * *
#TBT to the Feb 1966 F&SF. George Salter's art (for Bretnor's "The Gadge System") was his last cover for F&SF before he passed away. The issue has stories by R. Bretnor, Doris Pitkin Buck, Miriam Allen DeFord, Randall Garrett, Joanna Russ, Jack Vance and more.
But let's start with the cover. As a graphic designer, Salter revolutionized book cover art in Europe and the US. You can read a brief summary of his accomplishments here. And you can check out some representative samples of his work here.
Salter was also F&SF's art editor from 1949 to 1958. He designed the original calligraphic logo for F&SF, created the look of the magazine, and illustrated many early covers. We posted a gallery of Salter's striking F&SF covers from the early 1950s on the blog earlier today.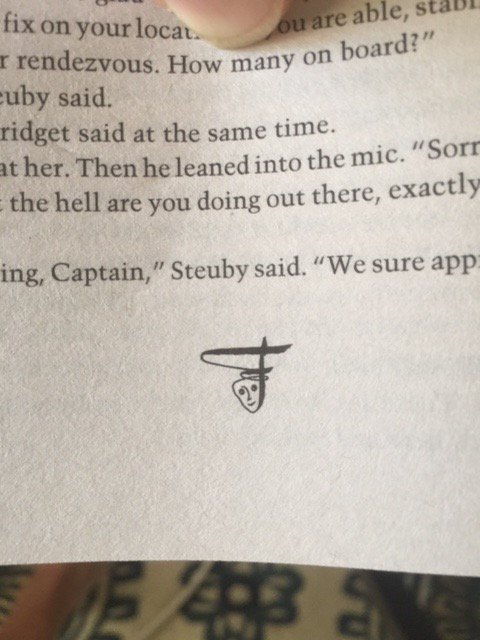 You can still find Salter's work in every issue of F&SF in the distinctive filigree F end mark at the end of the stories. Here is a picture of it from the end of a story in the January/February 2016 issue.
The February 1966 F&SF is balanced generally toward sf stories. The exception is Vance's Cugel the Clever tale "The Mountains of Magnatz." Other notable stories are "The New Men" by Joanna Russ and "An Afternoon in May" by Richard Winkler, reprinted from a defunct lit mag.
Judith Merril's book column covers the paperback publication of Tolkien's trilogy and the controversy over Ace's failure to pay him royalties. Plus there are the usual science columns by Isaac Asimov and Theodore Thomas, and a cartoon by Gahan Wilson.
The issue opens with an editorial by assistant editor Ted White describing the "slush pile" of unsolicited manuscripts. Some selected highlights:
"We watched several new writers come up this way, battling rejection slips to finally find their way into our pages."
"We rejected over a dozen stories by Larry Niven before we enthusiastically bought his 'Becalmed In Hell' for our July issue last year."
"Tom Disch followed the same route—and rubbed our face in it when he pointed out that we'd bounced a story of his we later admired…."
"It is a rare issue of this Magazine when we do not have a 'first' story by an author new to print, or new to our field."
White's observations are just as true in 2016 as they were in 1966.
The back cover is another in the series of famous people reading F&SF. No Gabor this time… but Louis Armstrong, Hugo Gernsback, and others!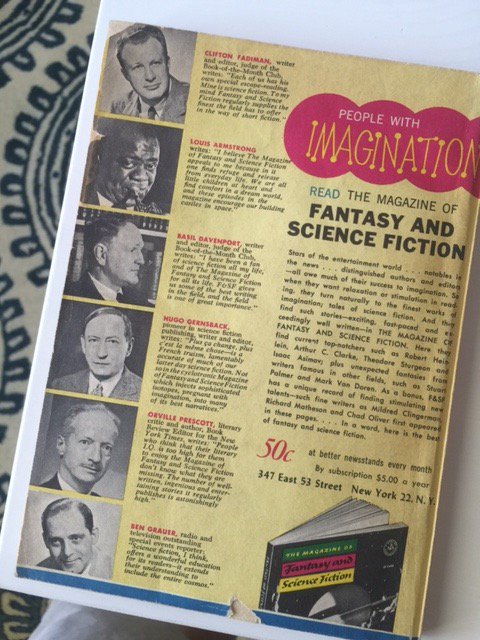 comments
Copyright © 2006–2020 The Magazine of Fantasy & Science Fiction • All Rights Reserved Worldwide
Powered by WordPress • Theme based on Whitespace theme by Brian Gardner
If you find any errors, typos or anything else worth mentioning, please send it to sitemaster@fandsf.com.

Designed by Rodger Turner and Hosted by: