For the past six or seven months, we've been doing a #TBT (Throw Back Thursday) feature on the F&SF Twitter account and Facebook page. For the new year, we thought it might be good to add them here where they can be easily found under the "F&SF History" tag.
* * *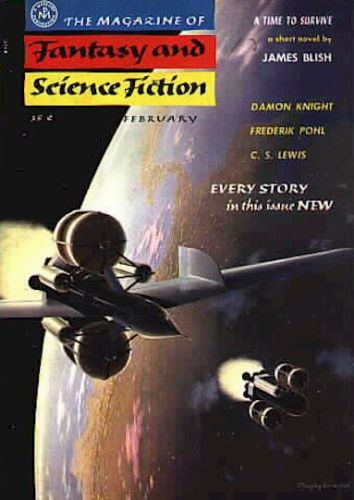 #TBT to the February 1956 issue of F&SF and this Chesley Bonestell illustration from The Exploration of Mars.
When F&SF first started publishing, many issues featured one or more classic reprints. The change to all (or mostly) new fiction was already well underway, but "EVERY STORY in this issue NEW" emphasized it for readers. This issue contains another change in direction. F&SF had experimented previously (and would again) with interior art. Here, on page 14, F&SF published a cartoon by Ronald Searle, the creator of St. Trinian's School and known for his work on Molesworth. Searle's sometimes dark humor was shaped by his time in a POW work camp during WWII and as courtroom artist during the Nuremburg trials. In lieu of a caption, the cartoon has an editor's note about the artist and his work that functions like a story introduction. F&SF would publish several more cartoons during 1956. Eventually they became a regular feature of the magazine and continue today.
This issue contains a famous story, some big-name authors, and secret gems, covering the spectrum of the speculative genre.
The lead story is Damon Knight's "The Country of the Kind," one of the classic idea stories of sf, about violence and artistic expression. "A Time to Survive" is a Pantropy story by James Blish. "The Shoddy Lands" marks C.S. Lewis's first fantasy story in any US magazine. Screenwriter Kem Bennett's "Rufus" is about interstellar smuggling. "Martie and I" by Miriam Allen DeFord is a time-twisted kidnap story. "The Ultimate Price" by Winona McClintic explores premarital sex, jealousy, and necromancy. "I, Claude," in the Claude Adams series, by Charles Beaumont and Chad Oliver, includes a Besterian spoof of typographic telepathy. "The Message" by Isaac Asimov is humorous flash, and "The Census Takers" by Frederick Pohl is his very first of many appearances in F&SF.
One piece of fiction and author worth special note is "Final Clearance," a ghost story by Rachel Maddux. Maddux was a Kansas-born writer who faced numerous hardships. Lifelong health issues forced her to drop out of medical school and work a variety of odd jobs. Although she published short fiction and novels during her lifetime, and had one book optioned for film by Katherine Hepburn much of her fiction had to wait for posthumous publication, when it was put out by University of Tennessee Press. For more information on Rachel Maddux and her fiction, check out the UNC-Asheville Archives: http://toto.lib.unca.edu/findingaids/mss/southern_appalachian_writers/maddux_rachael/maddux_rachel.htm
With great fiction, a book column, cartoon, and attractive design, this serves as a model issue of F&SF, easily recognized by readers today.
Tell us a bit about "Touch Me All Over."
Don't we all, somewhere between the ages of sixteen and twenty, pick up the glass knife?
Whether we find it innocently or it's forced on us, it severs us from the cultural certainties we grew up with. For some, like Hilil, the separation is so complete that they must live peripherally in any society, and glimpse the universe at its making and unmaking.
What prompted you to write it?
I grew up with the concept of geologic time, and now live and work among very old cultures. It's been a lesson in how arbitrary the human systems are from which we troll and kill. I love the names and shine of cultural knots—maybe because they're so ephemeral? "Touch Me All Over" offered itself from a broken obsidian blade picked up on a windy New Mexico mesa, and a bleeding thumb.
Is the story personal in any way?
SF has served me as a bearskin of sorts. Though have you ever tried to keep the wind out with a bearskin? And yes, I have kept my grandmother's name.
What are you working on now?
Roadsouls, which may be about stumbling around in the dark banging your head on things, will be available in April from Aqueduct Press. It's set in the same universe as "Touch Me All Over." Elsewhere I have two contemporary teens stuck on a fairly recent—like, 3,000-year-old—lava flow, and the stars are in the wrong place. God knows what will happen now.
"Touch Me All Over" appears in the January/February 2016 issue of F&SF.
You can buy that issue here: https://www.sfsite.com/fsf/toc1601.htm
You can subscribe to F&SF here: https://www.sfsite.com/fsf/subscribe.htm