F&SF, May 1996
Over the past year, we've been doing a #TBT (Throw Back Thursday) feature on the F&SF Twitter account and Facebook page. For the new year, we thought it might be good to add them here where they can be easily found under the "F&SF History" tag.
* * *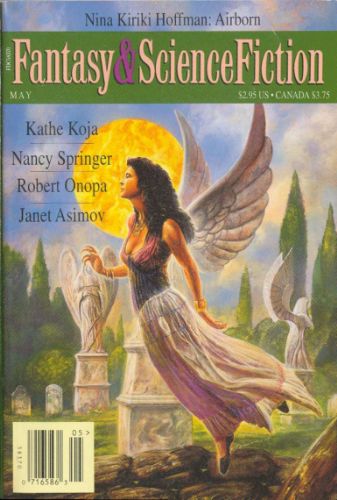 #TBT twenty years to the May 1996 F&SF and this Bob Eggleton cover illustrating "Airborn" by Nina Kiriki Hoffman.
"Airborn" is a novella in Hoffman's very popular Spores Ferry young adult series, featuring Nathan the Ghost and twins Tasha and Terry. The series continued with novels A Red Heart of Memories (1999), Past the Size of Dreaming (2001) and ALA Best Book A Stir of Bones (2003).
Other stories in the issue include "Blowup" by Astrid Julian, a hard sf moon colony story. Julian went on to work and write for NASA. "Lady Lazarus" by Kathe Koja is, if not horror, then a thoughtful and unsettling story about poetry, death, and Sylvia Plath. "Chasing Butterfly Shadow" by Nancy Stringer is literary fantasy about an old woman and her dog, and also about age and the perception of reality. "Blood Harp" by Laurel Winter is a second world fantasy about music and sacrifice. It was a finalist for Compuserve's 1996 HOMer Award. "Camping in the Biosphere Reserve" by Robert Onopa is near future sf about Hawaii, the environment, and finding love.
Kristine Kathryn Rusch's editorial introduces new book reviewer Michelle West, whose column was originally called "Guilty Pleasures." West still reviews for F&SF, but her column changed names to "Musing on Books" in 1997. Her next review will appear in the Sept/Oct issue. There are additional book reviews by Charles de Lint, Kathi Maio's film review of "Strange Days," and Janet Asimov's science column.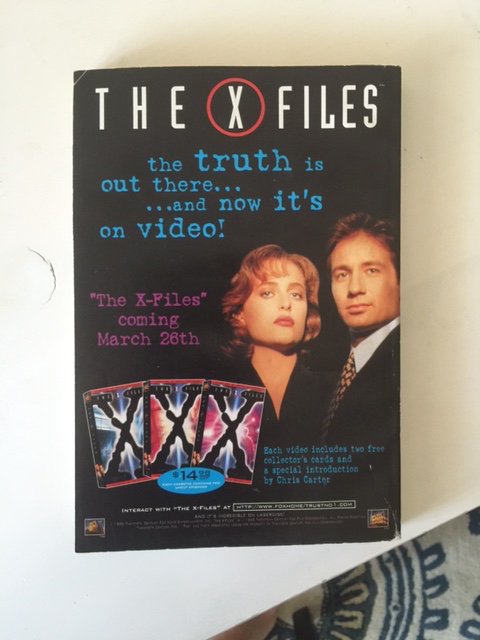 Perfectly capturing the spirit of the mid-90s is the back cover ad for the X-Files videos. In tiny print it reads "Incredible on Laserdisc!" Indeed.
comments
Copyright © 2006–2020 The Magazine of Fantasy & Science Fiction • All Rights Reserved Worldwide
Powered by WordPress • Theme based on Whitespace theme by Brian Gardner
If you find any errors, typos or anything else worth mentioning, please send it to sitemaster@fandsf.com.

Designed by Rodger Turner and Hosted by: