Top Ten TV Programs and Films Based on Stories from F&SF
Our weekly #TBT Throwback Thursday feature usually focuses on a specific issue of the magazine, but we're headed into a summer holiday weekend that usually includes some of the newest movie blockbusters, so this week we're bringing you a special edition…
The Top 10 stories from F&SF that were turned into TV shows or movies.
10. "The Dark Tower" (2017)
We'll start with this one because the movie hasn't been completed yet. Here's a first glimpse of Idris Elba as The Gunslinger, Roland Deschain. Scheduled for release in February 2017.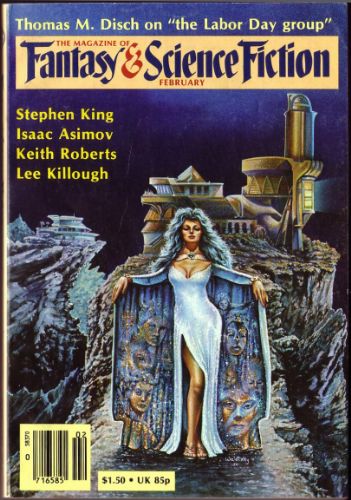 Based on: A series of stories by Stephen King that appeared in F&SF between 1978 and 1981, which were published in book form as The Gunslinger in 1982.
"The Gunslinger" (F&SF, October 1978)
"The Way Station" (F&SF, April 1980)
"The Oracle and the Mountains" (F&SF, February 1981)
"The Slow Mutants" (F&SF, July 1981)
"The Gunslinger and the Dark Man" (F&SF, November 1981)
9. "The Human Operators," Episode 5.7 of The Outer Limits (1999)
One of the most highly rated episodes of the new Outer Limits, television series, this tells the story of people enslaved by the AI aboard a military spaceship.

Based on: "The Human Operators" by Harlan Ellison and A. E. Van Vogt (F&SF, January 1971)
8. "Harrison Bergeron" (1995)
This is a rare case where Kurt Vonnegutt, Jr.'s original story, "Harrison Bergeron," may be more famous than the adaptation. Sean Astin starred in this 1995 Showtime about a future where everyone is forced to be equal and no one can excel. The story was also adapted into short films again in 2006 ("Harrison Bergeron," directed by Patrick Horne) and 2009 ("2081," directed by Chandler Tuttle).
Based on: "Harrison Bergeron" by Kurt Vonnegutt, Jr. (F&SF, October 1961)
7. "The People" (1972)
"The People," a story about extraterrestrials with paranormal powers hidden among people on Earth, was an ABC Movie of the Week produced by Francis Ford Coppola and starring William Shatner. You can watch the whole film on Youtube:
Based on: "The People" was a long-running series of 16 stories in F&SF written by Zenna Henderson. This film is mostly based on the novella "Pottage" (F&SF, September 1955), but also contains elements from the stories "Ararat" (F&SF, October 1952), "Gilead" (F&SF, October 1954), and "Captivity" (F&SF, June 1958).
6. "Real Steel" (2011)
Hugh Jackman and Evangeline Lilly starred in this science fiction movie about second chances, when a down-on-his-luck promoter turns a discarded robot into a champion and rebuilds his personal life in the process.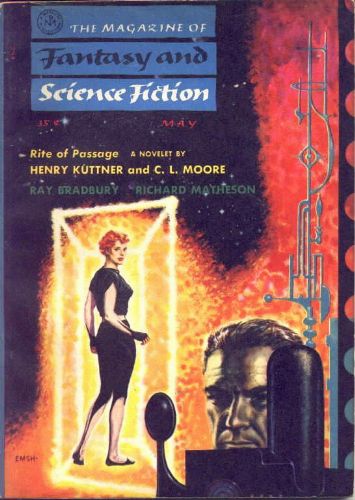 Based on: "Steel" by Richard Matheson (F&SF, May 1956)
5. "Martian Child" (2007)
John Cusack starred in this film about a science fiction writer who decides to adopt a neglected and socially awkward child who believes that he's from Mars.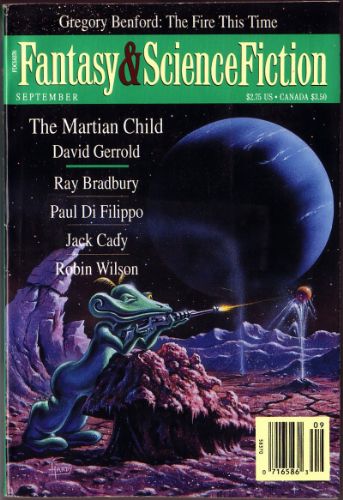 Based on: "The Martian Child" by David Gerrold (F&SF, September 1994). There are some differences between the film and story, including the fact that the father in the story is gay which gives him additional insight into dealing with his son. This novelette swept the Hugo, Nebula, and Locus awards.
4. "The Brave Little Toaster" (1987)
A Disney animated feature about a toaster and other household items that journey to the city to find their family after being left behind at a cabin in the woods. The success of the movie spawned two direct-to-video sequels, "The Brave Little Toaster to the Rescue" (1997) and "The Brave Little Toaster Goes to Mars" (1998), the latter based on a book published in 1988.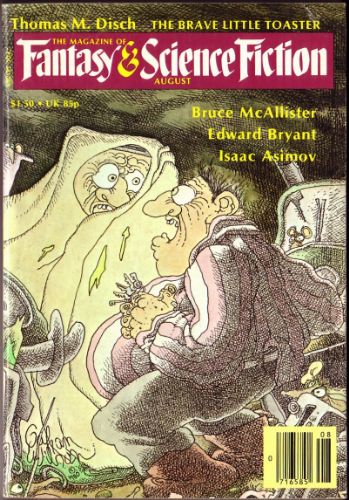 Based on: "The Brave Little Toaster" by Thomas M. Disch (F&SF, August 1980). This novella was nominated for the Hugo and Nebula Award, and won the Locus, British Science Fiction Association, and Seiun Awards.
3. "Starship Troopers" (1997)
Paul Verhoeven's satirical movie about humans fighting alien bugs for the survival of mankind created a franchise, spinning off three direct-to-video sequels and a number of games.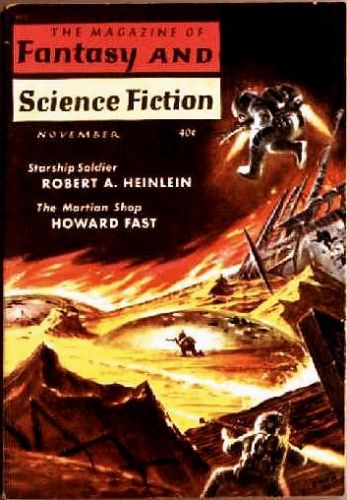 Based on: "Starship Soldier" by Robert A. Heinlein (F&SF, October and November 1959). The novel Starship Troopers originally ran as a serial in two issues of F&SF, October and November 1959, before being published as a novel by Putnam in December of the same year. The movie and the novel are only tangentially related to one another, but the long-term influence of Heinlein's story is hard to deny, whether it's people developing the idea or reacting against it, in novels (Harrison's, Bill, The Galactic Hero, Haldeman's Forever War, Card's Ender's Game, and Scalzi's Old Man's War to name a few) and in pop culture, including James Cameron, who borrowed terms from the novel for the movie Aliens and made the cast read the novel before they started filming.
2. "Total Recall" (1990)
Another Paul Verhoeven movie takes our second spot. When "Total Recall" was released in 1990, it was one of the most expensive movies ever made, a gamble that paid off in box office success, and it cemented Arnold Schwarzenegger's role as a science fiction action hero. The movie won the 1991 Oscar for Best Special Effects and stands up very well over time. It led to a novelization, a TV series ("Total Recall 2070"), video games, a comic book series, and a 2012 remake starring Colin Farrell and Kate Beckinsale.
Based on: "We Can Remember It for You Wholesale" by Philip K. Dick (F&SF, Apr. 1966)
Before we get to our Number 1, here are a few Honorable Mentions from the many other stories in F&SF that have been adapted for TV and film…
"Icarus Montgolfier Wright" (1962)
Based on: "Icarus Montgolfier Wright" by Ray Bradbury (F&SF, May 1956)
"Predestination" (2014)
Based on: "All You Zombies…" by Robert A. Heinlein (F&SF, March 1959)
"The Splendid Source," Episode 8.19 of The Family Guy (2010)
Based on: "The Splendid Source" by Richard Matheson (F&SF, March 1957)
"12:01" (1993) (a.k.a., that movie with the premise of "Groundhog Day"… before "Groundhog Day" was made)
Based on: "12:01 P.M." by Richard A. Lupoff (F&SF, December 1973)
And here is our Number 1 TV program or film (this one meets both qualifications) based on a story from F&SF…
1. "Charly" (a.k.a., "Flowers for Algernon," 1968)
This story about a mentally challenged man who becomes a genius with medical intervention and then sees his intelligence slowly slip away again has become both a common plot trope (see the episode "HOMЯ" of "The Simpsons," which won an Emmy) and a pop culture reference (Deadspin described the action movie "The Bourne Legacy" as "'Flowers for Algernon' with face-punching"). Cliff Robertson won the 1969 Oscar for Best Actor for his performance in this film, and screenwriter Stirling Silliphant won the Golden Globe Award for Best Screenplay.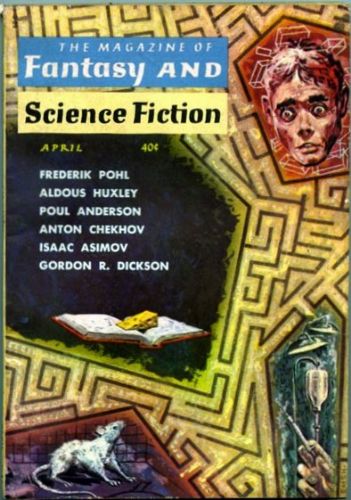 Based on: "Flowers for Algernon" by Daniel Keyes (F&SF, April 1959)
Keyes was a newer writer in 1959 and his name didn't even make the Emsh cover that illustrates his story, but "Flowers for Algernon" captured everyone's imagination and went on to win the Hugo in 1960. In addition to "Charly," the story has been adapted for film and television around the world.
"The Two Worlds of Charlie Gordon" (The United States Steel Hour) USA, 1961
"Flowers for Algernon" (TV movie for CBS) USA, 2000
"Annyeonghaseyo haneunim!" ("Hello, God!") (TV series) South Korea, 2006
"Des fleurs pour Algernon" (TV movie) France, 2006
"Des fleurs pour Algernon" (TV movie) France, 2014
"Algernon ni Hanataba wo" (TV mini-series) Japan, 2015
Keyes famously wrote the story originally for Galaxy magazine, but the editor, Horace Gold, insisted that he change the ending so that Charlie stayed a genius, got married, and lived happily ever after. Keyes refused and sold it to F&SF instead, which published it with the original ending. And the rest, as they say, is history.
comments
Copyright © 2006–2020 The Magazine of Fantasy & Science Fiction • All Rights Reserved Worldwide
Powered by WordPress • Theme based on Whitespace theme by Brian Gardner
If you find any errors, typos or anything else worth mentioning, please send it to sitemaster@fandsf.com.

Designed by Rodger Turner and Hosted by: