F&SF, July 1953
Over the past year, we've been doing a #TBT (Throw Back Thursday) feature on the F&SF Twitter account and Facebook page. For the new year, we thought it might be good to add them here where they can be easily found under the "F&SF History" tag.
* * *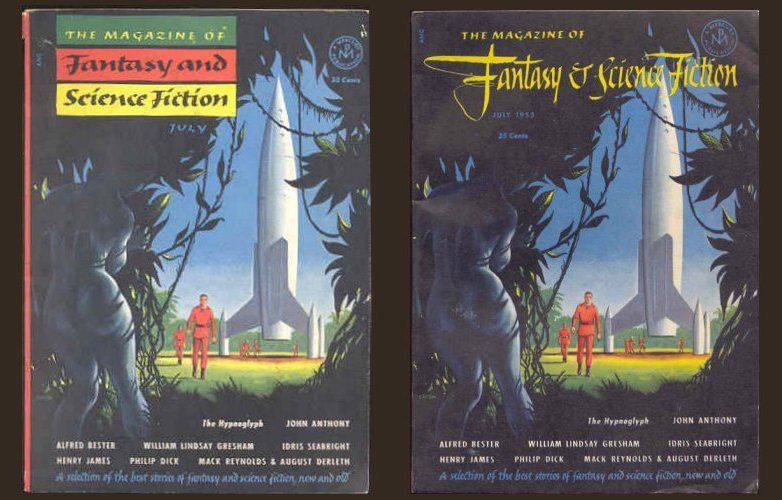 #TBT to the July 1953 F&SF. It was published with 2 covers, one in the old style (right) and one in the new (left). The magazine went with the logo on the left and used it for the rest of Anthony Boucher's reign as editor, through August 1958. With slight modifications, the new banner continued in use through April 1979.
The cover art by Emsh illustrates "The Hypnoglyph" by John Anthony. John Anthony was a pseudonym for John Ciardi, poet, translator, and later long-term director of the Bread Loaf Writers Conference. He was a professor at Harvard when he sold the story to F&SF and used the different byline because "reviewers of poetry [are] shortsighted and toplofty." "The Hypnoglyph" is an sf idea story that expresses anxiety over gender roles and power relationships. Ciardi published one more story and a poem in F&SF. He may be better known among genre readers for the two collections of limericks that he later co-edited with Isaac Asimov.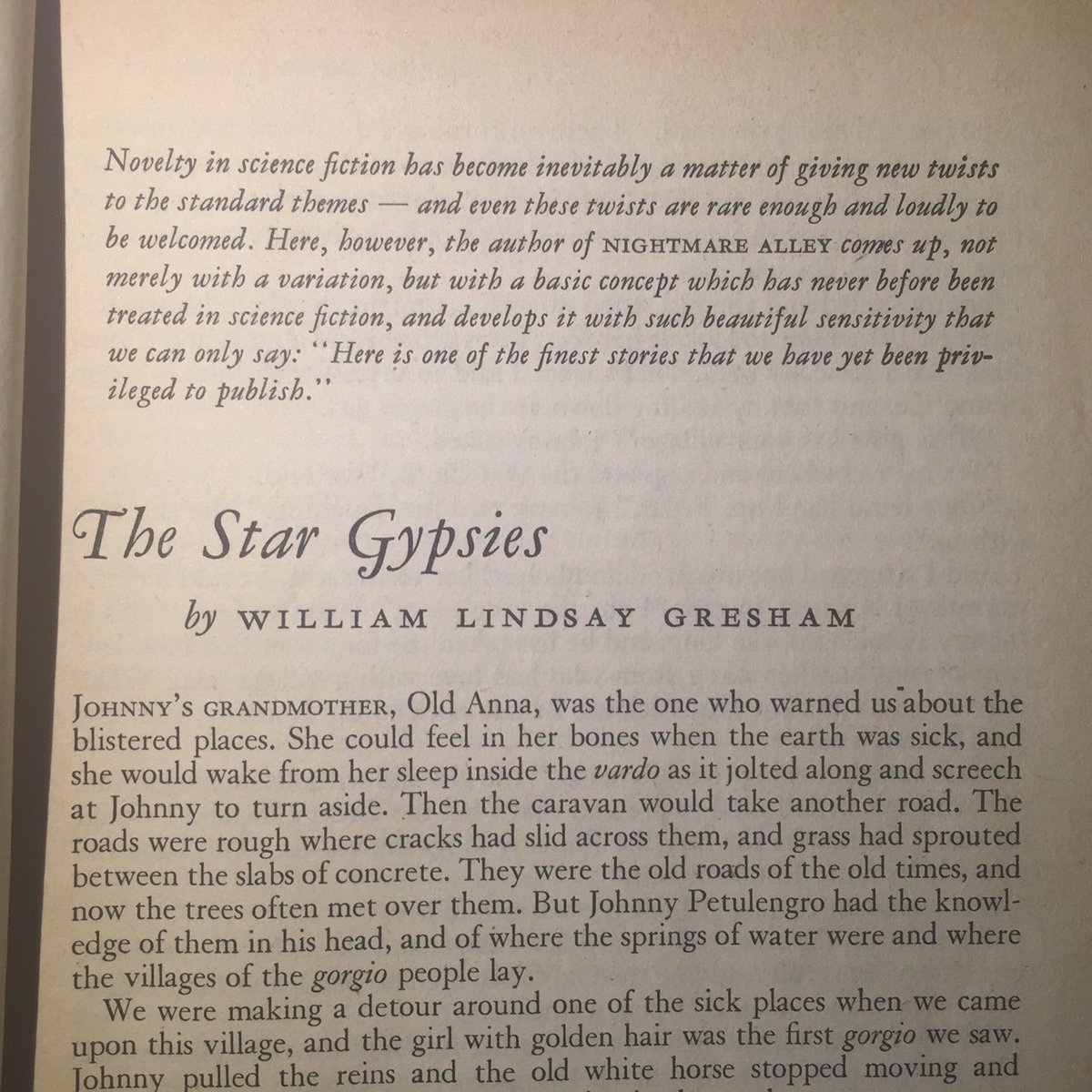 Overall, the issue has an emphasis on very short stories, mostly science fiction, along with several interesting poems. It opens with "The Star Gypsies" by William Lindsay Gresham, about a group of people roaming wastelands after a nuclear apocalypse. The trope seems familiar now, but Gresham, primarily known as a noir writer, invented it in this story.
So, in a way, what I'm saying is we can all thank Gresham and F&SF for the existence of this gif.
You're welcome.
Other noteworthy stories in this issue include "Star Light, Star Bright" by Alfred Bester, about an adult pursuing children with supernatural powers. It became the title story of one of Bester's collections and was nominated for a Retro Hugo Award in 2004. There's also "Judgment Planet" by Idris Seabright (Margaret St. Clair), which is an sf survival story mixed with social commentary, and "Expendable" by Philip K. Dick, which introduces the human/bug war premise he'd later explore differently in The Cosmic Puppets.
After these stories, the issue also includes "The Adventure of the Snitch in Time" by August Derleth and Mack Reynolds, another in their sf Sherlock Holmesian Solar Pons series, and "The Untimely Toper," a Gavagan's Bar story by L. Sprague de Camp and Fletcher Pratt. "Man" is a short alien life forms story by Dave Dryfoos, "Mop-up" by Arthur Porges is a Last Man on Earth story, while "Yankee Exodus" is the first published story by Ruth M. Goldsmith, whose fiction later appeared in The Atlantic. Finally, the issue includes "The King's Wishes" by Robert Sheckley, a story about a demon that delivers the fantasy in the magazine's title and reprints "The Friends of the Friends," a supernatural tale by Henry James in the vein of The Turn of the Screw.
Winona McClintic contributes two interesting and entirely different poems to the issue, "The Vampire," and her sonnet "The Antiquary," while Anthony Boucher offers his fanzine parody verse "The Model of a Science Fiction Editor," which begins…
I am the very model of a modern s f editor
My publisher is happy, as is each and every creditor.
You can read it in its entirety online.
A dozen stories, eleven of them new, three poems, the Recommended Reading column, new and old logos by George Salter, and a cover and interior art by Emsh — this is the sort of early issue of F&SF (number #26 overall in the series) that helped solidify the magazine's reputation.
comments
Copyright © 2006–2020 The Magazine of Fantasy & Science Fiction • All Rights Reserved Worldwide
Powered by WordPress • Theme based on Whitespace theme by Brian Gardner
If you find any errors, typos or anything else worth mentioning, please send it to sitemaster@fandsf.com.

Designed by Rodger Turner and Hosted by: