F&SF, July 1993
Over the past year or so, we've been doing a #TBT (Throw Back Thursday) feature on the F&SF blog, where they can easily be found under the "F&SF History" tag. We also share them on the F&SF Twitter account and Facebook page.
* * *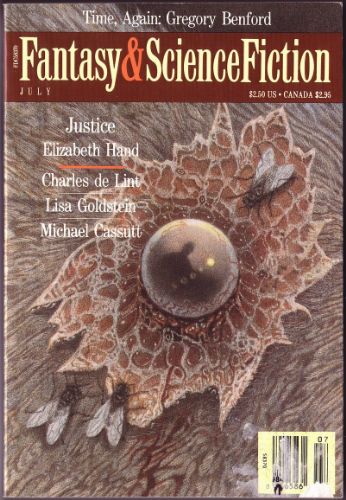 #TBT to the July 1993 issue of F&SF. The cover by Stephen Gervais illustrates "Justice" by Elizabeth Hand. Gervais is probably most famous for his illustrations of Stephen King's work and won the World Fantasy Award for Best Artist in 1984.
The issue leads with "Paperjack," a Newford novelet by Charles de Lint – it's a poignant urban fantasy about love and loss. First published as a Cheap Street chapbook edition of 137 copies, it was reprinted by F&SF and Tor and nominated for a 1993 World Fantasy Award for Best Novella.
The middle part of the issue contains a variety of stories, with a slight leaning toward science fiction.
"The Woman in the Painting" by Lisa Goldstein is an epistolary tale set in the 19th century with a painter and his shape-shifting model. It deals with themes of women changing themselves to meet other's needs, and was reprinted in Year's Best Fantasy and Horror 1994.
"The Folks" by Michael Cassutt is science fiction about an awkward family reunion in a near future US dominated by aging populations. Twenty-three years later, Cassutt's story reads less like science fiction and more like a piece of humorous literary realism.
"As Wise as Serpents," Stephen Dedman's first appearance in F&SF, is an amusing story about alien invaders, parasites, and cats.
"Catch the Wotan!" by Michael Armstrong is a hard sf survival story about a man who gets spaced by the crew of his interstellar ship. It's a good example of the genre, in conversation with "Marooned Off Vesta," which holds up well and feels like an overlooked story even if it's not necessarily a classic.
"Eidelman's Machine" by Dale Bailey is his first published story and one of the stories he wrote when he attended Clarion in 1992. Many of his strengths as a writer, particularly his prose and his attention to character, are evident in this story. "Night Vision" by Robert Frazier, who is better known as a poet, began as a 20-page poem which he turned into this short story.
The issue closes with "Justice" by Elizabeth Hand, a novelet that mixes the crime and spec fic genres, and foreshadow's Hand's later shift to writing suspense. It was reprinted in Best New Horror 5 and also appears in Hand's collection Last Summer at Mars Hill and Other Stories.
Kristine Kathryn Rusch's editorial talks about readers' letters and reactions to stories and the need for immediacy in conversation. Instead of letter columns, she recommends "computer bulletin boards" as the future of short fiction discussions. It seems like she was onto something there!
The books column by John Kessel, who reviewed for F&SF from 1993-1995, provides a still potent analysis of Kim Stanley Robinson's Red Mars. Gregory Benford's "A Scientist's Notebook" takes another look at time machines, which, along with a handful of cartoons, rounds out the issue.
comments
Copyright © 2006–2020 The Magazine of Fantasy & Science Fiction • All Rights Reserved Worldwide
Powered by WordPress • Theme based on Whitespace theme by Brian Gardner
If you find any errors, typos or anything else worth mentioning, please send it to sitemaster@fandsf.com.

Designed by Rodger Turner and Hosted by: