What was the inspiration for this story, or what prompted you to write it?
"The Desert of Vanished Dreams" is a story I've been planning for a very long time, but I had to bring Alaric to a point in his life where he was ready to confront what he finds there and make the hard decision I felt was the right one for him. Anyone who has read the whole series, or at least the last half-dozen stories, has probably realized that the world Alaric lives in is not a traditional fantasy world. There have been hints along the way of what it really is, perhaps the most obvious of them the creation myth of the people of the North, and this story is intended to clarify the truth of that myth. And to demonstrate that the series is really science fiction, or at least science fantasy, and not the kind of heroic fantasy that, for example, Fafhrd and the Gray Mouser (or, in more modern terms, A Game of Thrones) represent.
Your first story of Alaric the Bard, "Born to Exile," appeared in F&SF forty five years ago.  After such a long time, what keeps drawing you back to this character?
Alaric and I first met when we were both fifteen (he has aged a lot less than I have). A couple of years earlier, I had read Alfred Bester's "The Stars My Destination," which became and remains my favorite science fiction novel, and after that I had been playing around with the idea of teleportation. Not in a future world where it would be both acceptable and highly useful, but in a world of superstition, where it would be terrifying to ordinary people and therefore dangerous to its possessor. I finally started a story in which Alaric was in his thirties, but about halfway through I realized that I was starting much too late in his life, not to mention that I just wasn't a good enough writer, yet, to do it justice, so I put it aside. It took me a number of years to find the story I wanted to tell first, as well as to develop the skill to write it. Now, after living with Alaric for so long, I see him as an old friend, and there's no way I can resist visiting him now and then to find out how he's doing, as well as to reveal more about his world. The biggest secret is now out, with "The Desert of Vanished Dreams," but I still haven't written that story about him in his thirties, so there are more Alaric adventures waiting for me to get to them.
You have had a long career in science fiction and fantasy: you've written several novels and many short stories, edited anthologies, and taught the writing of science fiction as well.  Any thoughts or opinions on writing or publishing that you would care to share, as it was then or now, given your experience?
I'm convinced that you learn to write by writing and by reading not just the kind of prose you want to write but all kinds of other things. I'm grateful to my teachers for making me read so many of those other things, including writers from Shakespeare to Hemingway; to my parents for having that gigantic fairy tale book (including Grimm, Perrault, and a lot of others) and all those historical novels in the house; to my brother for giving me permission to read his science fiction collection; to all the people who let me read their books and magazines, from Oz to Galaxy and Robinson Crusoe to A Tale of Two Cities; and to the librarians at our local branch, who thought it was okay for a twelve-year-old to borrow books from the grown-up shelves. Yes, I was an eclectic reader, and I recommend it to anyone else who has that internal imperative that makes a writer. Reading published work teaches structure, characterization, description, and dialogue as well as any teacher can, if you pay enough attention. For twenty years, I taught writing at Columbia College of Chicago, and I'll never forget the student who said he didn't need to read anything. I didn't tell him he was a fool, but I sure thought it.
What are you working on now?
My current project is a big one, an epic fantasy trilogy with the overall title of The Masks of Power. First volume, which is finished and searching for a publisher for the threesome (via my agent), is called The Walker Between Worlds. Second volume, which I am working on now, may be titled The Lady of Masks (or I might change it if I can think of a better one). Among its many inspirations was the first hundred and fifty pages of George R.R. Martin's A Game of Thrones, which he gave me for my feedback when it was all that existed of that first book. As many people know, I told him to put the dragons in, which resulted in the third book being dedicated to me, which I thought was pretty cool. For me, though, the real result was that I liked the idea of multiple and co-equal viewpoints, each in a chapter named after its viewpoint character, so I decided to use that form for this project. I think it's working out well.
Anything else you'd like to add?
It's great to be back in F&SF, and that inspires me to write more stories, though I can't guarantee they will all be about Alaric.
"The Desert of Vanished Dreams" appears in the July/August 2016 issue of F&SF.
You can buy a copy of the July/August 2016 issue here: https://www.sfsite.com/fsf/toc1607.htm
You can subscribe to F&SF here: https://www.sfsite.com/fsf/subscribe.htm
Over the past year, we've been doing a #TBT (Throw Back Thursday) feature on the F&SF Twitter account and Facebook page. For the new year, we thought it might be good to add them here where they can be easily found under the "F&SF History" tag.
* * *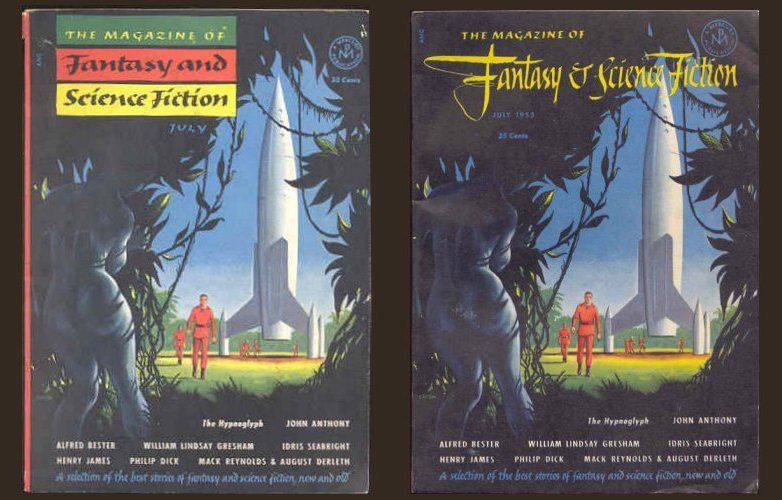 #TBT to the July 1953 F&SF. It was published with 2 covers, one in the old style (right) and one in the new (left). The magazine went with the logo on the left and used it for the rest of Anthony Boucher's reign as editor, through August 1958. With slight modifications, the new banner continued in use through April 1979.
The cover art by Emsh illustrates "The Hypnoglyph" by John Anthony. John Anthony was a pseudonym for John Ciardi, poet, translator, and later long-term director of the Bread Loaf Writers Conference. He was a professor at Harvard when he sold the story to F&SF and used the different byline because "reviewers of poetry [are] shortsighted and toplofty." "The Hypnoglyph" is an sf idea story that expresses anxiety over gender roles and power relationships. Ciardi published one more story and a poem in F&SF. He may be better known among genre readers for the two collections of limericks that he later co-edited with Isaac Asimov.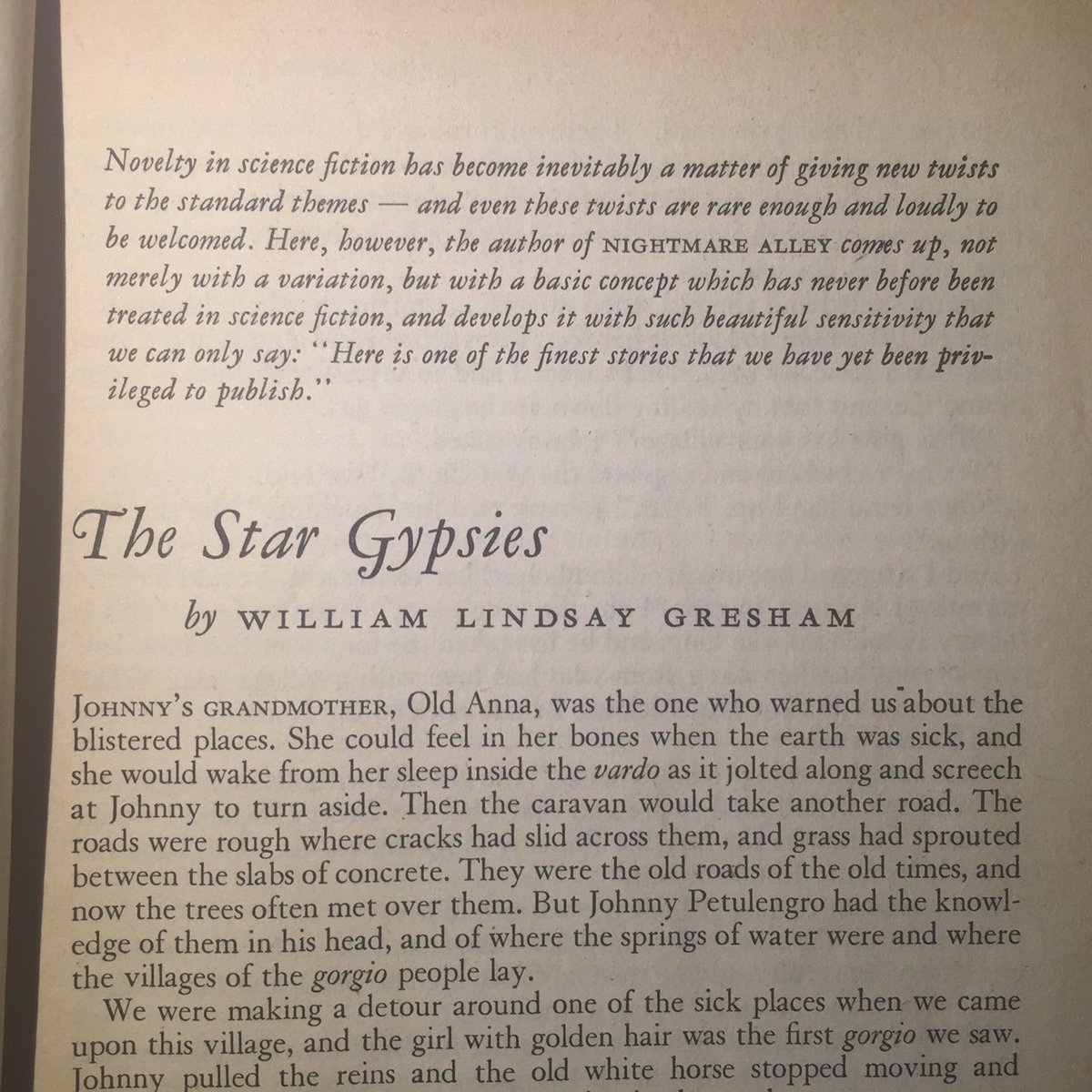 Overall, the issue has an emphasis on very short stories, mostly science fiction, along with several interesting poems. It opens with "The Star Gypsies" by William Lindsay Gresham, about a group of people roaming wastelands after a nuclear apocalypse. The trope seems familiar now, but Gresham, primarily known as a noir writer, invented it in this story.
So, in a way, what I'm saying is we can all thank Gresham and F&SF for the existence of this gif.
You're welcome.
Other noteworthy stories in this issue include "Star Light, Star Bright" by Alfred Bester, about an adult pursuing children with supernatural powers. It became the title story of one of Bester's collections and was nominated for a Retro Hugo Award in 2004. There's also "Judgment Planet" by Idris Seabright (Margaret St. Clair), which is an sf survival story mixed with social commentary, and "Expendable" by Philip K. Dick, which introduces the human/bug war premise he'd later explore differently in The Cosmic Puppets.
After these stories, the issue also includes "The Adventure of the Snitch in Time" by August Derleth and Mack Reynolds, another in their sf Sherlock Holmesian Solar Pons series, and "The Untimely Toper," a Gavagan's Bar story by L. Sprague de Camp and Fletcher Pratt. "Man" is a short alien life forms story by Dave Dryfoos, "Mop-up" by Arthur Porges is a Last Man on Earth story, while "Yankee Exodus" is the first published story by Ruth M. Goldsmith, whose fiction later appeared in The Atlantic. Finally, the issue includes "The King's Wishes" by Robert Sheckley, a story about a demon that delivers the fantasy in the magazine's title and reprints "The Friends of the Friends," a supernatural tale by Henry James in the vein of The Turn of the Screw.
Winona McClintic contributes two interesting and entirely different poems to the issue, "The Vampire," and her sonnet "The Antiquary," while Anthony Boucher offers his fanzine parody verse "The Model of a Science Fiction Editor," which begins…
I am the very model of a modern s f editor
My publisher is happy, as is each and every creditor.
You can read it in its entirety online.
A dozen stories, eleven of them new, three poems, the Recommended Reading column, new and old logos by George Salter, and a cover and interior art by Emsh — this is the sort of early issue of F&SF (number #26 overall in the series) that helped solidify the magazine's reputation.
Tell us a bit about "Trustworthy, Loyal, Helpful."
Caught between dueling mentors, a young man loses his scientific virginity.
What was the inspiration for this story, or what prompted you to write it?
In one of my Zephyr stories in F&SF — "The Man from X" — a character owned a self-levitating steamer trunk that left a trail of colored bubbles as it moved through the air. I made up the word chromagenic to describe this property. It was just a throwaway background detail, a bit of handwavium. Later, I found myself thinking: could there really be such a thing as a chromagenic metal? How would it work? What real-world composition of matter (a term from patent law) would produce that effect? "Trustworthy" is the result.
What kind of research, if any, did you do for this story?
Tons. I tried to make it scientifically plausible. I pretended I was at MatSciCo — doing both Vik's and Jimmy's jobs — and solved the problems they encountered.
For research into characters I read poetry. I currently have a crush on Charles Wright. There's magic on every page.
This is the 25th anniversary of the last cover story you had in F&SF. Could you talk about the ups and downs of your writing career, and what drew you back to science fiction after time away?
I read lots of SF as a kid, and came out of college determined be a writer. My first pro sale was to Galaxy. When I earned my SFWA card I was thrilled.
In my Twenties and Thirties I wrote steadily. I never sold a novel, alas, but I did okay with short stories. I wrote both SF and non-genre stories published in literary magazines. This went reasonably well — a cover story in F&SF, nominations for mainstream awards — but it was more of a hobby than a real job. I supported myself by temping in offices. As I recall, Galaxy paid a nickel a word. The literary magazines were even worse. Sometimes they just gave me two copies of the magazine in which my story appeared.
At age 38 I got married. We bought a house. Had kids. Which meant I had other people to think of beside myself. I took a hard look at the time spent writing vs. the payoff.  Viewed as a business, it made no sense. So I stopped cold. Instead, I focused my language energy on translation. No literary glory, but the work was steady and paid well. I missed the opportunities for creativity, but duty to my family came first. (Now that I think about it, perhaps this was an attitude I absorbed from living in Japan.)
What drew me back? I never left. I've always enjoyed reading science fiction. I just stopped writing. Now that my financial situation is stable and the kids are grown and I have more time, I can justify putting a lot of time and energy into what amounts to systematic daydreaming.
What are you working on now?
I am slowly creating a set of interlocking short stories.
My intent is that each one will work as a standalone adventure, and as you read them the background world-building will gradually reveal a complicated society.
I've always been interested in how civilizations rise, interact, succeed one another. In my future history, the Mainline/Spur society in which Zephyr is embedded is the third great spacefaring civilization humanity creates. I have a lot to say about how we get there. Stay tuned.
"Trustworthy, Loyal, Helpful" appears in the July/August 2016 issue. 
You can buy a copy of that issue here: https://www.sfsite.com/fsf/toc1607.htm
You can subscribe to F&SF here: https://www.sfsite.com/fsf/subscribe.htm
The July/August issue of The Magazine of Fantasy and Science Fiction is now on sale! You can order a single copy from our website or buy an electronic edition from Amazon or AmazonUK. Or just subscribe now and never miss another issue!
This is the 726th issue of Fantasy & Science Fiction.
Mondolithic Studios, the team of Kenn Brown and Chris Wren, provided this month's cover, which illustrates Gregor Hartmann's story "Trustworthy, Loyal, Helpful." To see more work by this talented pair, visit their website at mondolithic.com.
"TRUSTWORTHY, LOYAL, HELPFUL"
BY GREGOR HARTMANN
Gregor Hartmann's last cover story for F&SF appeared in our August 1991 issue for his fantasy tale, "Henry in the Trees." After that one appeared, he took a short — well, for some, two decades is short — hiatus from writing to pursue his career as a translator of scientific patents. That knowledge and expertise shines in this new story, which is about both unexpected discoveries and unintended consequences.
MORE GREAT FICTION
This issue includes another anniversary story: 45 years ago, in our August 1971 issue, F&SF published "Born to Exile," the first professional story with Phyllis Eisenstein's solo byline. The story introduced Alaric the Minstrel, who has since appeared in two novels and numerous stories, many of them in these pages, making this the longest running series by a single author in F&SF's history. Eisenstein's new Alaric adventure includes fresh revelations about his world and character that shows there are still new twists for this familiar figure.
Other writers returning to our pages in this issue include Oliver Buckram, with "An Open Letter to the Person Who Took My Smoothie from the Break Room Fridge," a story that shows how true evil arises from petty impulses as much as grand plans; Bruce McAllister, with "Killer," a short piece that revisits his world where angels have appeared in Central Park; and David Prill, whose "Vishnu Summer" will evoke the smell of cut grass and the sound of county fair calliopes as it takes you on an unexpected journey.
We also introduce several new writers to the pages of F&SF. It includes a couple fantasy stories: Dominica Phetteplace makes her first appearance with "Spells Are Easy If You Have the Right Psychic Energy" and Betsy Philips joins us with her semi-autobiographical tale, "Jesus Has Forgiven Me, Why Can't You?" K. B. Rylander brings us a science fiction story, "Last One Out" — there's more on that below. And this month's novella is an alternate history, "The Vanishing Kind," by World Fantasy Award winner Lavie Tidhar. A Man Lies Dreaming, Tidhar's noir novel about Nazis and British fascists, was published in the US in March to wide critical and popular acclaim. He tells us that the idea for "The Vanishing Kind" came to him shortly after he finished writing that novel. Both stories make their way like spies through the sordid, shadowed streets of a London that might have been.
Along with the fiction we have "Martian Garden," a poem by John Philip Johnson, and "The London-Ehrenreich School of Applied Textual Fortitude," a new Plumage From Pegasus piece by Paul Di Filippo. This issue closes with "The Thing on the Shelf," a novelet by reader favorite David Gerrold. Be sure to read the Coming Attractions at the end of that story for an important announcement.
READ "LAST ONE OUT" FOR FREE
We promised you more. Every issue features one story that we also offer for download online, via our free electronic digest for Kindle. (The UK version is available here.) This month's free story — which you can also find in the print edition — is "Last One Out" by K. B. Rylander. The Last Man On Earth is a classic science fiction trope given a fresh twist in K. B. Rylander's first story in print.
Even if you don't subscribe to the magazine – and why don't you? – you can click on this link and read Rylander's story and all the columns in the issue for free.
OH YES, THE COLUMNS AND FEATURES
Charles de Lint reviews new books by Patricia McKillip, Carolyne Larrington, Lev Grossman, Diana Pavlac Glyer, and Melissa F. Olson. James Sallis considers new short story collections by James Morrow, Mary Rickert, and Jeffrey Ford. Kathi Maio offers insights into three films, "10 Cloverfield Lane," "Eye in the Sky," and "Zootopia." In our science column, Pat Murphy and Paul Doherty look at "Our Super Cool Solar System." And for our Curiosities column, Robert Eldridge presents Star of the Unborn (1945) by Franz Werfel, the German exile's posthumous science fiction novel.
LET US KNOW WHAT YOU THINK
After you read the issue, or even part of it, we hope you'll share your thoughts with us. We can be found on:
In the meantime… enjoy!
C.C. Finlay, Editor
Fantasy & Science Fiction
fandsf.com | @fandsf