Tell us a bit about "Vishnu Summer."
Non-spoiler version: "Vishnu Summer" is a coming-of-age story about a teenage girl living in the rural Midwest, and the mysterious stranger who arrives and upends her world.
What was the inspiration for this story, or what prompted you to write it?
I believe the original inspiration for "Vishnu Summer" came from a cartoon in the Charles Addams book, Addams and Evil, which I first read in junior high (my hero Robert Bloch did a take-off on the title with his Atoms and Evil collection). The cartoon depicts a husband and wife, the latter holding a frying pan, spatula and baby. The caption has her saying: "Wait a minute, can't you? I've only got three hands." What I didn't spot at the time were the subtle clues that this wasn't an ordinary husband and wife, this couple belonged to a carnival sideshow. Addams' drawing, as usual, was both banal and bizarre, and the image stuck with me over the years.
So a story about someone with three arms might be interesting. Had it been tried before? I did a search…and found the Edward Albee play, The Man with Three Arms. I was crushed! However, Mr. Albee's many-armed character didn't go over well at all. A critic in the New York Times wrote: "It isn't a play, it's a temper tantrum in two acts… One of the more shocking lapses of Mr. Albee's writing is that he makes almost no attempt even to pretend that Himself is anything other than a maudlin stand-in for himself, with the disappearing arm representing an atrophied talent." Well clearly there was room here for a non-navel-gazing version of the Three-Armed Man. And off I went.
"Vishnu Summer" went through more than one iteration before it was published, both in the title (at one point it was called "The Ballad of the Three-Armed Man") and in its ending.  Can you talk about the transformations that this story underwent, and was the writing of "Vishnu Summer" typical of your writing process generally?
In the beginning, the story was called "Summer of the Three-Armed Man." The narrator is reliving a childhood memory about that odd summer, and wonders what ever happened to Three-Arm. I was thinking of a Something Wicked This Way Comes feeling (Bradbury's book made a huge impact on me as a youth). I couldn't figure out where the narrator fit into the story, though, so I moved on.
Then came "Ballad of the Three-Armed Man," which was a dark, terribly sad story about how Three-Arm comes back to the small town where he once was a sensation…and nobody cares. Most of the townspeople had died or moved or whatnot. His third arm has arthritis, so he can't play the guitar like he used to. A whole lotta angst in this version. He ends up cutting off his third arm. Paging Mr. Albee! I abandoned it.
Finally came the version with Audrey. An early version of this one had her ma cutting off her arm, so there'd be symmetry with Three-Arm. A farm accident seemed more appropriate, considering the setting. The idea of a three-armed person interacting with a one-armed person made me sit up on the edge of my seat. I had her ma painting visions on the back of the barn early on.  At some point you just start linking elements of the story together, and if they hold, you keep adding on to it. As soon as I wrote the first line, I knew I had her voice. Very comfortable fit for me, probably more than any character I've written before. I enjoy the mix of low-brow/high-brow writing.
The ending changed three times. Ending #1 had Audrey and Three-Arm hopping a train to head west, but lawmen swarm the rail yard when the train makes a stop not far from town. Three-Arm tries to flee, and is crushed beneath an oncoming train, and the farm burns down because her ma's vision is destroyed, and Audrey ends up on Venice Beach in California. Whew! Ending #2 had Audrey go into the maze, but she does not pull off her cornstalk arm, thus ensuring that Three-Arm never notices her, and so she is saved from a fate worse than whatever. I changed that ending (while at the same time tweaking Three-Arm to make him more sympathetic) because I wanted it to be Audrey's choice, not just passively obeying a parent's wishes. This change gave the ending more impact, and it became more of a coming-of-age story. I liked the idea of giving Audrey another ride on the merry-go-round.
This whole process was a pretty drastic departure from the way I usually work. Often when a story goes through this many changes, it ends up being a bit of a mess. I'm not sure why it worked this time. One of the mysteries of creation.
What are you working on now?
I just finished writing a pair of linked novelettes as part of the Clarion writing workshop's annual Write-a-Thon. I took part because without Clarion, there would have been no "Vishnu Summer." Donations provide scholarships for students, names you'll eventually see in the pages of F&SF.  Go to http://clarionwriteathon.org/ for details.
"Vishnu Summer" appears in the July/August 2016 issue of F&SF.
You can buy that issue here: https://www.sfsite.com/fsf/toc1607.htm
You can subscribe to F&SF here: https://www.sfsite.com/fsf/subscribe.htm
Tell us a bit about "Last One Out."
The title is based on "last one out, hit the lights."  It's about the last woman on Earth and her robot companion.  There's an AI-run infrastructure that just keeps going even after the people are gone because that's what the robots are programmed to do. They keep producing food. They keep mining and polluting to serve humans who aren't there. At the same time there's Ella who had dedicated her life toward her children and teaching, but now they're all gone. What is she leaving the world and does it even matter?
What was the inspiration for this story, or what prompted you to write it?
Years ago I asked my husband for a writing prompt and he said, "Write about Filip and Ella at a summer house on the island of Gotland." The story I pictured was a romance I didn't want to write so Filip quickly became a computer. I'm a discovery writer and just started writing based on that. Ella became an old woman which worked well with me because the world needs more stories about interesting older women. After writing a draft of the first scene I put it aside for years, but couldn't quit thinking about it. When I finally sat down to finish it, the story practically wrote itself.
Ella was inspired partly by my great grandmother, but is also a bit my father, who is a musician who tried his hardest to share his love of music with me.
What is your connection to Sweden, and why did you decide to set an end-of-the-world story there?
I've got family in Sweden and have spent a lot of time there. My husband and I plan to move there eventually. It's a gorgeous and interesting place and yet there's not a lot of fiction set there. In this case the setting came before the story idea, but it lent itself well to this end-of-the-world story. It starts on the island of Gotland and ends in Stockholm, which itself is built on fourteen islands. The Stockholm archipelago has 24,000 islands. Water is everywhere in Sweden, which is about perfect for a story about isolation.
"Last One Out" appears in the July/August 2016 issue of F&SF.
You can buy a copy of the issue here: https://www.sfsite.com/fsf/toc1607.htm
You can subscribe to F&SF here: https://www.sfsite.com/fsf/subscribe.htm
How much of this story is true?
I did date a guy who was a professional wrestler as a hobby. I did think he had a drinking problem, when he was actually married to a stunningly beautiful woman. I avoided talking to her in a Wendy's, though, not at a wrestling match. She did have a baby, which made me feel even worse about a situation I already felt terribly about. He did say to me, "Jesus has forgiven me. Why can't you?" which, even when he said it, I thought it was more memorable and poetic than anything he'd said the whole time we were dating. But all of the witty retorts and the satisfying vengeance are all made up. I've never actually wrestled, except when horsing around with my brothers as a kid and I'm sure I did a lot more crying and threatening to tell our parents on them than I did wrestling.
How does one get onto the amateur wrestling circuit, and what's it like, for those of us not in the know?
I was never sure if his story about wrestling for Jerry Lawler was true or not. I never got to meet Jerry Lawler or anything cool like that and he definitely wasn't wrestling for Lawler when we knew each other. (I did learn how to cut my forehead with a razor blade and then seal it back together with Vaseline so that I'd bleed really good and gross if hit, but I never have had a chance to use that particular skill.) The level at which he was wrestling when I met him–at suburban VFWs and rec centers–struck me as not requiring a whole lot of training. If someone said you knew what you were doing and you didn't injure anyone when you tried out, if they needed talent, they pretty much let you in. I think one of the reasons he made the claim about wrestling for Lawler was to say that he had real training and wasn't just some backyard wrestler made good. But a guy who will lie about being married will probably lie about wrestling for The King, so who knows what the truth was there?
Still, an amazing thing about Tennessee is that it's filled with old wrestlers who maybe never made it big, but who still do amazing work. We saw a rope match one time between two old, paunchy guys who were already limping before they got to the ring. Just, like, imagine your dad or your laziest uncle, but in tiny pants and tied by the wrist to another guy. Not the kind of men you expect beauty from, but, man, when they were in the ring, tossing each other around, pulling each other away from the posts (the rope match had a stipulation that the winner was the person who touched all four posts first) and flipping over each other to reach their goal, it was sublime. I still think it was one of the most amazing, beautiful, dramatic things I've ever seen. And to think that there are all kinds of people in the area who can tell these gripping stories through their bodies? It just blows my mind.
Can you talk about how your family, your roots in Nashville, your interests in history, etc., have influenced you as a writer?
I don't actually have any roots in Nashville. We vacationed here a lot when I was a kid and when I needed a place to live as an adult, Nashville seemed like as plausible a destination as any. Fortunately, it turned out that Nashville is a great place for creative people–crammed full of visual artists, musicians, and writers of all sorts. Plus, when you dig into it a little, it turns out that Nashville has a really weird and interesting history. But the most important thing about Nashville is that it has always been a city that is a real place and a myth. It's always been really aware of the power of a good story, whether that means a small village huddled in the shadow of an old wooden fort pretending it was as cosmopolitan as Philadelphia back in Nashville's early days or now, where the reality of Nashville as an ordinary place people live and work regular jobs sits right alongside of the Nashville tourists imagine and country music hopefuls dream it will be. (Take cowboy boots and hats as an example of how this works. No one who actually lives in Nashville, unless they're a part of the ongoing mythologizing of Nashville, wears cowboy boots and hats, but we know tourists expect them here, so we have a ton of places for you to buy them.) If you want to learn about world-building, Nashville's a great place to watch it in action on a large scale.
Most important to my development as a writer, though, is that fact that my dad is a Methodist minister, which, at heart, means that I was raised to believe that a story told right could change the world. I think that's been an enormous influence on me, growing up believing that stories and the telling of them have soul-deep value.
What are you working on now?
Right now I'm working on a novel–a haunted house story set in Nashville. I'm really fascinated by how many people live in subdivisions that surround antebellum homes or how many couples get married in the yards of these homes. I mean, they're beautiful, but they're a strange backdrop for happiness. And it's not like the history of these places is deeply hidden. People just…I don't know, exactly. It seems like they cherish the homes for their historical value and yet pretend as if their histories are unimportant. It's an interesting contradiction and so my novel is about what happens when the ugliness at the heart of a house like that gets up and goes walking around, when people can't ignore it, because it's opening doors or calling out your name.
People can find me at betsyphillips.net or on twitter @auntb
"Jesus Has Forgiven Me, Why Can't You?" appears in the July/August 2016 issue of F&SF.
You can buy a copy of the issue here: https://www.sfsite.com/fsf/toc1607.htm
You can subscribe to F&SF here: https://www.sfsite.com/fsf/subscribe.htm
Over the past year or so, we've been doing a #TBT (Throw Back Thursday) feature on the F&SF blog, where they can easily be found under the "F&SF History" tag. We also share them on the F&SF Twitter account and Facebook page.
* * *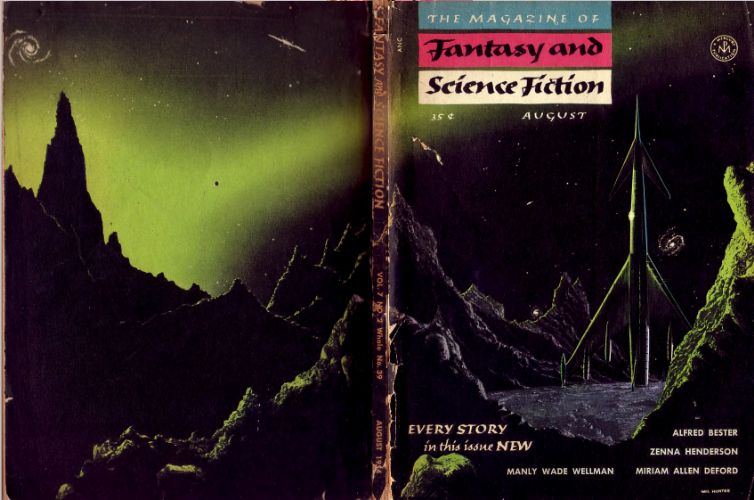 #TBT to the August 1954 F&SF. The wraparound cover by Mel Hunter is titled "Exploring a Green Star System."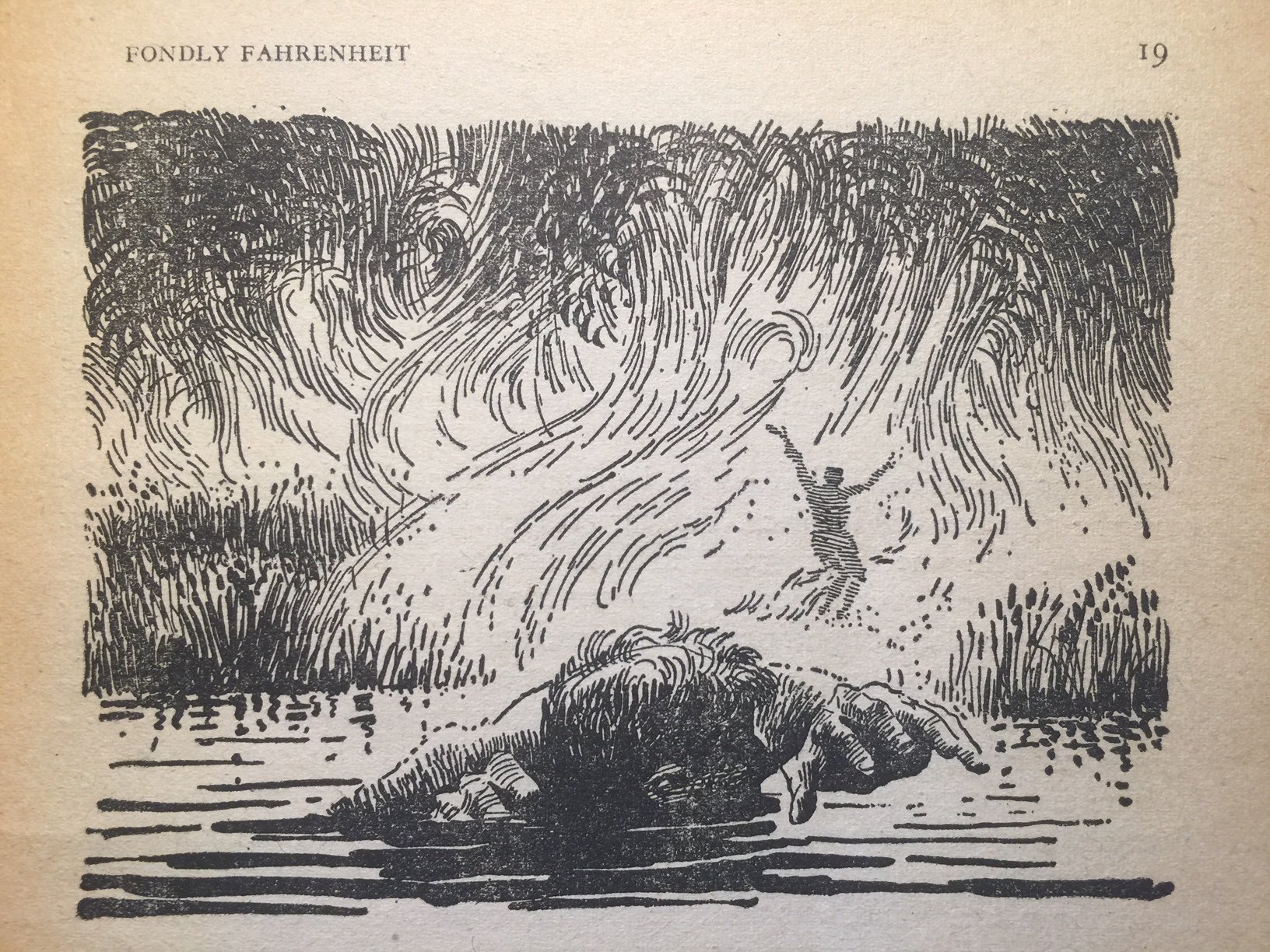 This issue leads with "Fondly Fahrenheit," one of Alfred Bester's most famous and frequently reprinted stories. The plot involves a millionaire playboy and his android servant who have developed into a single shared insane psychopathic personality. In 1959, it was turned into a tv movie, "Murder and the Android," starring Rip Torn as the android, with Suzanne Pleshette and Telly Savalas. A 1999 Locus poll rated it the 4th best sf novelette of all time, and it's still frequently used to teach story structure and technique. The editors must have known this was a special story: they commissioned Nick Solovioff to do two rare interior illustrations for it.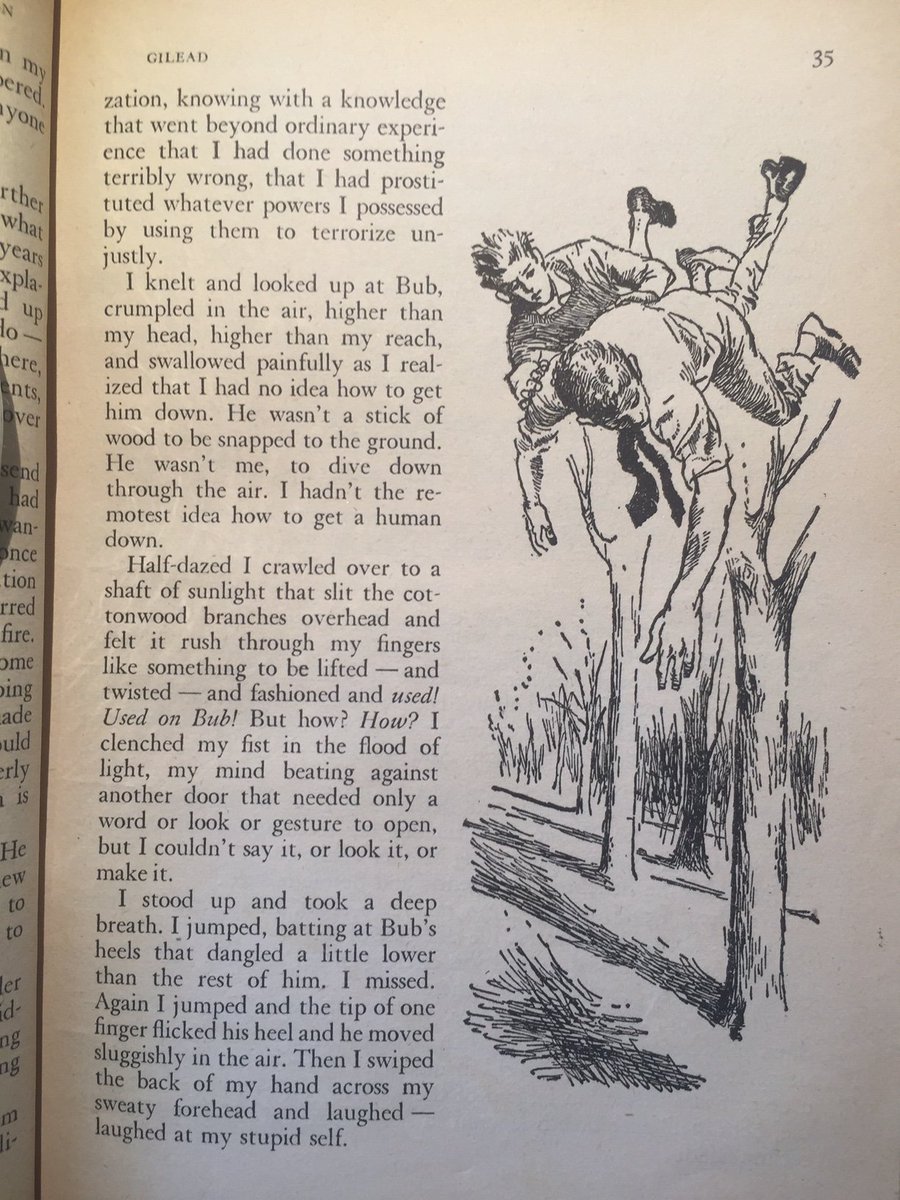 The other big story in the issue is "Gilead" by Zenna Henderson, part of her series of stories about The People, alien refugees on Earth. While ostensibly science fiction, the special psionic powers and country setting of The People give the stories a fantasy flavor. Although "Gilead" is the second story in the series following "Ararat" (F&SF, Oct 1952), it stands by itself and is considered one of the best. In her review of Ingathering, the complete People stories, Jo Walton recommend "Gilead" as a place to start. (In fact, Walton's review of Ingathering for Tor.com is highly recommended as a useful primer on Henderson's series.) Parts of "Gilead" were included in "The People," a 1972 ABC Movie of the Week adaptation of Henderson's stories starring William Shatner. Once again, the editors knew that "Gilead" was a special story and had Nick Solovioff create two rare F&SF interior illustrations for it.
The rest of the stories in the issue may not reach the same level as the first two, but they're still pretty good. "The Devil and Simon Flagg" by Arthur Porges is a humorous deal-with-the-devil story involving magic, math, and Fermat's Last Theorem. "The Invisible Wall" by Richard Brookbank is a contemporary fairy tale about a child-turned-adult who's isolated himself too much. "Command Performance" by Kay Rogers is an if-this-goes-on piece of social commentary mixed with complex and thoughtful sf speculation. "Two-Bit Oracle" by Doris Pitkin Buck is a story about prophecy, Gods, and worship with an unexpected but fitting ending. "The Quadriopticon" by future Twilight Zone writer Charles Beaumont is an sf satire of Hollywood that feels like a Twilight Zone episode.
The issue closes with "The Little Black Train," one of the Silver John the Balladeer stories by Manly Wade Wellman. John the Balladeer was a popular, groundbreaking series of contemporary Appalachian fantasy stories that ran in F&SF in the 1950s-60s. The stories were collected in Who Fears The Devil? (Arkham House, 1963) and turned into a terrible low-budget movie in 1972. "How terrible?" you ask. You decide — here is the main special effects scene from "The Legend of Hillbilly John":
The issue also contains "Frustrated Frankenstein: Alfonso Herrera and His Colpoids," a Fortean science column by Miriam Allen deFord. The "Required Reading" column by editors Boucher and McComas recommends books by Judith Merrill, Roald Dahl, and others. And "Report on the Sexual Behavior of the Extra-Sensory Perceptor" is a poem by a pseudonymous Boucher (writing as Herman W. Mudgett) that slams the science of Kinsey and Rhine:
Untrained men are awfully easy to convince.
Our ideas could never move them
If we took the time to prove them.
This issue marks the end of an era. It was the last one co-edited by Boucher and McComas, who had been together since issue #1. All told, the pair produced 39 issues together, creating the high standards and feel of F&SF. Boucher would carry on alone through 1958.
Can you give us some background on this story?
Back in the 60's, I had a vision (don't ask—it was the 60's).  Of great wings in the night and a great egg and demons and angels cascading into New York's Central Park through a "door" into heaven and hell.  It was horrible and yet beautiful, too—a kind of Armageddon that wasn't going to end.  The demons and angels were here to stay.  New York was going to be transformed, and neither angels nor demons were what they appeared.  "Killer" tries to capture what NYC has become years later, how angels are hunted because human beings believe them to be demons, and how demons have posed as saints.
The story took many fits-and-starts forms, as most of my stories do (I'm a very slow, organic writer—I wish had eight typewriters going all at once in Asimov fashion, photographic memory, divine-comedy trust, cognition trumping everything, but I'm more intuitive and mystical and that seems to add up, despite the romantic labels, to slowness….), and for years the music I played while I produced them was Rodrigo's "Fantasia para un gentilhombre…," that sad yet beautiful ode to his dead son in the gardens of Aranjuez, Spain.  The first incarnation of that vision appeared in OMNI back in the day as "Kingdom Come" (you can find it online at the new OMNIMag), and people responded well to it.  But F&SF's "Killer," short as it is, has allowed me to look into NYC's future after the great door opens, and that's been wonderful.  A coming home.  Wings appear in it too, and how could they not?
Tell us about the film that you're making based on "Killer" and its predecessor that was published in OMNI in 1987.
Over the years a number of filmmakers have optioned that first vision, but never produced a film from it.  My son and I just finished a short film based on another story of mine, and we want to do another short.  For a number of reasons we want to do one, this one longer, based on F&SF's "Killer" and that earlier story.  We should be able to do it in twelve minutes, capture that world with green screen and the kind of visual fx my son Ben is so good at it, and also tell a human story that both William Faulkner and Par Lagerkvist might forgive given its celebration of the human spirit.  But after a year spent on this first film's 6 minutes—with a post-production more limbo than hell—we need to breathe and restore before we jump into another project.
Anything else you'd like to add?  Any other projects you're working on?
Short stories. At the moment, incredibly short ones—which can frustrate some readers—but I'm a fan of "proof of concept" short films and of stories that resemble them in their own way.  And my son and I are pursing our short (as we hope to do with the "Killer"/Kingdom Come"-based film) as a series more than a feature.  Wish us luck!
"Killer" appears in the July/August 2016 issue of F&SF.
You can buy a copy of the issue here: https://www.sfsite.com/fsf/toc1607.htm
You can subscribe to F&SF here: https://www.sfsite.com/fsf/subscribe.htm