F&SF, August 1954
Over the past year or so, we've been doing a #TBT (Throw Back Thursday) feature on the F&SF blog, where they can easily be found under the "F&SF History" tag. We also share them on the F&SF Twitter account and Facebook page.
* * *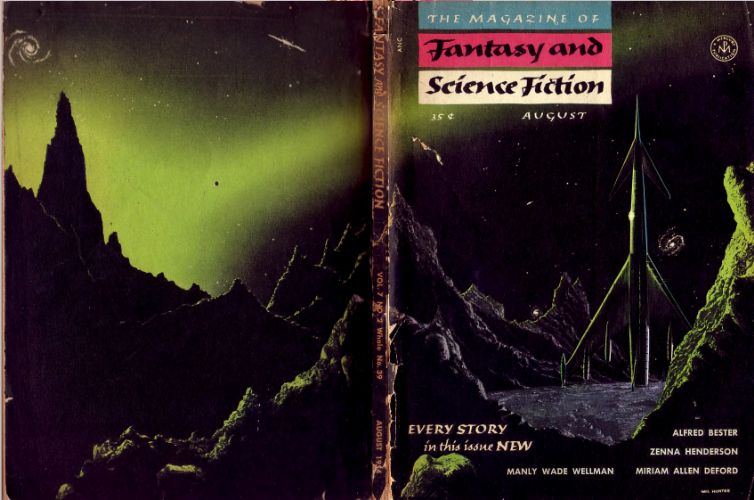 #TBT to the August 1954 F&SF. The wraparound cover by Mel Hunter is titled "Exploring a Green Star System."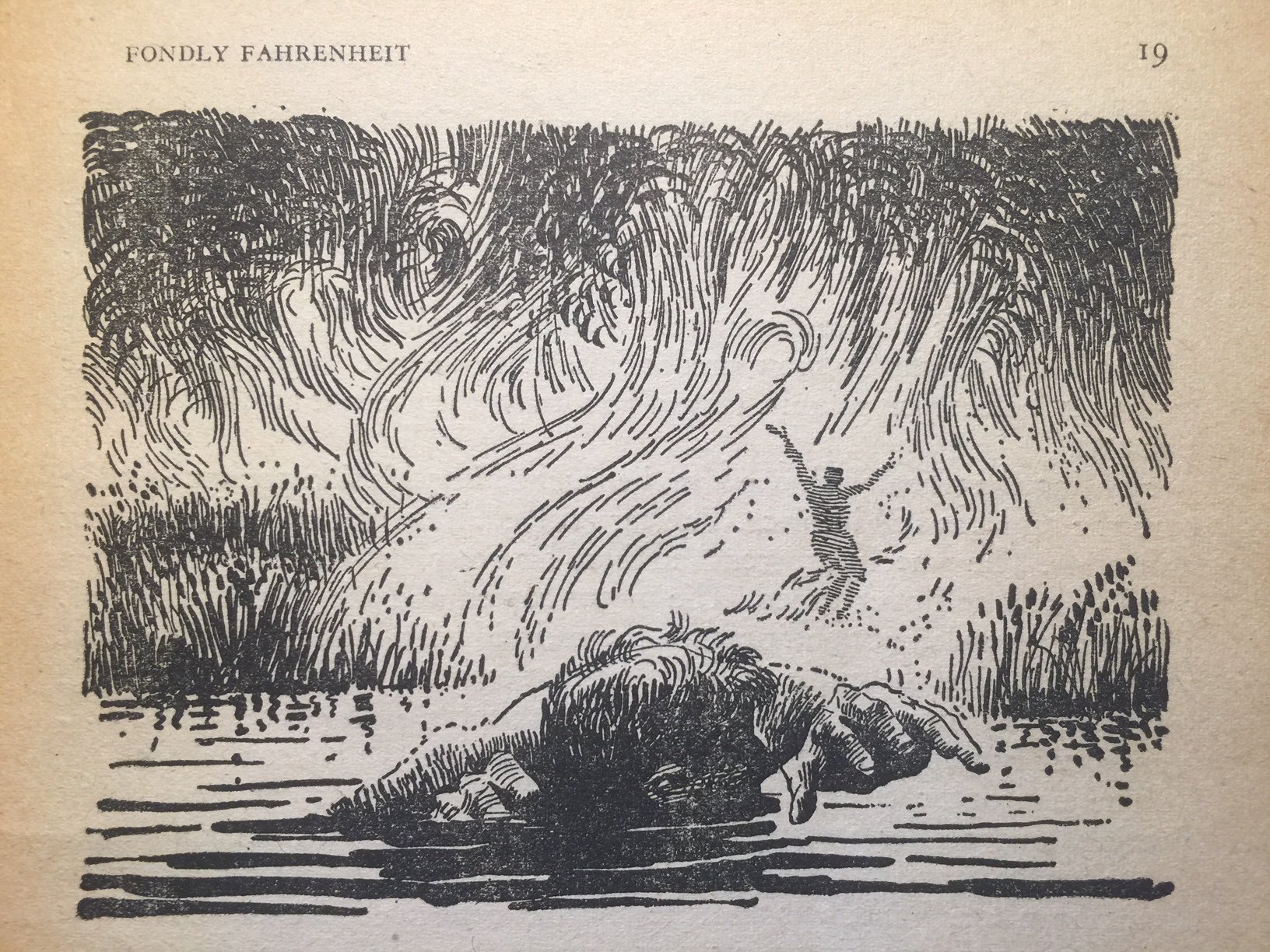 This issue leads with "Fondly Fahrenheit," one of Alfred Bester's most famous and frequently reprinted stories. The plot involves a millionaire playboy and his android servant who have developed into a single shared insane psychopathic personality. In 1959, it was turned into a tv movie, "Murder and the Android," starring Rip Torn as the android, with Suzanne Pleshette and Telly Savalas. A 1999 Locus poll rated it the 4th best sf novelette of all time, and it's still frequently used to teach story structure and technique. The editors must have known this was a special story: they commissioned Nick Solovioff to do two rare interior illustrations for it.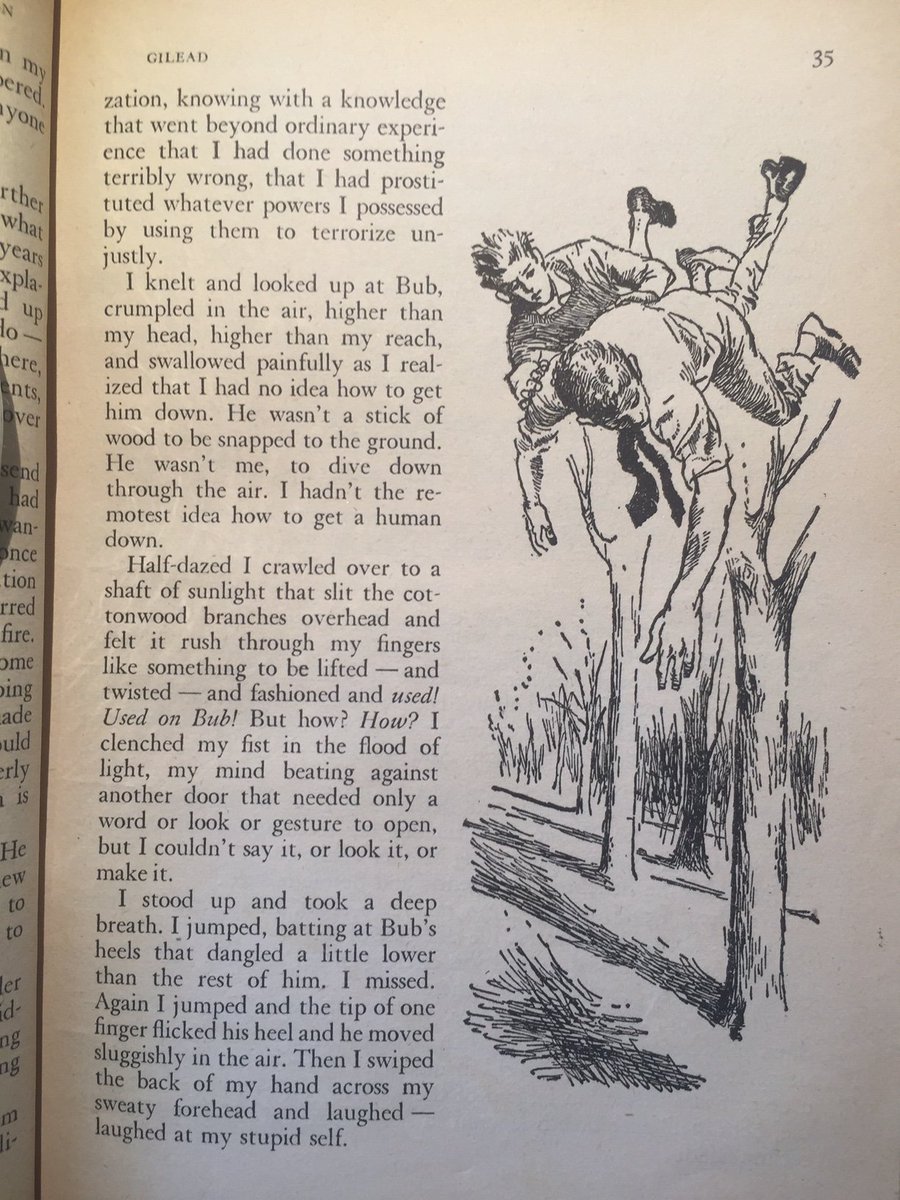 The other big story in the issue is "Gilead" by Zenna Henderson, part of her series of stories about The People, alien refugees on Earth. While ostensibly science fiction, the special psionic powers and country setting of The People give the stories a fantasy flavor. Although "Gilead" is the second story in the series following "Ararat" (F&SF, Oct 1952), it stands by itself and is considered one of the best. In her review of Ingathering, the complete People stories, Jo Walton recommend "Gilead" as a place to start. (In fact, Walton's review of Ingathering for Tor.com is highly recommended as a useful primer on Henderson's series.) Parts of "Gilead" were included in "The People," a 1972 ABC Movie of the Week adaptation of Henderson's stories starring William Shatner. Once again, the editors knew that "Gilead" was a special story and had Nick Solovioff create two rare F&SF interior illustrations for it.
The rest of the stories in the issue may not reach the same level as the first two, but they're still pretty good. "The Devil and Simon Flagg" by Arthur Porges is a humorous deal-with-the-devil story involving magic, math, and Fermat's Last Theorem. "The Invisible Wall" by Richard Brookbank is a contemporary fairy tale about a child-turned-adult who's isolated himself too much. "Command Performance" by Kay Rogers is an if-this-goes-on piece of social commentary mixed with complex and thoughtful sf speculation. "Two-Bit Oracle" by Doris Pitkin Buck is a story about prophecy, Gods, and worship with an unexpected but fitting ending. "The Quadriopticon" by future Twilight Zone writer Charles Beaumont is an sf satire of Hollywood that feels like a Twilight Zone episode.
The issue closes with "The Little Black Train," one of the Silver John the Balladeer stories by Manly Wade Wellman. John the Balladeer was a popular, groundbreaking series of contemporary Appalachian fantasy stories that ran in F&SF in the 1950s-60s. The stories were collected in Who Fears The Devil? (Arkham House, 1963) and turned into a terrible low-budget movie in 1972. "How terrible?" you ask. You decide — here is the main special effects scene from "The Legend of Hillbilly John":
The issue also contains "Frustrated Frankenstein: Alfonso Herrera and His Colpoids," a Fortean science column by Miriam Allen deFord. The "Required Reading" column by editors Boucher and McComas recommends books by Judith Merrill, Roald Dahl, and others. And "Report on the Sexual Behavior of the Extra-Sensory Perceptor" is a poem by a pseudonymous Boucher (writing as Herman W. Mudgett) that slams the science of Kinsey and Rhine:
Untrained men are awfully easy to convince.
Our ideas could never move them
If we took the time to prove them.
This issue marks the end of an era. It was the last one co-edited by Boucher and McComas, who had been together since issue #1. All told, the pair produced 39 issues together, creating the high standards and feel of F&SF. Boucher would carry on alone through 1958.
comments
Copyright © 2006–2020 The Magazine of Fantasy & Science Fiction • All Rights Reserved Worldwide
Powered by WordPress • Theme based on Whitespace theme by Brian Gardner
If you find any errors, typos or anything else worth mentioning, please send it to sitemaster@fandsf.com.

Designed by Rodger Turner and Hosted by: