It's been a few months since we posted recent acquisitions, but these contracts have been sent out and accepted so here's a group of stories that will be coming soon to the pages of F&SF:
"An Obstruction to Delivery" by Sean Adams
"Daisy" by Eleanor Arnason
"Dirty Old Town" by Richard Bowes
"Neko Brushes" by Leah Cypess
"Driverless" by Robert Grossbach
"The Toymaker's Daughter" by Arundhati Hazra
"Vinegar and Cinnamon" by Nina Kiriki Hoffman
"The Prognosticant" by Matthew Hughes
"The History of the Invasion Told in Five Dogs" by Kelly Jennings
"In A Wide Sky, Hidden" by William Ledbetter
"Merry Christmas From All of Us to All of You" by Sandra McDonald
"The Care of House Plants" by Jeremy Minton
"Leash on a Man" by Robert Reed
"The Regression Test" by Wole Talabi
"The Woman With the Long Black Hair" by Zach Shephard
The Adams, Hazra, Jennings, Talabi, and Shephard stories are first appearances in F&SF. In addition, the Adams and Hazra stories are first pro sales.
Tell us a bit about "The Sweet Warm Earth."
The story is about an expatriate Irish mobster in California from Boston. He works at the racetrack and meets an Italian from the old country who has the ability to communicate with horses.
What was the inspiration for this story, or what prompted you to write it?
The inspiration comes from a lot of sources. I was irritated by "The Horse Whisperer" or any of the whisperer genres, either non-fiction or fiction. We project that such things are always good and full of inner enlightenment. I took a different tack.
Also, I'd been reading about the Boston Irish mobs before Whitey Bolger and that also served as a source.
Was "The Sweet Warm Earth" personal to you in any way?  If so, how?
I grew up in California until I was eleven and then we moved to Alabama. My parents were enamored of horse racing and took me. I got to meet William Shoemaker at one point. I loved the tracks.
What are you working on now?
My novel, "Welcome to Witchlandia", is out on Amazon. I'm working on a new novel involving terraforming Venus.
Anything else you'd like to add?
Many of my stories are idiosyncratic and don't easily find a market. Thanks to C. C. Finlay, TSWE found a home.
"The Sweet Warm Earth" appears in the September/October 2016 Special David Gerrold issue of F&SF.
You can buy a copy of the issue here: https://www.sfsite.com/fsf/toc1609.htm
You can subscribe to F&SF here: https://www.sfsite.com/fsf/subscribe.htm
Tell us a bit about "A Melancholy Apparition."
It's set in the 18th century and is about Samuel Johnson and James Boswell, who are historical personages here in the UK.  In his day, Johnson was well known as a writer and conversationalist; he wrote an acclaimed dictionary of the English language.  Nowadays he is best remembered as the subject of a biography, The Life of Samuel Johnson, written by James Boswell.  This biography was hugely influential for its scope and the way it preserved many of Johnson's conversations, based on notes Boswell had made at the time.
The speculative element of "A Melancholy Apparition" is that it's a ghost story.  I won't give too much away, but I will mention that the way the characters discuss the issue is drawn from the source material.  In my edition of The Life of Samuel Johnson, "ghosts" has eleven entries in the index.  It's definitely something that people thought about and talked about, and I've tried to be as authentic as possible in conveying that.
What was the inspiration for this story, or what prompted you to write it?
Very occasionally, I like to try my hand at a story set in the past.  It's always an intriguing challenge because you have a solid base of known facts to start from, but then you have to weave a fictional tale that departs from the known facts, yet stays true to the personality of the characters involved.  My previous historical effort was "The Report of a Doubtful Creature", which starred Charles Darwin.  After that was published, I decided that my next historical story would be about Johnson and Boswell, mainly because I'd recently read The Life of Samuel Johnson and been fascinated by it.  It always helps when you've already done some of the research!
Was "A Melancholy Apparition" personal to you in any way?  If so, how?
No, it's not personal, except in the sense that I was writing about things I was genuinely interested in, without concern for marketability.  After I finished it, I did wonder whether Johnson and Boswell were sufficiently famous, especially outside Britain, for the story to get picked up.  I don't think the story needs the reader to already know who they are, but name recognition generally helps to get people interested.  Historical fiction can be a hard sell if it's about someone you've never heard of.
What kind of research, if any, did you do for this story?
I'd already read The Life of Samuel Johnson, but I needed to know more about Boswell himself, so I bought The Journals of James Boswell 1762-1795, edited by John Wain.  This is a single-volume selection of the highlights from Boswell's vast archive of private journals, which he wrote throughout his life.  Because he never intended them for publication, they're very frank, and they give a great picture of his personality.  They describe his travels, his encounters with famous people, his sexual adventures, his depressive temperament, and so on. Some of the story's colourful details were taken directly from Boswell's journals, and simply compressed a little to fit in the narrative.
What are you working on now?
I've just received editorial notes on a story, after I was invited to submit something to a theme anthology.  I need to decide if, and how, I can rewrite the story to address the feedback.  I won't go into any more detail, since the story hasn't been accepted yet, and it would be slightly embarrassing if I mentioned the anthology and then it turned out I wasn't in it!
"A Melancholy Apparition" appears in the September/October 2016 Special David Gerrold issue of F&SF.
You can purchase a copy of the issue here: https://www.sfsite.com/fsf/toc1609.htm
You can subscribe to F&SF here: https://www.sfsite.com/fsf/subscribe.htm
Over the past year or so, we've been doing a #TBT (Throw Back Thursday) feature on the F&SF blog, where they can easily be found under the "F&SF History" tag. We also share them on the F&SF Twitter account and Facebook page.
* * *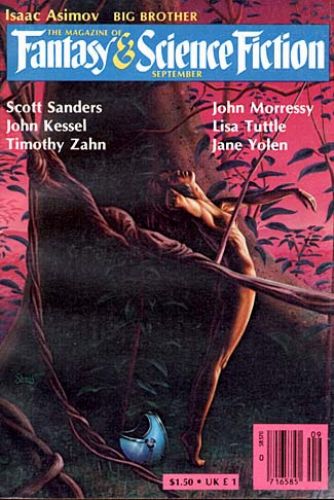 #TBT to the September 1982 issue of F&SF and this Barclay Shaw cover for Scott Sanders's "The Land Where Songtrees Grow." Sanders, better known for his novels and environmental non-fiction, offers an exoplanet story with a swamp full of siren trees.
The rest of the issue includes John Kessel's award-winning "Another Orphan" and a wide range of stories.
Next up is John Morressey's "The Crystal of Caracodissa" is one of his earliest tales of Kedrigern the Wizard. Don't try magic with a hangover. "Happy Birthday, Little Elroy," by mystery author and screenwriter Barbara Owens is a story about the dark side of birthday wishes.
The longest story in the issue is "Another Orphan" by John Kessel, a novella equally in dialogue with 1980s yuppie values and Moby Dick. "Another Orphan" was a finalist for the 1983 Hugo and Locus Awards for Best Novella, and won the 1983 Nebula Award.
"The Memory of Wood" by Lisa Tuttle is a haunted and haunting story about a young couple and a wooden chest. Timothy Zahn's "The Peaceful Man" offers entertaining military sf. "Everybody Goes to Mosserman's" is Richard Mueller's take on lycanthropy. Jane Yolen provides a mermaid tale with "The Undine." Nancy Kress offers a carnival sideshow story in "A Little Matter of Timing." The issue's fiction closes with "The Wooing of Slowboat Sadie" by O. Niemand (aka George Alec Effinger), sf written in the style of O. Henry.
In this issue's regular columns: Budrys reviews Delany, Simak, and Sargent; Searles seems surprised to be praising "The Road Warrior;" and Asimov explores chemical similarities.
The issue also includes Ed Ferman's obituary for F&SF's longtime copyeditor Evan William Phillips, who passed away young and unexpectedly.
Finally, in F&SF's infrequent letter column, a reader worries over evidence that young people have stopped reading sf. The genre is doomed.
The September/October issue of The Magazine of Fantasy and Science Fiction is now on sale! The magazine can be found in most Barnes & Noble stores, as well as many local independent booksellers. You can order a single copy from our website or buy an electronic edition from Amazon or AmazonUK. Or just subscribe now and never miss another issue.
Not sure if you want to subscribe? For a very limited time, Amazon is offering a $5/£5 annual Kindle subscription to residents of the US and UK. That's just $5/£5 for six issues, more than 450,000 words of fiction, plus columns, cartoons, and more. Check it out: Amazon US | AmazonUK.
This is the 727th issue of Fantasy & Science Fiction and the 67th anniversary issue of the magazine, which debuted in October 1949. And we think it's special. David A. Hardy created this cover for the David Gerrold Special Issue. To see more of his work, visit his website at http://www.astroart.org/.
YES, THAT'S RIGHT,
A DAVID GERROLD SPECIAL ISSUE
David Gerrold hasn't just had one remarkable career in science fiction, he's had four or five. His first professional sale was "The Trouble with Tribbles" to Star Trek: The Original Series, which also won him his very first Hugo nomination. He went on to write other episodes for that series, plus the Animated Series, as well as novel tie-ins (including Encounter at Farpoint) and three non-fiction books about the show. His other television work included writing for Tales from the Darkside, The Twilight Zone, Babylon 5, Sliders, and Land of the Lost, where he created the Sleestaks.
At the same time, he was building a career as a classic science fiction writer of ideas, whose early novels included The Man Who Folded Himself and When HARLIE Was One (1972), another Hugo and Nebula finalist, and one of the first works anywhere to describe the idea of a computer virus.
He followed that up with a career writing science fiction adventure series, including both The War Against The Chtorr and Star Wolf books among others.
And throughout the decades, Gerrold was writing short fiction, which, in the early 1990s, took a personal turn that elevated his work to a whole new level. When "The Martian Child," a story about a single gay father raising a young boy who believes he's an alien, was published in F&SF in 1994, it won the Hugo, Nebula, Locus, and HOMer Awards, and later was made into a feature motion picture. It was the first of many much more personal stories that have redefined his career again over the past twenty years.
Gerrold has also long been both a behind-the-scenes and vocal advocate for more LGBTQ representation in science fiction, particularly in the Star Trek universe, a goal that was finally realized this summer with the release of Star Trek Beyond.
Few writers with this kind of range are this prolific. Few writers as prolific as David Gerrold have his kind of range. That's why we are proud to present this David Gerrold Special Issue, our first special author issue in almost a decade. It includes two very different new novellas — "The Further Adventures of Mr. Costello" and "The Dunsmuir Horror" — plus an appreciation essay by former F&SF editor Kristine Kathryn Rusch and a brief autobiography by Gerrold titled "My Life in Science Fiction."
MORE GREAT FICTION
But this is a double-sized issue so it includes a double-sized amount of great stories, starting with "Talking to Dead People," a moving new story about murder, loss, and artificial intelligence by Nebula and Sturgeon award-winning author Sarah Pinsker. Lisa Mason explores the future of interactive television in "Anything for You." And we bring you an alternate history novelet by Geoff Ryman; "Those Shadows Laugh" revisits the premise of Charlotte Perkins Gilman's novel Herland, and considers how it might look in the modern world.
On the fantasy side, we offer "The Green-Eyed Boy" by Peter S. Beagle, a new tale about a very familiar wizard set in the world of The Last Unicorn. We also offer "The Sweet Warm Earth" by Steven Popkes, a more contemporary fantasy set in the world of horse racing and gangsters.
Three other writers make their F&SF debut in this issue. Desirina Boskovich gives us a horror-tinged science fiction story, "The Voice in the Cornfield, the Word Made Flesh." Ian Creasey invokes the spirits of Boswell and Johnson in a historical ghost story, "A Melancholy Apparition." And Leah Cypess takes a hard look at how science might help solve — or not — the problems of marriage in "Cupid's Compass."
We also have a new poem, "The Dragon" by Aimee Ogden, who is making her first appearance in F&SF, plus all the regular columns and features.
OH YES, THE COLUMNS AND FEATURES
Charles de Lint reviews new books by Seanan McGuire, Michael L. Peters, and others. Michelle West reviews books by Lawrence M. Schoen, Patricia A. Mckillop, and Joe Hill. In the film column, Kathi Maio highly recommends the new science fiction film "The Lobster." And for our Curiosities column, Robert Eldridge considers The Adventures of Hatim Tai a Persian novel first translated into English in 1830. Plus cartoons by Arthur Masear, Danny Shanahan, and S. Harris.
LET US KNOW WHAT YOU THINK
After you read the issue, or even part of it, we hope you'll share your thoughts with us. We can be found on:
In the meantime… enjoy!
C.C. Finlay, Editor
Fantasy & Science Fiction
fandsf.com | @fandsf