F&SF, September 1982
Over the past year or so, we've been doing a #TBT (Throw Back Thursday) feature on the F&SF blog, where they can easily be found under the "F&SF History" tag. We also share them on the F&SF Twitter account and Facebook page.
* * *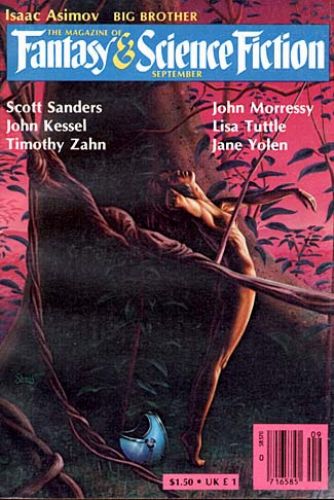 #TBT to the September 1982 issue of F&SF and this Barclay Shaw cover for Scott Sanders's "The Land Where Songtrees Grow." Sanders, better known for his novels and environmental non-fiction, offers an exoplanet story with a swamp full of siren trees.
The rest of the issue includes John Kessel's award-winning "Another Orphan" and a wide range of stories.
Next up is John Morressey's "The Crystal of Caracodissa" is one of his earliest tales of Kedrigern the Wizard. Don't try magic with a hangover. "Happy Birthday, Little Elroy," by mystery author and screenwriter Barbara Owens is a story about the dark side of birthday wishes.
The longest story in the issue is "Another Orphan" by John Kessel, a novella equally in dialogue with 1980s yuppie values and Moby Dick. "Another Orphan" was a finalist for the 1983 Hugo and Locus Awards for Best Novella, and won the 1983 Nebula Award.
"The Memory of Wood" by Lisa Tuttle is a haunted and haunting story about a young couple and a wooden chest. Timothy Zahn's "The Peaceful Man" offers entertaining military sf. "Everybody Goes to Mosserman's" is Richard Mueller's take on lycanthropy. Jane Yolen provides a mermaid tale with "The Undine." Nancy Kress offers a carnival sideshow story in "A Little Matter of Timing." The issue's fiction closes with "The Wooing of Slowboat Sadie" by O. Niemand (aka George Alec Effinger), sf written in the style of O. Henry.
In this issue's regular columns: Budrys reviews Delany, Simak, and Sargent; Searles seems surprised to be praising "The Road Warrior;" and Asimov explores chemical similarities.
The issue also includes Ed Ferman's obituary for F&SF's longtime copyeditor Evan William Phillips, who passed away young and unexpectedly.
Finally, in F&SF's infrequent letter column, a reader worries over evidence that young people have stopped reading sf. The genre is doomed.
comments
Copyright © 2006–2020 The Magazine of Fantasy & Science Fiction • All Rights Reserved Worldwide
Powered by WordPress • Theme based on Whitespace theme by Brian Gardner
If you find any errors, typos or anything else worth mentioning, please send it to sitemaster@fandsf.com.

Designed by Rodger Turner and Hosted by: