What was the inspiration for this story, or what prompted you to write it?
I wrote it for a Halloween contest in one of my writing groups. Somebody gave me a prompt of an empty swimming pool, which I used in the story as one of the unsolved murders. I had just read Molly Gloss's wonderful novel "Falling From Horses." This story is nothing like that one, but I closed that book and wanted to write something with a narrator who was addressing the reader fairly directly, confiding as if interviewed. The rest of it flowed from there. I think the first thing I had after the prompt was the "House of Whacks" pun, which gave me direction for the story.
Was "Talking to Dead People" personal to you in any way?  If not, how did you get into the head-space necessary to write this main character?
"Talking to Dead People" isn't personal to me in any way, other than the fact that I think the Nutshell studies are really cool. I found the narrator's head pretty easy to get into. She started out observing Eliza, who I had a better idea of from the beginning, so I was able to learn more about my narrator through her observations of the world around her. She painted herself from the outside in. From there it was a matter of figuring out when to deploy which of the important things I needed her to divulge about herself. Timed release.
What kind of research, if any, did you do for this story?
I had to learn more about the Nutshell studies, and more than I'd known before about Lizzie Borden. Actually, I started the story with Lizzie Borden in mind, then I read up on a whole bunch of different famous murders before deciding I had it right the first time.
What are you working on now?  And how does it feel to win a Nebula Award?
I'm working on two novelettes. I'm also putting together a collection. I just got back from an amazing science fiction trip to Beijing, where I didn't have a whole lot of chance to write, so I need to get my head back in the game.
Winning a Nebula was amazing. The whole evening was lovely. As someone who grew up reading the award winners, I was so honored to stand on that stage and join that list.
"Talking to Dead People" appears in the September/October 2016 Special David Gerrold issue of F&SF.
You can subscribe to F&SF here: https://www.sfsite.com/fsf/subscribe.htm
Tell us a bit about "Those Shadows Laugh."
THOSE SHADOWS LAUGH is a utopia.  Most of us now feel the future will be awful and that we must do something to make it better.   I don't think we can do that if we don't really feel the future can be a better place.
But on the other hand, readers are well aware of how people fall short morally.  The amount of work to create utopia and to keep it going looks insurmountable. So a modern utopian story will need to face up to how bad people can be and how complex and complicated and self-wounding they are.
So there is I hope a pretty wrenching conflict in the main character's story.  Part of Maria's panic comes from her knowing that she's overstepped the line with Evie.  She can't quite face that she's done something wrong.  Though in another way she does know it, which is why she panics.
Then bewilderingly for her and I hope for the reader too, the elders of Colinas Bravas want her gone for other reasons, reasons that Maria doesn't get.  And of course there are things that the elders don't get.   They want Maria gone because she wants to marry Evie, something that has no place in their culture.
I still hope that the readers can find it in their hearts to forgive Maria.  She really did want to marry Evie.   She wants to live on the island for reasons we can share.  She loses everything, but still hangs on to the hope of being let into the island.  But of course the Colinas won't.
I had a lot of fun imagining what the discovery of an all-women community in the 1870s would have done to world culture.  Maybe too much fun – about half the word length –maybe another 3000 words – was at one point about how the whole world would have been different with the example of a living, working all-women society.  All that alt history overwhelmed the story of my main character.  All that's left of it is a description of the 1936 Munich Olympics.  The Chancellor of Germany is not Hitler but a woman.  With no World War Two, Casablanca the movie was never made.  So there are little signs that this is a counterfactual history.  What was lost was any sense of how the example of a working community of women could change history.
Was "Those Shadows Laugh" personal to you in any way?  If so, how?
It's hard to imagine writing a story that isn't personal in nearly every way – it all comes from what you know, what interests you, and your own experience.
Over the last few years, I've fallen in love with the Dominican Republic.  It has the most incredible history; it is the seed from which all of the Americas grew for good or ill.  I've been there now about six times.  One trip I drove high up in the mountains to Constanza, which is a cold Caribbean city – apples and frost.  Pico Duarte is the highest point in the Caribbean at 11,000 ft.  Nobody thinks of the Caribbean with mountains.  So my hero is a Dominicana with both good and bad memories of her homeland.  Her Dad would take her hiking high up in the hills.  My utopia was settled by Taino Indians – the people who first met Columbus.  These women had sailed west from the Caribbean centuries before and found an island to settle in the Atlantic, a bit like St. Helena – but without committing a single act of genocide.  So I had fun imagining a Taino community of women who reproduce by parthenogenesis.  Basically they naturally clone themselves.  It was fun to imagine how they managed to prosper in a world of gunboat diplomacy.
What was the inspiration for this story, or what prompted you to write it?
Ah well.  Basically a BBC producer, Nicola Swords, asked me to front a radio documentary about the book Herland by Charlotte Perkins Gilman.  It was a lot of fun to do; we talked to a lot of very knowledgeable people about the book and it was a good 45 minute radio show.   And yes, it also got me thinking about how a feminist utopia might actually work.  Gilman was very smart about the women mutating so that they reproduced asexually.  What would a society be like if you didn't need anyone else to reproduce?
Nicola also pitched a companion short story to be read on radio alongside the documentary – which was lovely for me.  I love acting, and of course I love commissions.   I ended writing about 3.5 stories for Nicola. This story was way too long to be read aloud.  The story that made the cut was called "No Point Talking" – it's less than 2000 words, very succinct.  It's about a feminist utopia that comes about by accident.  The conservatives succeed is splitting California into two states, one of which will always elect two conservative Senators.  The result is that East California—San Francisco and north of LA – becomes a haven for women, immigrants and LGBTIAN peoples.  A utopia in fact.  But my narrator hates it – and that's the conflict.  "These Shadows Laugh" was way too long for radio, but the wonderful folks at F&SF decided to go with it.
I don't know how it works in the USA, but in Britain, producers are the creative heart of the culture.  TV, radio, films — they are the people with the ideas who make things happen, the ones with the vision.  The producers go in and pitch and put together the team.  If I had my life to live over again, I might just become a producer instead.  But once I thought producers were loudmouths with cigars and no taste who undermined creativity.  You live and learn.
What would you want a reader to take away from this story?
Towards the end of the story Maria comes up with a theory about how ownership of women in marriage may have influenced possessiveness in general – greed, acquisitiveness, territoriality.  Patriarchy and conquest and capitalism go hand in hand?  Maybe she's right, though such a flawed person.
"Those Shadows Laugh" appears in the September/October 2016 Special David Gerrold issue of F&SF.
You can hear the radio documentary on Herland at
http://www.bbc.co.uk/programmes/p03h7s4x

You can hear Geoff read the companion story 'No Point Talking' at
http://www.bbc.co.uk/programmes/b06yk7w1
You can subscribe to F&SF here: https://www.sfsite.com/fsf/subscribe.htm
Over the past year or so, we've been doing a #TBT (Throw Back Thursday) feature on the F&SF blog, where they can easily be found under the "F&SF History" tag. We also share them on the F&SF Twitter account and Facebook page.
* * *
#TBT to the September 1966 F&SF and this Jack Vaughn cover for "The Productions of Time" by John Brunner.
The issue opens with "Luana" by Gilbert Thomas, a short, wry science fiction story that was reprinted in Judith Merrill's SF 12 volume. But most of the issue is taken up by Part 2 of Brunner's short, serialized novel "The Productions of Time," which involves a play, a mystery, and time travel.
"Mr. Wilde's Second Chance" by Joanna Russ begins "When Oscar Wilde died, his soul was found too sad for heaven and too happy for hell. A tattered spirit with the look of a debased imp led him through miles of limbo into a large, foggy room…" and it goes on from there. The story was included in Russ's collection The Hidden Side of the Moon and appeared in a couple popular anthologies.
"Municipal Dump" by journalist Max Gunther was a humorous sf story, one of two he published along w a novel during a long nonfiction career.
This issue also saw the first publication of "Narrow Valley" by R. A. Lafferty, one of his most famous and often reprinted stories. It's a tall tale about a Pawnee named Clarence who uses a form of topographical magic to protect his land from homesteaders. "Narrow Valley" is readable online via the Internet Archive and courtesy of Ellen Datlow's reprint in Sci Fiction
The issue closes with "Troubling of the Water," a story about The People by Zenna Henderson. It was later included in No Different Flesh.
There's also a cartoon by Gahan Wilson, a book column by Judith Merrill, and Isaac Asimov's science column. F&SF's 1966 issues earned a 1967 Hugo nomination for Best Professional Magazine, but it withdrew due to a conflict of interest because F&SF's Assistant Editor Ted White was chair of Worldcon that year.
Over the past year or so, we've been doing a #TBT (Throw Back Thursday) feature on the F&SF blog, where they can easily be found under the "F&SF History" tag. We also share them on the F&SF Twitter account and Facebook page.
* * *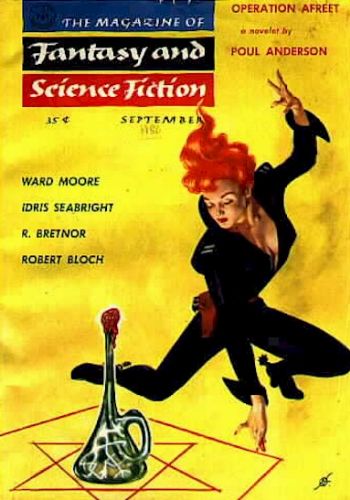 #TBT to the September 1956 F&SF and this Kelly Freas cover for "Operation Afreet" by Poul Anderson.
This issue enjoys minor fame for a typo on the spine identifying it as the September 1955 issue, confusing collectors who don't shelve carefully. The issue's cover and lead story, "Operation Afreet," is the first of the stories that were later fixed up into Anderson's OPERATION CHAOS novel. There are new stories by Richard Wilson, R. Bretnor, Lyle G. Boyd, and Idris Seabright plus reprints by Ward Moore and R. V. Cassill.
The issue also includes DAXBR/BAXBR, the notable Martian crossword puzzle story by sf writer and crossword puzzle creator Evelyn E. Smith. If you're wondering how a crossword puzzle story works, there's a sample below.
Plus there's an essay on fandom by Robert Bloch, film reviews by Charles Beaumont, and book reviews and a critical essay on Verne by Anthony Boucher.
F&SF was a finalist for the Hugo for Best Professional Magazine in 1957 (for its 1956 issues) but lost to Astounding and John W. Campbell, Jr.