Tell us a bit about "Cupid's Compass."
Cupid's Compass is set in a near-future world where scientists have developed a way to make people feel romantic love. The technology is marketed to older singles who want to get married, but feel trapped in an endless round of dating. With the new technology, they can make a rational decision about their future partner, then zap themselves into love with that person. The main character does exactly that, and gets everything she always wanted… or does she?
What was the inspiration for this story, or what prompted you to write it?
I've been trying for some time to write a coherent story about romantic love and marriage. What spurred the idea for Cupid's Compass was an article I read about the Koren helmet, also known as the "God helmet," which is supposed to induce mystical experiences via stimulation of the temporal lobes. A couple of days after reading the article, I was thinking about it while walking my daughter home from the playground, and the idea for Cupid's Compass hit me; I turned around, took her right back to the playground, and spent 45 minutes writing the first draft of the story in my notebook while she played. Most of my stories require a prolonged process of building up from an idea to a situation to actual characters and plot, but in this one, the overall structure of the story never changed from that first draft.
Was "Cupid's Compass" personal to you in any way?  If so, how?
Like I said, I have always wanted to write a story about romantic love. As a teen, I was bombarded with popular culture messages about romance, and I wrote several very angsty and absolutely terrible stories on the subject. As a married adult — and a writer of young adult fiction — I have a more nuanced view. The subject is complicated for me… and, like most complicated subjects, ripe for working its way into my fiction.
What kind of research, if any, did you do for this story?
I read up on the Koren helmet and some other research on temporal lobe stimulation. But this was not a very research-intensive story.
What are you working on now?
As I'm not under contract for anything at the moment, I'm working on several things at once: mostly YA projects, but also several short stories. I'm also writing a science fiction novella, a length I used to write a lot when I was younger, but trained myself out of because it seemed like there were no markets for it. It seems that might be changing, a shift I'm excited about.
"Cupid's Compass" appears in the September/October 2016 Special David Gerrold issue of F&SF.
You can buy a copy of the issue here: https://www.sfsite.com/fsf/toc1609.htm
You can subscribe to F&SF here: https://www.sfsite.com/fsf/subscribe.htm
Tell us a bit about "Anything for You."
Sometimes writers find their characters taking on a life of their own. Sir Arthur Conan Doyle famously became jealous of his character, Sherlock Holmes, who was more famous than the author himself. Conan Doyle tried to kill off Sherlock Holmes, but Holmes refused to die. Perhaps, too, the fans refused to let Holmes die.
Readers, especially fans, also experience the phenomenon of fiction becoming more real in their imaginations than reality. When a character whom fans love does something fictitiously they don't approve of, fans get angry.
What if fans could interactively participate in the creative process? The emotional stakes would be high.
What was the inspiration for this story, or what prompted you to write it?
My longtime friend and colleague, the German writer and editor Myra Çakan, asked me to contribute a story to an anthology which she'd titled Interactive. She envisioned all sorts of scenarios of modern life that could be interactive in a slightly futuristic way. That got my creative wheels turning.
That's what I love about being invited to contribute to themed anthologies. The editor's vision inspires me to explore directions I might not otherwise go. I wrote an 1890s stage magic story, Every Mystery Unexplained, for David Copperfield's Tales of the Impossible and a Chinese unicorn story, Daughter of the Tao, for Peter S. Beagle's Immortal Unicorn, among many other stories and anthologies. If those editors hadn't proposed a theme, I would never have researched and written those stories.
Myra had a German publisher lined up and maybe a dozen writers, including me and, I believe, William Gibson.
Then the German publisher, as apparently German publishers are wont to do, folded before the project could get up and running.
So there I was with a story without a home. Since F&SF is The New Yorker of genre magazines, that seemed like a great place to submit the story. And it was!
Was "Anything for You" personal to you in any way? If so, how?
I don't understand fandom. I appreciate certain writers, singers, artists, and actors, of course, but I don't obsess over their output or them, personally.
Some years ago, I attended a science fiction discussion group held at a member's home. I excused myself to use the bathroom and was shocked to see that she had a lovingly framed picture of Mr. Spock on her bathroom wall! What was that about?
So I wanted to explore a fan's obsession from the inside out.
What would you want a reader to take away from this story?
That no matter how hard anyone tries—family members, spouse, or the government—they ultimately can't control you. Especially your thoughts and emotions and who you choose to love.
One of our unique human gifts is that we can always choose how to react to life. No one can ever take our inner choices away from us.
What are you working on now?
New stories and novellas, of course!
I'm working on uploading the rest of my backlist as ebooks. My ebook publisher, Bast Books, just published Arachne on all major retailers worldwide. Arachne, a "cyberpunk," is my first novel, which was published in hardcover by William Morrow, trade paper by Eos Books, and mass market paperback by AvoNova books. Arachne debuted in the top ten on the Locus Magazine Hardcover List. I'm delighted to send the book, newly re-edited, back out into the reading world.
I've only got three more backlist books to go, Cyberweb, the sequel to Arachne, and my two Pangaea books. Then I'm all caught up.
Going forward, I'm excited to announce that I have signed with a major New York literary agency and am working on a new high-concept SF novel.
"Anything for You" appears in the September/October 2016 Special David Gerrold issue of F&SF.
You can buy a copy of the issue here: https://www.sfsite.com/fsf/toc1609.htm
You can subscribe to F&SF here: https://www.sfsite.com/fsf/subscribe.htm
Tell us a bit about "The Voice in the Cornfield, the Word Made Flesh."
It's a cold hard November in Mennonite farm country and something from outer space crash-lands in a cornfield. For a girl who's always wanted something more than what she knows, it's time to make a choice.
What prompted you to write this story?  Can you discuss the background of the story and its inspirations?
When I was a small child, my parents made the peculiar decision to join a conservative Mennonite community in rural Oregon. We were Mennonites and that was my life, until I was around thirteen and my parents decided to embark on their next round of unlikely life choices.
Those rural religious communities look so peaceful from the outside. But you want to beware of peaceful-looking places; they tend to harbor nasty secrets. Under cover of insularity and isolation, cruelty flourishes and abusers thrive. No one tells the truth. It's just not done.
I've spent years trying to figure out how to write about this, one of the defining experiences of my life, without actually writing about it. Because I knew I wanted to tell the truth but I didn't actually know how to start.
But that world is the world where I think my weird stories live — my weird stories happen to children who can't trust anyone, to people just different enough that no one would believe them anyway. They happen in isolated communities where no one really knows what's normal because they've been deluding themselves for so long. They happen at the edges of the "real world," to the lost, vulnerable, unseen people who've been here all along.
So I decided, fuck it: it's time to face this thing head on.
This story also owes a lot to James Tiptree, Jr., whose work I'd been reading extensively for an essay in Weird Fiction Review. So many of those stories are about encountering the alien in all its uncanny magnitude, the sublime and terrible, the gorgeous and horrifying, the sex and the death.
Those thoughts were in my head when I started thinking about the cornfields, where secrets thrive, and I knew exactly the kind of thing that might live there.
What would you want a reader to take away from "The Voice in the Cornfield, the Word Made Flesh?"
That redemption can be found in the sacrilegious and profane. That the universe is so much bigger and more beautiful than our minds could ever hold — but we should try.
What are you working on now?
I wrote a very weird little novella about three children without memories, the silent aliens who treat them like lab rats, and a vast structure that speaks. It's a story about the stories we tell ourselves about ourselves, and what they mean. It's called NEVER NOW ALWAYS, and it's coming out this winter from Broken Eye Books, which I am very, very happy about.
And now I'm working on a handful of short stories and edits to a novel and you know, pretty much the same stuff I'm always working on.
Anything else you'd like to add?
As I was writing the last paragraph of this story — like, literally the final couple of lines — all the emotion of this piece of writing was just pouring over me, I was super sweaty, slightly crying… working out exactly how the words should flow… when someone started pounding on the door, sending my dogs into a barking frenzy. When I answered, it was a cable internet salesman, asking me if I'd like to upgrade my current service. Fueled by several types of adrenaline, I got a little snippy with him about the "No Soliciting" sign prominently posted nearby; then he got real dickish with me about the fact that I'm already a customer of his company so he can come around soliciting anytime he wants. (What? I don't know either.) Anyway, whatever I was about to write before that interruption is lost forever, so we'll never know how brilliantly this story may have ended were it not for the machinations of Mediacom.
"The Voice in the Cornfield, the Word Made Flesh" appears in the September/October 2016 Special David Gerrold issue of F&SF.
You can buy a copy of the issue here: https://www.sfsite.com/fsf/toc1609.htm
You can subscribe to F&SF here: https://www.sfsite.com/fsf/subscribe.htm
Over the past year or so, we've been doing a #TBT (Throw Back Thursday) feature on the F&SF blog, where they can easily be found under the "F&SF History" tag. We also share them on the F&SF Twitter account and Facebook page.
* * *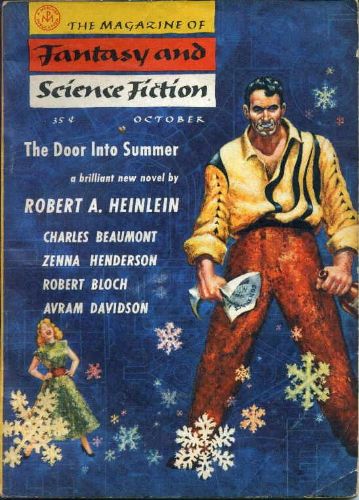 #TBT to the October 1956 F&SF and this Kelly Freas cover for Heinlein's The Door Into Summer.
The Door Into Summer was the second of five Heinlein novels that were serialized in F&SF in the 1950s and early 1960s. The others were The Star Beast (as Star Lummox), Have Spacesuit—Will Travel, Starship Troopers (as Starship Solider), and Glory Road. This issue contains the first of 3 parts of Heinlein's novel, along with a couple of Freas interior illustrations.
The rest of the issue is a mix of stories. "I Don't Know" is a moody flash piece, the first published story by fan-turned-pro Ron Smith. "Try This for Psis" by Robert Bloch is a humorous take on mind reading. "King's Evil" by Avram Davidson mixes mesmerism and King George III. "Anything Box" by Zenna Henderson is one of the most enduring of her stories outside The People series, full of warmth and humanity. "Tea from Chirop Terra" by Winona McClintic is a wry, mildly amusing alien invasion story.
The issue also included two reprints: "The Monster Show" by Charles Beaumont, which first appeared in Playboy, and "Mr. Guthrie's Cold War" by Jay Williams, which first appeared in The Woman's Journal. John Christopher offers an essay on changes in sf magazines, editor Anthony Boucher contributes Recommended Reading, and Starr Nelson provides three "Sonnets in a Moonship." Both the Christopher and Nelson pieces are also reprints, which F&SF used more often in the 50s.
The back cover (included below) continues F&SF's early efforts to persuade readers that genre fiction could be high quality literary fiction.
And finally, on page 117, F&SF congratulates "the world's oldest science fiction club," the Los Angeles Science Fantasy Society, on their 1,000th meeting. The editor writes: "May you still be going strong when we put out (God willing) our thousandth issue, dated September 2033." With the change first to 11 issues per year, and then to a bimonthly schedule, the date for F&SF's thousandth issue has been pushed back to Mar/Apr 2062, but we note that the Los Angeles Science Fantasy Society, LASFS (http://www.lasfs.org/), is still meeting weekly and going strong. Salute!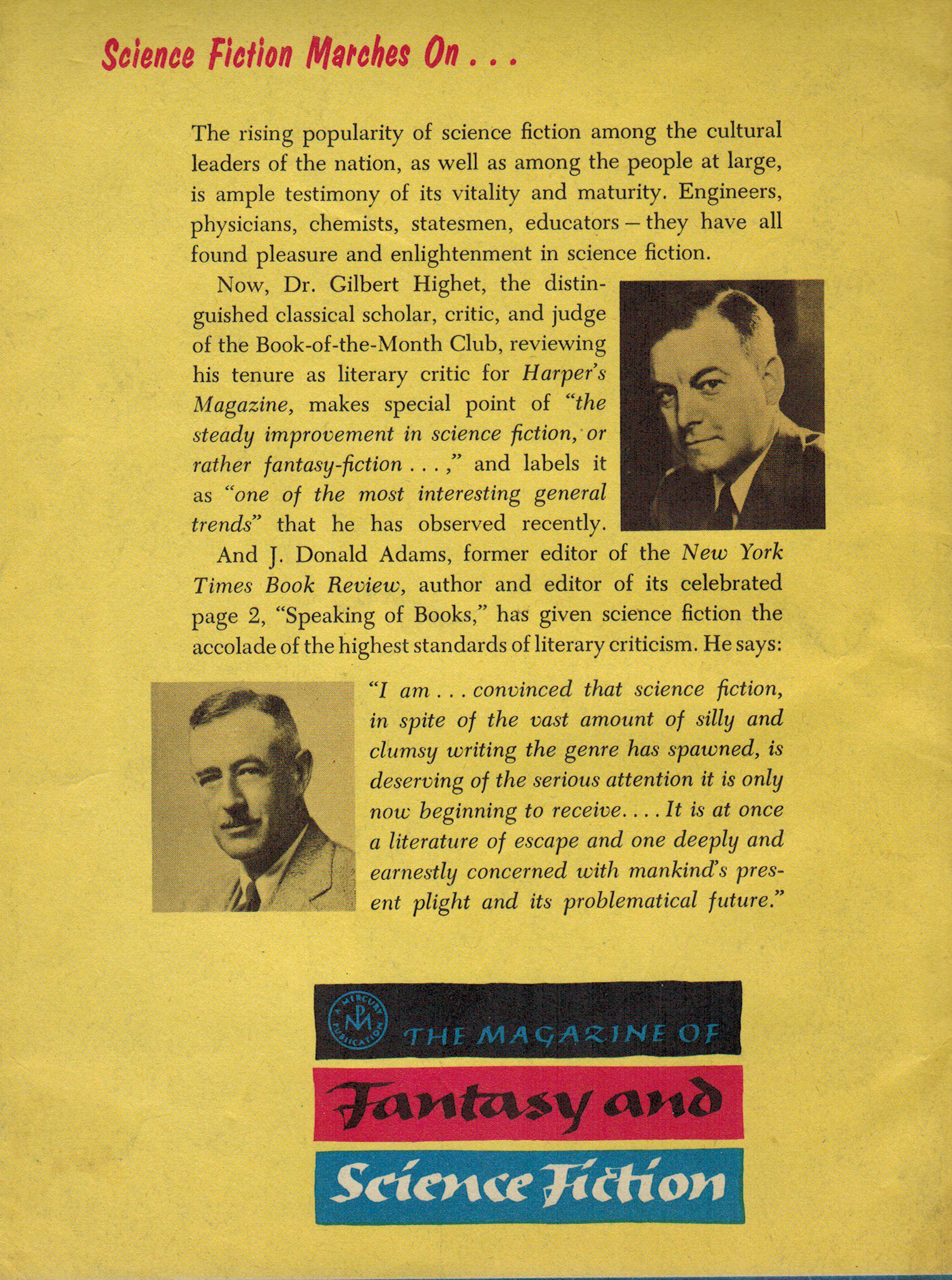 For our first Special Author issue in nearly a decade, Fantasy & Science Fiction editor C.C. Finlay sat down (at his keyboard — this was conducted by email) for an in-depth interview with author David Gerrold. They discuss fifty years of writing: television, novels, series, short stories, fandom, the intersection of his personal life with his writing, and more.
CCF: Looking at your writing as a whole, it feels like you've had four or five different writing careers, all of them with remarkable highlights. You're most famous in some ways for your very first sale, "The Trouble With Tribbles," to Star Trek: The Original Series, which was also your first Hugo nomination. But you've done a lot of other work in television, writing episodes for many classic and favorite science fiction shows — Logan's Run, Tales From the Darkside, The Twilight Zone reboot, Babylon 5, Sliders. What kinds of things did you learn by playing in other people's sandboxes?
DG: The first thing to learn is to respect the rules of the sandbox. There are no pockets in the uniforms. The Enterprise will never have a mutiny. (How do you recover from that story anyway?) And if I won't believe it on the bridge of the battleship Missouri, I won't believe it on the bridge of the starship Enterprise.
Every show has its own specific structure. The trick is to get inside that construction and understand it from within — not as a set of limitations, but as a foundation on which to build. I created Land Of The Lost for Sid and Marty Krofft, and story-edited/produced all the scripts for the first season, so I had to learn how to create a solid foundation for other writers to stand on and explore. That gave me a lot of respect for the shows I worked on after that.
The challenge for any creator/producer of a TV series is to create a universe that will work for a long run. It's not enough to have a great pilot and a good first season. You have to ask yourself, "Where will I be and what stories will I be telling five years from now?" You want to plan for the long term. Your show probably won't last that long, but just in case you do find yourself riding that tiger, you want to know where you're going, how your characters are going to grow and develop, where your long-term story arc is going to take you.
The other thing I learned — from both sides of the desk — is that you absolutely must respect your writers as creative partners. The truly great producers, like Joe Straczynski on Babylon 5, understand that this sense of partnership is the most vital relationship of all — because if it isn't on the page, it isn't on the stage.