F&SF, October 1956
Over the past year or so, we've been doing a #TBT (Throw Back Thursday) feature on the F&SF blog, where they can easily be found under the "F&SF History" tag. We also share them on the F&SF Twitter account and Facebook page.
* * *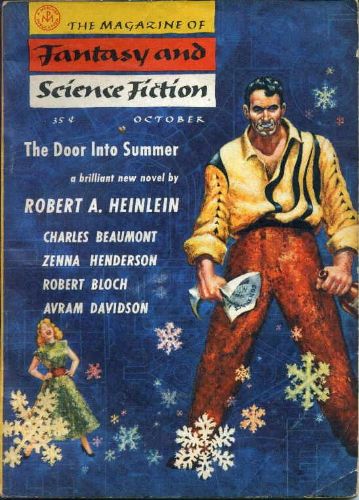 #TBT to the October 1956 F&SF and this Kelly Freas cover for Heinlein's The Door Into Summer.
The Door Into Summer was the second of five Heinlein novels that were serialized in F&SF in the 1950s and early 1960s. The others were The Star Beast (as Star Lummox), Have Spacesuit—Will Travel, Starship Troopers (as Starship Solider), and Glory Road. This issue contains the first of 3 parts of Heinlein's novel, along with a couple of Freas interior illustrations.
The rest of the issue is a mix of stories. "I Don't Know" is a moody flash piece, the first published story by fan-turned-pro Ron Smith. "Try This for Psis" by Robert Bloch is a humorous take on mind reading. "King's Evil" by Avram Davidson mixes mesmerism and King George III. "Anything Box" by Zenna Henderson is one of the most enduring of her stories outside The People series, full of warmth and humanity. "Tea from Chirop Terra" by Winona McClintic is a wry, mildly amusing alien invasion story.
The issue also included two reprints: "The Monster Show" by Charles Beaumont, which first appeared in Playboy, and "Mr. Guthrie's Cold War" by Jay Williams, which first appeared in The Woman's Journal. John Christopher offers an essay on changes in sf magazines, editor Anthony Boucher contributes Recommended Reading, and Starr Nelson provides three "Sonnets in a Moonship." Both the Christopher and Nelson pieces are also reprints, which F&SF used more often in the 50s.
The back cover (included below) continues F&SF's early efforts to persuade readers that genre fiction could be high quality literary fiction.
And finally, on page 117, F&SF congratulates "the world's oldest science fiction club," the Los Angeles Science Fantasy Society, on their 1,000th meeting. The editor writes: "May you still be going strong when we put out (God willing) our thousandth issue, dated September 2033." With the change first to 11 issues per year, and then to a bimonthly schedule, the date for F&SF's thousandth issue has been pushed back to Mar/Apr 2062, but we note that the Los Angeles Science Fantasy Society, LASFS (http://www.lasfs.org/), is still meeting weekly and going strong. Salute!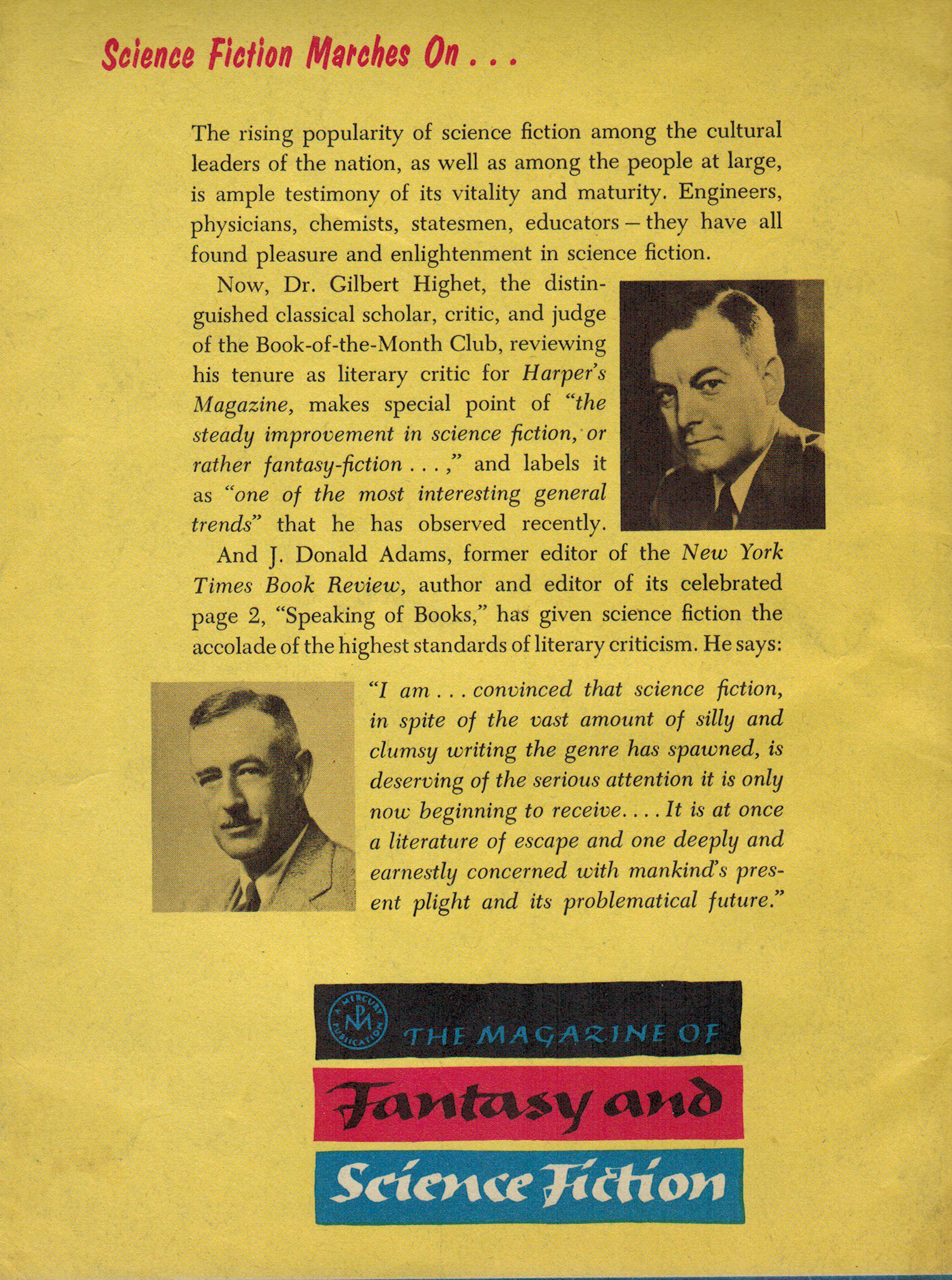 comments
Copyright © 2006–2020 The Magazine of Fantasy & Science Fiction • All Rights Reserved Worldwide
Powered by WordPress • Theme based on Whitespace theme by Brian Gardner
If you find any errors, typos or anything else worth mentioning, please send it to sitemaster@fandsf.com.

Designed by Rodger Turner and Hosted by: