Tell us a bit about "Between Going and Staying."
The story is about Dolores, a popular doliente (professional weeper), who lives in a near-future Mexico. Through the use of high-tech skins, Dolores is paid to perform at funeral services for corrupt families and she has no qualms about it. When a former lover is killed, Dolores's carefully cultivated life is put into question. While visions of her lover plague her, Dolores is forced to confront what her true role is as a doliente.
What was the inspiration for this story, or what prompted you to write it?
I wrote the first draft while attending the Clarion writers workshop in San Diego. That week, services were being televised in regards to the Charleston church shooting where a man shot and killed churchgoers during bible study. I remember watching President Obama speak at the funeral service and feeling overcome with emotion. In 2014, 43 students were kidnapped from the Ayotzniapa Rural Teachers' College and were never found. Both incidents swirled in my head. I wanted to write about the way we mourn and react to tragic incidents in so-called safe places (churches, schools). What would that look like in a future where the act of mourning is heightened to theatrical performances? What is our role during times of unjust violence?
Was "Between Going and Staying" personal to you in any way?  If so, how?
The story is personal in that I'm intrigued by how we all hide behind masks. Now that we document everything on social media, it seems that we portray a high-gloss life that rarely exists. I'm guilty of it too. My stories revolve around the image we put forth and the one we are afraid to display.
What kind of research, if any, did you do for this story?
I researched the different forms of traditional dancing in Mexico, especially in Sinaloa where the story is set. The Pascola incorporates a wooden mask with bells covering the legs. From what I understand, men are usually the only ones allowed to dance the Pascola but I changed that in the story. I also incorporated current funeral trends in Puerto Rico and read about the professional weepers from Taiwan. The story is a mixture of current and past traditions, how I envision the future would be like.
What would you want a reader to take away from "Between Going and Staying"?
The events that occurred in Mexico, Charleston, and even now in North Dakota with #NoDapl, are indicative of how our society reacts to unfounded fears and corruption. Some react to these types of incidents as if they are occurring somewhere far away. 'I'm not Black/Latino/Mexican so it doesn't affect me.' I see that in the character Dolores as she moves away from her simple hometown to the big city. She hides behind high-tech skins to avoid reality. As a writer, I turn to fiction to find a way to work through my own sense of helplessness.
What are you working now?
My debut contemporary young adult novel The Education of Margot Sanchez comes out February 21, 2017 through Simon & Schuster. I also just completed another young adult novel that is set in a near-future Bronx, New York where girl gangs rule the streets. It plays upon the same theme of desiring the "American Dream," sometimes at the cost of losing one's soul.
"Between Going and Staying" appears in the November/December 2016 issue of F&SF.
You can buy a copy of the issue here: https://www.sfsite.com/fsf/toc1611.htm
You can subscribe to F&SF here: https://www.sfsite.com/fsf/subscribe.htm
Lilliam Rivera has a website! www.lilliamrivera.com  And a twitter handle: @lilliamr  Visit both to learn more about her!
Tell us a bit about "The Rhythm Man."
The Rhythm Man reads as it does because as a writer I'm quasi-sometimey.  A lot of times I look at a new story idea not just as a new plot to resolve or new characters to develop, but new ways to tell a story… at least "new" to me.  You know, just a "lemme try something I've never done" approach to handle these emerging characters and plot lines.  In that sense of doing just this one story in this one particular way, The Rhythm Man embodies my quasi-sometiminess.  Here, I wanted to make the words sing in the most literal way possible for plain words on a page, to hook you with their beat and have them drum out a rhythm in your head while you read.  That desire to tap out a groove directly on brain cells led to the development of a story about music, about looking for the perfect beat set two eras before Soul Sonic Force.
I'm cool with being dated by name-dropping Soul Sonic Force.  I'm not cool if people start using "quasi-sometimey" in their vocab and I don't get an attribution in urban dictionary or something.
What was the inspiration for this story, or what prompted you to write it?
It's funny that you say prompt, because a writing prompt is exactly what brought the story about.  I'm in Codex Writer's Group (love 'em!) which hosts contests all the time.  The particular contest challenged us to write a story about a random scene provided by another Codexian.  The illustrious Laurel Amberdine sent me a scene involving a train car.  The lush description in the train is based on her vivid details.  I took it and worked it into a beat.
Was "The Rhythm Man" personal to you in any way? If so, how?
I imagine most writers say "yes" to this question but I'm firmly on Team No here.  The scene was given to me, the conceit was already playing its rhythm and tone out in my head… it was kinda already on autopilot and simply looking for a stick nudge.  That nudge came from borrowing a bit from some research I was already doing for my second novel involving Vodun loa to create the Rhythm Man.  At that point it was just a matter of making sure everything played well together on the page and finding a good home for it.  Here's where I thank you guys again!
How was it for you putting a new spin on the "bluesman makes a deal with a supernatural being" story?
Fun!  I really enjoyed going outside of the whole devil-crossroads-soul thing and home-brewing an old wives' tale of my own.  I was able to focus on more tangible forms of currency that may be of interest to a being who cares nothing for paper.  What are your motivations?  What skills do you have?  What things of real value do you possess and are willing to give up for that thing you crave?  I think it makes Horace's choices more relatable because we can see these skills and things he values up for barter with a being who isn't snake-tongued selling a guy on his own ultimate ruin.
What are you working on now?
Nowadays I'm finishing the draft of my third novel.  At this point I'll hit another milestone of completed my first fantasy trilogy.  Then comes the harder part of finding a book deal for them!
"The Rhythm Man" appears in the November/December 2016 issue of F&SF.
You can buy a copy of the issue here: https://www.sfsite.com/fsf/toc1611.htm
You can subscribe to F&SF here: https://www.sfsite.com/fsf/subscribe.htm
You can find out more about James Beamon by visiting his blog: https://fictigristle.wordpress.com/
Tell us a bit about "A Fine Balance."
This is the story of two legendary duelists whose fights have outgrown either of them individually. Their encounters are like clashes of titans, shaping politics, economics, entertainment. So, of course, other powers want to meddle in their rivalry and mobilize it for their own devices.
What was the inspiration for this story, or what prompted you to write it?
I love writing action-adventures with lots of sword fighting and heroism, but it always forces me to confront questions about what lies behind these stories: violence in defense of a nation or ideology, militarism, the glorification of killing others. I wanted to explore ways that we can have these legendary heroes performing incredible feats without celebrating murder. I picked a place and time in history when two rival powers might have had a need for a system to balance their uneasy peace and worked up a world from there.
Can you delve a little further into the world-building behind this story?
I like to write fantasy with a historical feel, even if it isn't strict historical fiction. I started this time with Albania in the era of the Ottoman occupation. This was a time when two very different peoples had to try to live side by side in the same place, with lots of cultural overlap and building, but also conflict. My version definitely doesn't follow history, but an alternate version where the two major powers set up a system of personal champions that would balance the power between them. So I dug into Balkan history for a lot of the flavor, but the city, nations, geography and politics are entirely my own invention.


What are you working on now?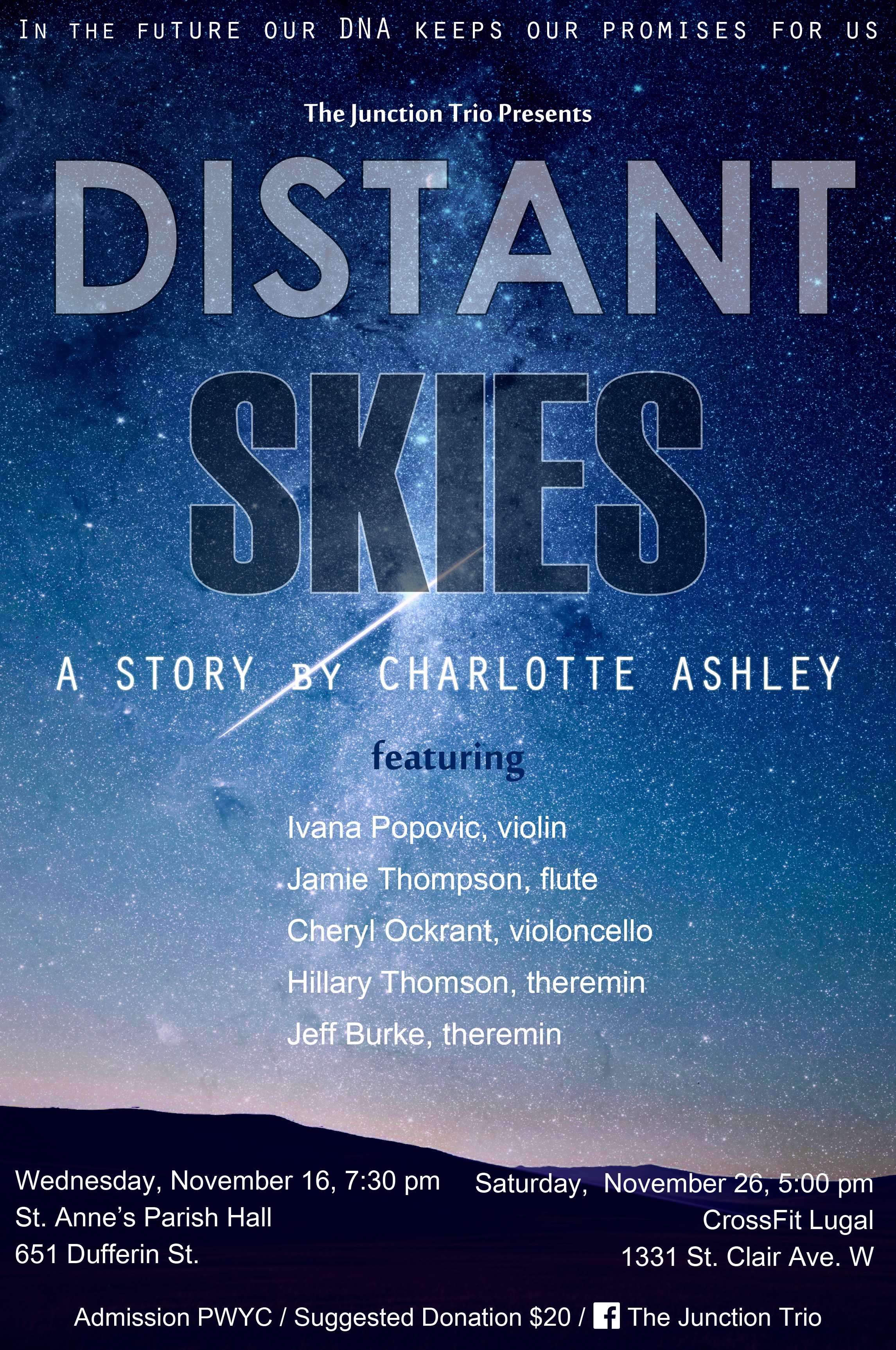 I have a new science fiction story, "Distant Skies", that has been written as a live "dramatic reading" in collaboration with a chamber music trio (plus two theremins.) Next month we have two performances, with, hopefully a few more after that! So, preparation for that has taken up a lot of my brain meat. You can find the times and dates on my website (http://once-and-future.com/) – so far, all performances will be in Toronto, Canada.
I also have two short stories, a novella, and a novel in the works, all set in the world of "La Héron", a story I wrote and published in F&SF in 2015. My mind keeps drifting back to those characters and that world, so I am going to embrace it! I'm also in the very early stages of a collaborative world-building project with a few other writers. Ask me about that one next time. ;)
"A Fine Balance" appears in the November/December 2016 issue of F&SF.
You can buy a copy of the issue here: https://www.sfsite.com/fsf/toc1611.htm
You can subscribe to F&SF here: https://www.sfsite.com/fsf/subscribe.htm
The November/December issue of The Magazine of Fantasy and Science Fiction is now on sale. The magazine can be found in most Barnes & Noble stores, as well as many local independent booksellers. You can order a single copy from our website or buy an electronic edition from Amazon or AmazonUK.
For the first time, F&SF is now also available electronically in DRM-free format worldwide through Weightless Books!
Subscribe now to either our print or electronic editions, and you'll never miss another issue. And if you subscribe or renew your print subscription right now, you can give one or more gift subscriptions as a discounted rate. It's the perfect holiday gift for another reader in your life.
This month's cover is by Kristin Kest, illustrating "The Cat Bell" by Esther Friesner. To see more of her work, visit her website at http://www.kestillustration.com/.
ESTHER FRIESNER RETURNS WITH "THE CAT BELL"
Esther Friesner has published a couple dozen stories in F&SF over the years, but nothing since "Rutger and Baby Do Jotenheim" appeared in our Sept/Oct 2011 issue. She informs us that her new story was inspired by a visit to Gillette Castle in Connecticut, former home of William Gillette, an actor, playwright, and inventor, whose career spanned late nineteenth-century theater through the era of radio. He is most famous for bringing Sherlock Holmes to stage, and created the phrase, "Elementary, my dear fellow." He was also an avid cat-lover. Gillette Castle still displays the bell he used to summon his cats. Our author used it to summon this delightful story for you.
MORE GREAT FICTION
Other fantasy in this issue includes "The Vindicator," the final novelet in the Raffalon series by Matthew Hughes — but don't worry, we'll be starting a new series in the Archonate universe sometime early next year. And famed writer and editor Gardner Dozois returns to these pages to take us on a trip to "A Place of Bones." Charlotte Ashley, who debuted in F&SF with her faerie duelists story "La Héron" (March/April 2015), returns with "A Fine Balance," another story about dueling and politics.
For science fiction, we bring you "The Farmboy," by Albert E. Cowdrey — even in outer space, survival can depend on some very practical and down-to-earth skills. Robert Reed gives us "Passelande," a standalone sequel to his critically acclaimed novella "Dead Man's Run" (Nov/Dec 2010).
And, because F&SF includes more than just fantasy and science fiction, Kurt Fawver offers us a library-themed horror story in "Special Collections."
Three more writers make their F&SF debut in this issue. Lilliam Rivera appears with a story about a character caught between worlds in "Between Going and Staying." Minsoo Kang brings us a philosophical science fiction mystery with "Lord Elgin at the Acropolis." And James Beamon takes us to the crossroads to meet "The Rhythm Man."
As a special treat for the holidays, Sandra McDonald has written a story that wishes "Merry Christmas From All of Us to All of You." Plus we have our regular columns and features.
OH YES, THE COLUMNS AND FEATURES
Charles de Lint reviews new books by Stephen King, A. Lee Martinez, and others, including a new compilation of Gahan Wilson's work from F&SF. Chris Moriarty takes a deep dive into books by Kim Stanley Robinson, Neil Stephenson, and Andy Weir. In our film column David J. Skal looks at "High-Rise," based on the J. G. Ballard novel. We announce the winners in F&SF Competition #92. And for our Curiosities column, in this election season, Graham Andrews considers a political novel, The Morlocks (1924), by James C. Welsh, M.P. Plus we're giving you a holiday's stocking worth of cartoons by Arthur Masear, Bill Long, Nick Downes, and S. Harris.
LET US KNOW WHAT YOU THINK
After you read the issue, or even part of it, we hope you'll share your thoughts with us. We can be found on:
In the meantime… enjoy!
C.C. Finlay, Editor
Fantasy & Science Fiction
fandsf.com | @fandsf
Tell us a bit about "The Cat Bell."
I believe that we've all encountered a person like Cook. I know I have, many times, for which I have my sympathy. You know the sort: Firmly convinced that everything wrong with their lives is to be blamed on anyone but themselves; playing a full hand of Victim cards while showing no compassion for those who are actual victims; staunchly certain that their minds aren't narrow, just "cozy"; unable to feel tall unless they're standing on someone else's face.
Earthshaking revelation: I don't like them.
Sometimes I get the chance to relieve my feelings on the subject. For me, "The Cat Bell" has been one instance of self-prescribed-and-dispensed Comeuppance Therapy that I hope others will take a wee bit of wicked delight in as well.
If not, at least it's a story with cats in it.
What was the inspiration for this story, or what prompted you to write it?
The summer before I wrote "The Cat Bell," I finally visited Gillette Castle here in Connecticut. I say "finally" because I've lived in Connecticut for over forty years and the number of major tourist attractions I've yet failed to see remains a monument to "Eh, maybe later." I doubt I'm the only person who does this.  When I travel, I hunt out every single local point of interest, no matter how minor. ("Oooooh, it's the Museum of Lint! I must see it!") Close to home? Not so much.
William Gillette was a wildly popular actor, now best remembered for playing Sherlock Holmes. I believe he's the one who added the deerstalker cap and iconic pipe to the image of the great detective. What I do know for sure is that he was a Cat Person of the first order. Gillette Castle is choc-a-bloc with images of cats, and the master of the house happily shared his life with a great number of real kitties.
When I peered into one display case and saw the very bell used to summon Mr. Gillette's moggies to dine, something clicked; my Muse murmured, "Go for it," and the cat bell begat "The Cat Bell."
What research, if any, did you do for "The Cat Bell"?
Research for "The Cat Bell" was pretty much done thanks to the abovementioned visit, though I did resort to the internet in order to get the hierarchy of domestic servants correct. It's a fascinating thing. I suppose I would have already known all about it if I'd watched "Downton Abbey." On the other hand, there were probably some differences between American and British rankings for servants.
You're known for your humorous style: what draws you to it and what do you think its strengths are, given the trend in fantasy toward gritty violent cynicism?
I was raised on humor. My father, a Holocaust survivor, had a great sense of humor and passed it along to me. His idea of a good bedtime story was to read me book after book of Walt Kelly's collected POGO comic strips. He's also how I came to be a huge fan of Danny Kaye, Rocky and Bullwinkle, the Marx Brothers, Victor Borge, and above all, the Three Stooges (as long as the third Stooge is Curly, or in a pinch, Shemp. Accept no substitutes!)
As I got older, re-read and re-watched all of the above, I discovered that while so-called "serious" writing works like a mallet to the head for getting its message across, humor is the ninja that sneaks up on you and delivers equally serious messages while you're too busy laughing to notice.
None of which is to say that gritty and cynical have no place. They have been known to have a place in my own writing. Whatever works, as long as it works for what I want to say in a particular book or story.
What are you working on now?
I'm doing what I love to do, working on several projects at the same time. It keeps me busy, entertained, and virtually immune to writer's block. I have a number of short stories coming along nicely as well as some plans for novel or two. More than that I cannot say, except that I look forward to sending at least one of the former to Fantasy & Science Fiction when it's done.
It does not contain cats. (And what force of Nature or Humankind could ever hope to contain them, I ask you?)
"The Cat Bell" appears in the November/December 2016 issue of F&SF.
You can buy a copy of the issue here: https://www.sfsite.com/fsf/toc1611.htm
You can subscribe to F&SF here: https://www.sfsite.com/fsf/subscribe.htm