It's been a few months since we posted recent acquisitions, but these contracts have been sent out and accepted so here's a group of stories that will be coming soon to the pages of F&SF:
"I Am Not I" by G. V. Anderson
"On Highway 18" by Rebecca Campbell
"A Dog's Story" by Gardner Dozois
"What the Hands Know" by Gregor Hartmann
"Bodythoughts" by Rahul Kanakia
"Afiya's Song" by Justin C. Key
"Evil Opposite" by Naomi Kritzer
"An Unearned Death" by Marissa Lingen
"A Thousand Deaths Through Flesh and Stone" by Brian Trent
(poem) "Northwest Cruise" by Sophie M. White
"Witch's Hour" by Shannon Connor Winward
The Anderson, Key, and Winward stories are novelets. Anderson, Cambpell, Kanakia, Key, and Winward are making their first appearances in F&SF.
Tell us a bit about "On the Problem of Replacement Children: Prevention, Coping, and Other Practical Strategies."
I've been interested in the idea of speculative non-fiction these last few years: what if you took a certain emotional element of your life, put it in a speculative setting, and then wrote about it? So on the one hand, the emotions in this story capture my experience raising my son, who has autism, and my struggle to work through what I needed to work through, accept the child I actually have, and figure out how I can best be a parent to him. On the other hand, this is a fictional story about a world where children are snatched from under the lax eyes of their parents and replaced with a different child from another world.
What was the inspiration for this story, or what prompted you to write it?
I was going through a particularly rough time with my son a while back. This was before he got diagnosed. We were just a million miles away from the happy mother-son image I planted in my head when he was born. I remember feeling like, I am not meant to be this child's parent, and he is not meant to be my son. There's no way. I'm not prepared, I don't know what I'm doing, and I think I'm failing. I started reading way too many parenting advice books and then, after the diagnosis, I buried myself in books about autism. I wanted so badly to understand my kid and how he saw the world.
I know it's not a pretty thing to bring up, but I think when you're given a challenging child, a child you didn't expect and weren't prepared for, there is this journey of acceptance you have to go on. At least, I needed to go through it. Where you ask all sorts of questions and say all sorts of things which don't sound so great, such as: This is not the vision of parenthood I had. This is not the vision of a family that I had. I have no idea what I'm doing. Where did my dream child go, the one I thought I was going to get? If I do the right things, and read enough books, and go to enough therapy, will I get that dream child back?
It seems within everyone's best interest for the parent to work through these questions, answer them as best they can, and then move on to accept, appreciate, and love the child they've been given. (Change the world, not the child!) But I wanted to write a story about what happens before that acceptance: the struggle and journey for acceptance. The parents who make it through all those awful questions to a land of acceptance but also the parents who, for whatever reason, can't get there. I don't think we tell the stories of the parents who are failing enough.
What kind of research, if any, did you do for this story?
One book that stood out to me in my reading about autism was Far From The Tree: Parents, Children, and the Search for Identity, by Andrew Solomon. It's an amazing, beautiful book about parents who are raising children who are different from them, and it shows, I think, just how transcendent parental love can be (and also how parenting can be really, really hard). There's a great chapter about raising autistic kids, where Solomon referenced these old changeling folk tales from Martin Luther's time, which may have been how people in the 16th century explained children with autism (among other disorders). Solomon discusses comparisons between the changeling myths and how certain modern-day parents still view their child with autism (their original child being snatched away, almost overnight, and replaced with the autistic version of their child—and how the parent then does everything they can to get their "real" child back). Solomon also talks about how autistic individuals do not, of course, want to be seen in this way. ("Being seen in light of the ghost of who you were expected to be is a kind of emotional violence for many disabled people" – Amanda Baggs). I began reading through as many original changeling myths as I could—a good number are available online (this web site is an amazing resource), and I read several essays from the autistic/neurodiversity perspective. Out of a lot of reading came this idea for an advice booklet to help parents whose emotional states were similar to my own. I wanted to imagine, what if those changelings and their myths were actually happening in modern times? Also, I wondered, what makes it possible to learn to love the child you didn't expect, versus those parents who are doomed to repeat the same several hundred-year-old story of not letting go of the child they thought they had?
Though the Changeling stories are extreme, I think there is still some truth in them: parents may struggle to accept the child they're given; and parents may be willing to try a lot of things, even some things which seem extreme or harmful, to "cure" their child of autism. I'm not advocating for those kinds of therapies, or even for the idea of "curing," but I understand why such therapies exist, and how parents could be drawn to them. Andrew Solomon calls it part of autism's ongoing "literature of miracles. In its most extreme form, it describes beautiful boys and girls emerging from their affliction as if it were a passing winter frost, and, after wild parental heroics, dancing off into springtime fields of violets, fully verbal, glowing with the fresh ecstasy of unself-conscious charm." It's a seductive vision for parents who are struggling.
What would you want a reader to take away from "On the Problem of Replacement Children…"?
I hope I'm stating the obvious that this story should not be taken as an actual parenting manual about how to raise one's children. But in case that's not obvious: I am not advocating, in any way, that you follow the advice in this story! If you feel like you're failing as a parent, get help from a recommended therapist, or another trusted community resource, and stay hopeful, and try to talk to other parents who are in your situation but who made it to the other side. Knowing everyone's situation is so unique, I hope parents who are struggling to accept, for whatever reason, their children as they are, keep struggling until they make it to a better place.
I write about things not to judge them but to try and better understand them. I used to write a lot about cults, for instance, though I would never join one and wouldn't necessarily suggest you join one either. But I wanted to understand what drew people to cults, even the vilified ones, and what people might get out of being a cult. Likewise, with this story, I wanted to try and understand how a parent might choose between "fixing" their child and acceptance (and, at the same time, try and understand my own choices I made with my son, especially at first). My hope for the reader is that maybe this story can be a small window into the emotions of some parents during a messy, complex time.
I realize the reader might feel that my story's parents should not have these emotions and certainly should not act like they do. It might be difficult to read this story without thinking, 'What they are doing is very, very wrong and putting this sort of behavior in a story is also very, very wrong.' Another version of the story would be where all the parents who do bad things to their children are punished. Or else no parent ever does anything bad to their child. Or else the Replacement children abandon their parents and go off and have a much better life by themselves. But I think those stories would simplify the situation as I know it, and they wouldn't have been honest ones for me to write.
I did struggle with this story being so neurotypical-driven and told pretty much entirely from the parents' perspectives. The parents' stories are important ones to hear, but at the same time I feel the story of the Replacement children, told from their point of view, still needs to be told, but at some other time.
What are you working on now?
I've been working on a book of connected novellas/stories, about aliens and cults, for about, I don't know, six years. I think about writing a historical YA novel, and I'm in the middle of writing a few stories far out in the future, about the last generation of humans on the planet.
"On the Problem of Replacement Children: Prevention, Coping, and Other Practical Strategies" appears in the January/February 2017 issue of F&SF.
You can buy a copy of the issue here: https://www.sfsite.com/fsf/toc1609.htm
You can subscribe to F&SF here: https://www.sfsite.com/fsf/subscribe.htm
You can visit http://debbieurbanski.com/ to learn more about the author.
Tell us a bit about "Weatherfell's Reef Runics."
This is the first of what I hope will be more than one story about Castaway Books, a small used bookshop on the fictitious island of Tauai. Fictitious, but based loosely on an alternate history version of Kauai. Kauai and "Tauai" diverged at some point for historical reasons I will get into eventually, having to do with a colorful historical figure named Georg Scheffer.
What was the inspiration for this story, or what prompted you to write it?
I have been spending more and more time on Kauai, and wanted to write something that drew on a lot of things I enjoy, but especially books and the sea. Kauai's north shore lacks a bookstore, but there are book carts everywhere, with books for sale for a couple bucks to raise funds for the schools and the library. I started noticing that many tourists bring good books with them for the plane flight, but then dump them to make room in their luggage for the return trip, so I was finding a lot of interesting books in these carts. I started thinking about how an island which attracts visitors from all over the world might be kind of an interesting energy vortex, where all kinds of odds and ends wash up, and this led to wondering if I could write a series of stories about the strange books that blow in like driftwood or tsunami debris.
What kind of research, if any, did you do for this story?
I snorkeled and raided the book carts. Most of the books mentioned in the story are ones I found on a visit to the island. Well, except for the titular Wetherfell volume, which, if it ever existed, has been removed from circulation.
What are you working on now?
I've got notes and ideas for more Castaway Books stories, I'm finishing up my adventures of Gorlen Vizenfirthe, and thinking about what to do next.
"Wetherfell's Reef Runics" appears in the January/February 2017 issue of F&SF.
You can buy a copy of the issue here: https://www.sfsite.com/fsf/toc1609.htm
You can subscribe to F&SF here: https://www.sfsite.com/fsf/subscribe.htm
If you click on Mr. Laidlaw's picture at the top of the interview, you'll be taken to his website.
Tell us a bit about "There Used to Be Olive Trees."
I wrote "There Used to Be Olive Trees" while teaching English in a small Spanish town outside Seville. It's about otherness, duty, and coming-of-age in post-apocalyptic Andalusia, borrowing conceptually and aesthetically from The Matrix and from Philip K. Dick's "Autofac." There's some of Garth Nix's The Seventh Tower series in there, too.


What was the inspiration for this story, or what prompted you to write it?
This one was actually inspired by a strange dream about a few desperate people hanging around outside a glossy black dome that I knew, in the dream, was an automated factory refusing to cooperate. Spinning it out into a full story took a while. The setting, of course, came from exploring my surroundings. Plenty of olive fields and rundown stone buildings and once a dog's skull and spine.
Was "There Used to Be Olive Trees" personal to you in any way?  If so, how?
The theme of being an outsider, I suppose—but that's something that feels personal while being more or less universal. There are definitely some little details that take me back to my time in Spain when I re-read them, like the moniker "the Town." I picked that because the name of the village where I worked was often shortened down to "La Puebla" by its inhabitants.
What are you working on now?
I'm finishing off a military science fiction story for Jonathan Strahan's Infinity Wars anthology, and starting on a high-octane cyberpunk novella. While I wait for a publisher to bite on my finished YA novel, I'll have new stories appearing in Asimov's, Analog, Apex, Clarkesworld, and Tor.com throughout 2017. Links to those will show up at my website, richwlarson.tumblr.com
"There Used to Be Olive Trees" appears in the January/February 2017 issue of F&SF.
You can buy a copy of the issue here: https://www.sfsite.com/fsf/toc1609.htm
You can subscribe to F&SF here: https://www.sfsite.com/fsf/subscribe.htm
Over the past couple years, we've been doing an irregular series of #TBT (Throw Back Thursday) features here on the F&SF blog, where they can easily be found under the "F&SF History" tag. We also share them on the F&SF Twitter account and Facebook page.
* * *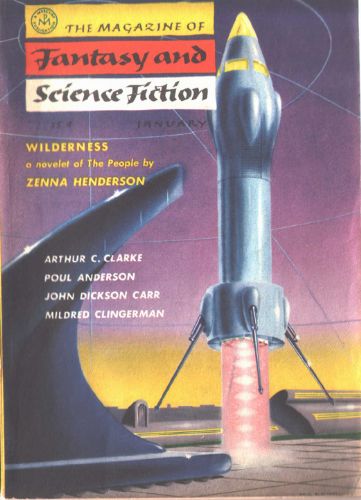 #TBT to the January 1957 F&SF and and this cover of "an alien spaceship" by Paul Blaisdell. Blaisdell is better known for the special effects he created for low-budget 1950s monster movies like "The Beast With A Million Eyes" and "It Conquered the World." Over at Tor.com a few years ago, Vincent Di Fate did an interesting profile of Blaisdell's life and work.
This issue opens with "Wilderness" by Zenna Henderson, the longest and most complex of The People stories to that date. "Rescue Mission" by Gordon Dickson is a humorous and twisty sf adventure story featuring alien creatures called the pid and illobar. "Operation Salamander" by Poul Anderson is the second of his Operation Chaos stories, about the Thaumaturgic Age that mixes science and magic.
The last original story in the issue is "The Wild Wood" by Mildred Clingerman, a classic and often reprinted Christmas story. About the story, F&SF editor Tony Boucher wrote that only Clingerman, "with her warmth and love and understanding, could have created such chill horror."
The issue also includes a group of holiday-themed reprints, Ghosts for Christmas, by Sheridan Le Fanu, Arthur C. Clarke, and John Dickson Carr. The single poem in the issue is a sonnet written by James Blish in memoriam for sf writer Fletcher Pratt, who passed away in 1956.
Plus there's this ad to remind us that the "cultural leaders of the nation" read science fiction. Those were better times.