F&SF, January 1957
Over the past couple years, we've been doing an irregular series of #TBT (Throw Back Thursday) features here on the F&SF blog, where they can easily be found under the "F&SF History" tag. We also share them on the F&SF Twitter account and Facebook page.
* * *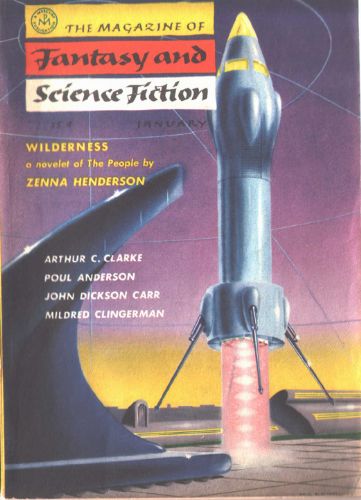 #TBT to the January 1957 F&SF and and this cover of "an alien spaceship" by Paul Blaisdell. Blaisdell is better known for the special effects he created for low-budget 1950s monster movies like "The Beast With A Million Eyes" and "It Conquered the World." Over at Tor.com a few years ago, Vincent Di Fate did an interesting profile of Blaisdell's life and work.
This issue opens with "Wilderness" by Zenna Henderson, the longest and most complex of The People stories to that date. "Rescue Mission" by Gordon Dickson is a humorous and twisty sf adventure story featuring alien creatures called the pid and illobar. "Operation Salamander" by Poul Anderson is the second of his Operation Chaos stories, about the Thaumaturgic Age that mixes science and magic.
The last original story in the issue is "The Wild Wood" by Mildred Clingerman, a classic and often reprinted Christmas story. About the story, F&SF editor Tony Boucher wrote that only Clingerman, "with her warmth and love and understanding, could have created such chill horror."
The issue also includes a group of holiday-themed reprints, Ghosts for Christmas, by Sheridan Le Fanu, Arthur C. Clarke, and John Dickson Carr. The single poem in the issue is a sonnet written by James Blish in memoriam for sf writer Fletcher Pratt, who passed away in 1956.
Plus there's this ad to remind us that the "cultural leaders of the nation" read science fiction. Those were better times.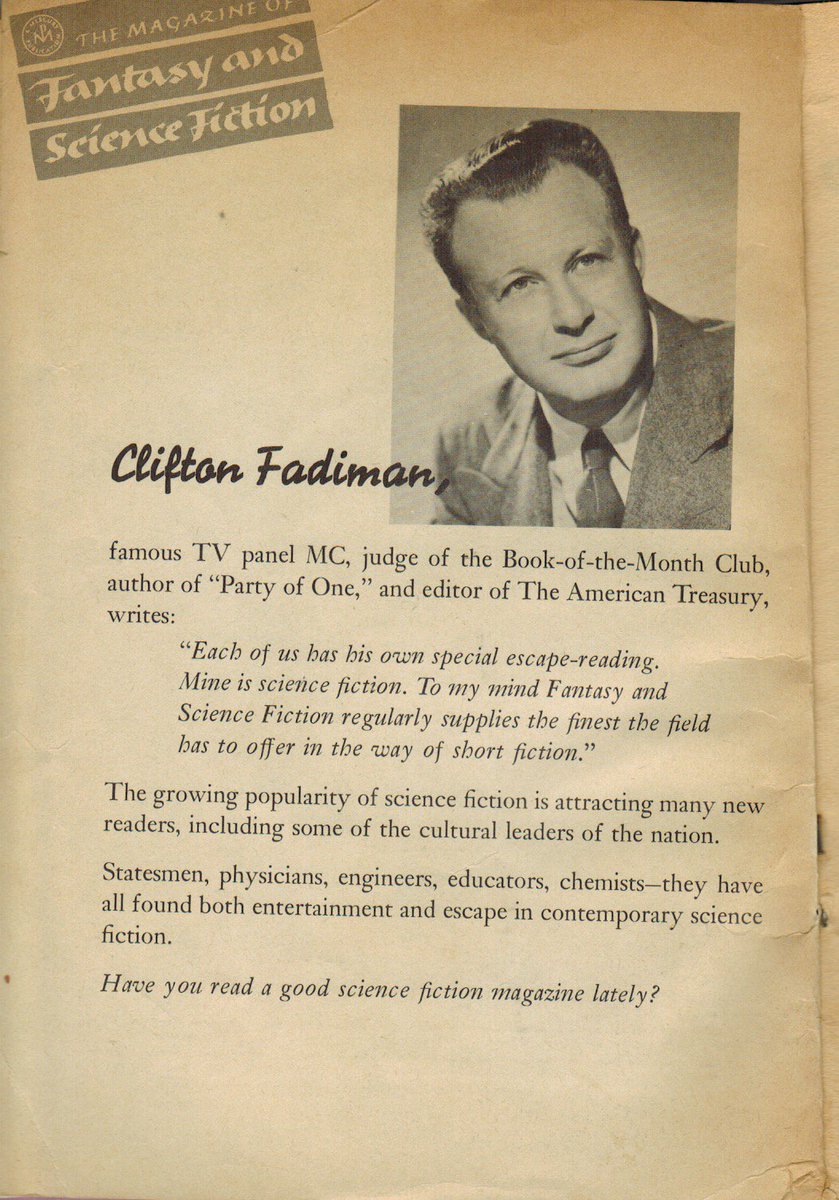 comments
Copyright © 2006–2020 The Magazine of Fantasy & Science Fiction • All Rights Reserved Worldwide
Powered by WordPress • Theme based on Whitespace theme by Brian Gardner
If you find any errors, typos or anything else worth mentioning, please send it to sitemaster@fandsf.com.

Designed by Rodger Turner and Hosted by: