Interview: Gregor Hartmann on "A Gathering on Gravity's Shore"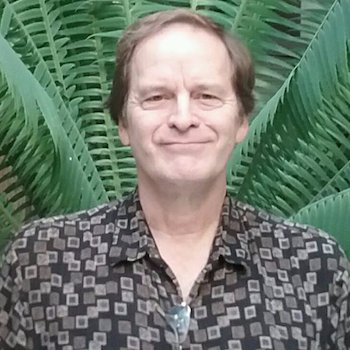 Tell us a bit about "A Gathering on Gravity's Shore."
Creepy alien plants, a tense high-society party, revolution in the air, an enigmatic woman–what could go wrong?
What inspired you to write this series of sf stories following Franden's adventures on Zephyr, beginning with your story in the Jan/Feb 2015 of F&SF, "The Man from X"?
The first one was a fluke. I had been writing much longer works, and I wanted to cool off with an extremely short story. Two characters. One scene. A story that played out in ten minutes. "The Man from X" was intended as a one-off.
Then I heard a lecture on the mythologies that influenced Tolkien. That started me wondering what new mythologies would evolve on an isolated frontier planet with a "cultural cringe" toward more civilized worlds. Since Franden was a writer, he was a useful tool for exploring those ideas. Thus "Into the Fiery Planet."
Sometimes I feel as if I'm a journalist who met an intriguing character, so I hang with Franden because he's good material and has a knack for making interesting friends. I don't approve of everything he does, but hey, he's young; I hope he learns from his mistakes. Charlie has bought a fourth story in this series, "What the Hands Know," in which Franden gets in trouble in a lowlife venue that's the opposite of Crestwood Gardens.
What kind of research, if any, did you do for this story?
To design the Vado-Zephyr system I read papers by astrophysicists (and corresponded with two regarding certain points). I assigned Vado a realistic mass, decided what Zephyr's orbital radius would be, based on how moons form around gas giants, and used an equation to work out the orbital period to two decimal places. I'm not going to "show my work" because stories are about emotion, not numbers, but I hope this preparation contributes to verisimilitude.
Do you have any more Mainline/Spur society stories planned?
Oh yes. I'm fond of Franden, but there are things happening on Zephyr that are better told from other points of view. I'm working on stories featuring a police detective investigating a suspicious death at a Fragrant Gate mansion. Two young marine biologists trying to become savos. A hermit priest, on a volcanic island in the Heller Sea, who has a thing for angels. Zephyr is an Earth-sized world orbiting a super Jovian. There's a lot going on.
"A Gathering on Gravity's Shore" appears in the January/February 2017 issue of F&SF.
You can buy a copy of the issue here: https://www.sfsite.com/fsf/toc1609.htm
You can subscribe to F&SF here: https://www.sfsite.com/fsf/subscribe.htm
comments
Copyright © 2006–2020 The Magazine of Fantasy & Science Fiction • All Rights Reserved Worldwide
Powered by WordPress • Theme based on Whitespace theme by Brian Gardner
If you find any errors, typos or anything else worth mentioning, please send it to sitemaster@fandsf.com.

Designed by Rodger Turner and Hosted by: