Interview: Richard Chwedyk on "The Man Who Put the Bomp"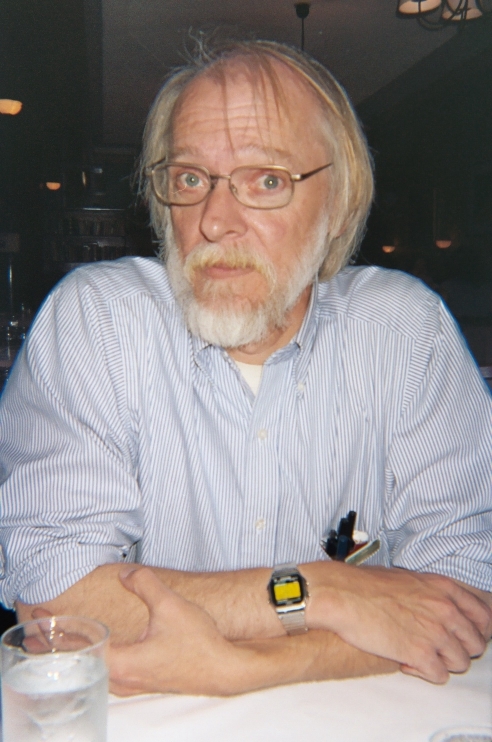 What was the inspiration for "The Man Who Put the Bomp," or what prompted you to write it?
A lot of things went into the inspiration for the novella, but the primary one was my interest in doing a story about the person most responsible for the saurs' existence. I decided it wasn't going to be a designer. It was going to be an underling, one of the people who execute the designer's concepts. In many fields, those folks know ten times more about what they're doing than the people in charge.
I also knew that, somehow, I had to stretch our view of the world where the saurs lived – beyond the boundaries of the old neo-Victorian on the edge of the great megalopolis. Axel is getting restless. There's a world out there and he wants to see it. So do many of my readers.
So I had those two characters, Axel and Nick, and I wanted to bring them together. How?
Well – Geraldine.
You put those elements together and follow the story. I usually know how a story ends, but how we get there is often a mystery until I face the blank screen – or in this case, very often it was a spiral notebook. Much of it was written on my morning commute, or in the café of the building where I worked (briefly), in the hour before starting time.
And VOOM!
Don't ask me where VOOM! came from. I awoke one morning and it was there.
Ask Geraldine.
Could you talk about the Saur stories as a whole? How has their focus changed over the years, and what do you envision that they're building toward?
When I wrote "The Measure of All Things," (F&SF January 2001) I had no intention of ever writing another saur story. A number of folks insisted I do just that, though, so I wrote "Bronte's Egg" (F&SF August 2002).  Initially, I wrote it to prove they were wrong – you couldn't write a sequel to "Measure." It would never work.
Instead, I proved I was wrong. Soooo wrong!
The next two stories I wrote very cautiously, as if I were afraid of disturbing the universe. But I was slowly working out a larger framework for all the pieces. It was in my head from some point I can't remember, and it involved either a very long solo car trip, or a series of short ones. Or it may have involved washing and drying a whole lot of dishes.
In the end, though, I had an idea – another crazy idea – of where this series of stories might end. It was so crazy I didn't believe I could pull it off. I still don't know if I can, but now I do believe I have to try.
So, there will be further stories. The loose ends – and you know all these stories have more loose ends than a flying spaghetti monster – will be tied up. The totality may be an utter disaster, or I may, briefly, justify my existence in this wayward, oddball, inconsistent universe we live in. We'll see.
Was this story personal to you in any way?  If so, how?
All my work is personal. That's not a value judgment of art over commerce or the personal over the popular or anything like that. It's a simple fact. That's how it works for me, even when I try to write otherwise. I admire many writers who can divorce themselves from their work – or think they can. But even the most "professional" popular writers reveal more of themselves than they would ever care to admit, even to themselves.
I wrote a blog post recently about "Bomp," where I insisted these stories are science fiction, not fantasy. The science is there – not in the places where you expect to find it, but it's there. Science isn't always about the things we know; it's more often about what we don't know. It's about the mystery. All good fiction is about mystery, popular or personal, about wanting to know what happens next.
The older I get, the more mysteries I find. In this novella, I catalog a few of them.
Does that answer the question? I don't know. All I can add is that, for a while, when I worked in the newspaper business, I did have a postcard pinned on my cubicle wall of the train wreck at Montparnasse in 1895, but the "original" of Nick Danner is more Bob Carlson than me.
My agent says that when I talk I sound like Axel, or what he thinks Axel would sound like. My wife thinks I sound like Agnes.
What can I say? We are multitudes. But every writer, deep in her heart of hearts, is Geraldine.
What are you working on now?
I have a collection of saur stories that's making the rounds to publishers. So far, no takers. Wonder why that is.
I'm still at work on the saur prequel, now titled "Who Reggie Sends" (which will probably be the first of several related novellas), and the novel I've been describing as "Ulysses with tentacles." It's grown into a monster, as anyone but me might have expected. But when those are through I have another saur story to tell, where Preston is visited by a grad student and Axel encounters the "Space Lady" from the Mount Herrmann Observatory Radio Telescope. I know where it ends, but beyond that all I can do is follow the story, hang on tight, and see where it takes me.
"The Man Who Put the Bomp" appears in the March/April 2017 issue of F&SF.
You can buy a copy of the issue here: https://www.sfsite.com/fsf/toc1703.htm
You can subscribe to the print edition of F&SF here: https://www.sfsite.com/fsf/subscribe.htm
You can subscribe to the electronic edition of F&SF at the following links:
Weightless Books (non-Kindle): https://weightlessbooks.com/category/publisher/spilogale-inc/
Amazon US (Kindle edition): http://www.amazon.com/dp/B004ZFZ4O8/
Amazon UK (Kindle edition): http://www.amazon.co.uk/dp/B004ZFZ4O8/
Clicking the following link or on the author's photo will take you to Richard Chwedyk's blog: http://critinomicon.blogspot.com
comments
Copyright © 2006–2020 The Magazine of Fantasy & Science Fiction • All Rights Reserved Worldwide
Powered by WordPress • Theme based on Whitespace theme by Brian Gardner
If you find any errors, typos or anything else worth mentioning, please send it to sitemaster@fandsf.com.

Designed by Rodger Turner and Hosted by: