F&SF, June 1991
Over the past couple years, we've been doing an irregular series of #TBT (Throw Back Thursday) features here on the F&SF blog, where they can easily be found under the "F&SF History" tag. We also share them on the F&SF Twitter account and Facebook page.
* * *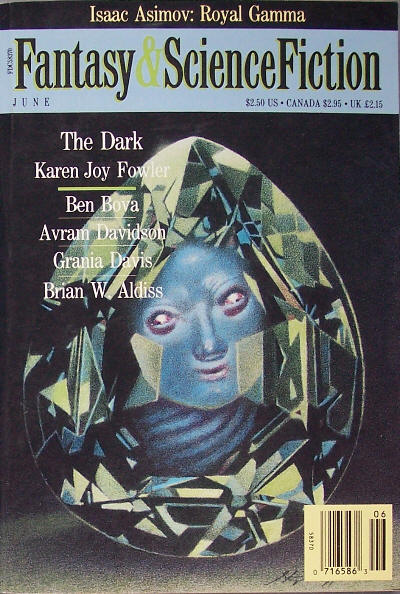 #TBT to the June 1991 issue of F&SF. Stephen Gervais's cover illustrates "The Blessed/Damned Thornston Emerald" by Grania Davis.
This was Edward L. Ferman's last issue as editor of The Magazine of Fantasy & Science Fiction and contains one of only 3 editorials that he contributed during his remarkable 25 year run. In it, he wrote: "There is the usual large pile of submissions across the room. Most of these stories aren't very good, and I admit to a considerable sense of relief that when I finish this pile, there won't be any others. But what about that small surge of pleasure when I find something special? I'll miss that, I know."
Ed Ferman was very good at finding "something special." Altogether, he edited 306 issues (or 319, if you count those he edited for the year and a month that Joseph Ferman's name led the masthead), and he won 8 Hugo and 3 World Fantasy awards — among many other recognitions — for his work. The stories and writers he edited and developed won even more.
This last issue shows the range and depth of his tastes as editor. The lead story is "The Dark" by Karen Joy Fowler, a 1992 Nebula finalist. Ferman describes the next story, "Wordworld" by Carolyn Ives Gilman, as "an extraordinary linguistic leap of imagination." It's a fun, smart piece of writing, typical of the kind of story you'd find during his editorship. "Deuce" by Henry Slesar belongs to the tiny subgenre of fantasy stories about the sport of tennis.
To these stories, he added some "big names." "Better Morphosis" by Brian W. Aldiss is a lighthearted reprint from the Nasacon II program book and the IAFA Conference of 1990, a rare reprint in F&SF but typical in that it's the kind of story that appeared someplace where the magazine's readers might not normally see it. "Vacuum Cleaner" by Ben Bova is another entry is his astronaut-entrepreneur Sam Gunn series, this time focused on orbital junk. "The Day They All Came Back" by Avram Davidson is a clever piece of flash written by the former F&SF editor that Ferman replaced.
F&SF has always published new writers and non-US writers, and the last issue of Ferman's leadership is no different. "Blue Angel" by Norwegian author Wennicke Eide is her first — and ended up being her only — story in F&SF. Ferman described the writing as "powerful and disturbing… the work of a major talent." She also published one story each in Amazing, Asimov's, and a Tor anthology. We did a quick search to find out what happened to her and her writing after that, but couldn't find anything. So it goes.
The issue closes with "The Blessed/Damned Thorston Emerald" by Grania Davis, a story involving an inheritance and some adventures.
Ferman celebrated his 80th birthday in March of this year. He still reads F&SF — he let us know that he liked the recent Plumage from Pegasus column by Paul Di Filippo. So today's #TBT is a tribute to Edward L. Ferman, his long tenure at Fantasy & Science Fiction, and all his contributions to the genre. Thanks, Ed.
comments
Copyright © 2006–2020 The Magazine of Fantasy & Science Fiction • All Rights Reserved Worldwide
Powered by WordPress • Theme based on Whitespace theme by Brian Gardner
If you find any errors, typos or anything else worth mentioning, please send it to sitemaster@fandsf.com.

Designed by Rodger Turner and Hosted by: