F&SF, June 1997
Over the past couple years, we've been doing an irregular series of #TBT (Throw Back Thursday) features here on the F&SF blog, where they can easily be found under the "F&SF History" tag. We also share them on the F&SF Twitter account and Facebook page.
* * *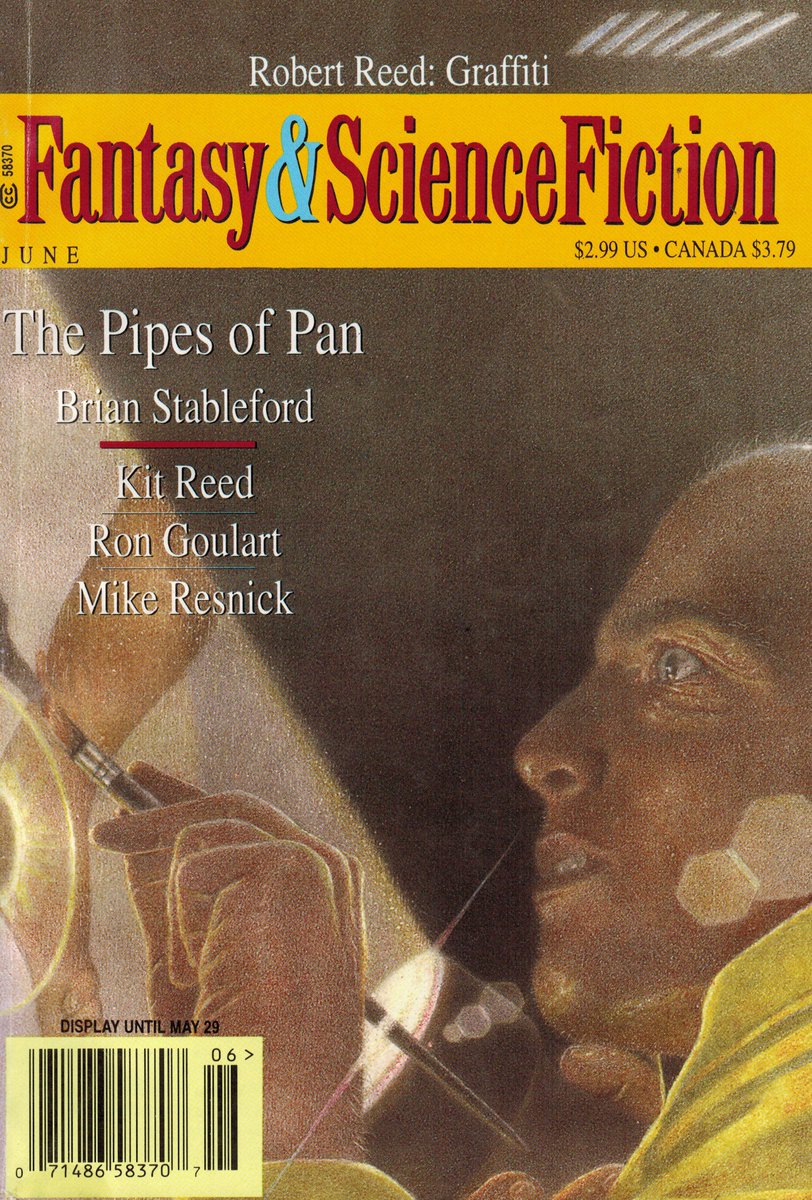 #TBT to the June 1997 issue of F&SF. The Stephen Gervais cover illustrates Robert Reed's story "Graffiti."
Last week's #TBT cover was Ed Ferman's last issue as editor; this week marks Gordon Van Gelder's first. (In July we'll get to Kristine Kathryn Rusch's debut.)
Van Gelder lays out his vision for the magazine in his first editorial: "my goal is to bring you the most entertaining magazine possible each month — the best blend of fiction, the most interesting columns, and a surprise or three to keep you on your toes. I sort of envision this magazine's appearance each month in your mailbox as being like a visit from an old friend bearing gifts." This first issue lives up to that goal, with a wide variety of stories, columns, and more.
Reed's cover story mixes a painter, a small town, and a dark secret. Robert Reed is followed by Kit Reed and her story "Rajmahal," a story about an American woman's affair with a rebel in India. M. Shayne Bell offers "Bright, New Skies," about an ozone-free earth. It began as a play for teaching English to scientists from Siberia. "The Pipes of Pan" by Brian Stableford blends Greek myth with Neverland. It was picked up by Dozois and Hartwell for their respecitve Year's Bests. "Jelly Bones" by Robin Aurelian (aka Nina Kiriki Hoffman) begins: "Sometimes bones are just an inconvenience. I melted mine." Then it gets weird. "The Macklin Gift" by Pat McEwen is a disturbing story about a family with strange powers. It was her first appearance in the magazine. Ron Goulart closes the issue with "Why I Never Went Steady With Heather Moon," the first of his Heather Moon stories.
Reflecting Van Gelder's interest in books — and his belief that there's not enough discussion about them — the issue has four book columns. Add in a film column by Kathi Maio, four cartoons, and the announcement of the new science column by Pat Murphy and Paul Doherty, and you can see both the continuity with the past and the distinctive mark of the new editor on the magazine.
comments
Copyright © 2006–2020 The Magazine of Fantasy & Science Fiction • All Rights Reserved Worldwide
Powered by WordPress • Theme based on Whitespace theme by Brian Gardner
If you find any errors, typos or anything else worth mentioning, please send it to sitemaster@fandsf.com.

Designed by Rodger Turner and Hosted by: