F&SF, July 1958
Over the past couple years, we've been doing an irregular series of #TBT (Throw Back Thursday) features here on the F&SF blog, where they can easily be found under the "F&SF History" tag. We also share them on the F&SF Twitter account and Facebook page.
* * *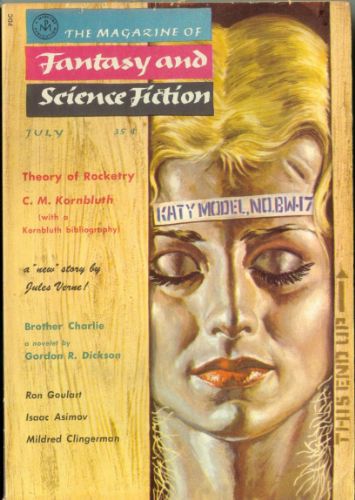 #TBT to the July 1958 F&SF. Barry Waldman's cover is for Ron Goulart's story "The Katy Dialogues" about a robot actress and a slimy PR guy stranded in space.
The main story, and the last story in the issue, is "Theory of Rocketry" by C. M. Kornbluth, who died of a heart attack in March 1958 on his way to a job interview at F&SF. Kornbluth had been tapped to replace Anthony Boucher as editor of the magazine. He was only 34 years old. "Theory of Rocketry" was a Hugo finalist in 1959, along with 2 other Kornbluth stories. But this wasn't his last published work: Kornbluth was so prolific that new stories, many finished by Frederik Pohl, continued to be published from his files until 1988. The full-page introduction to the story functions as a memorial to Kornbluth. A bibliography of his work replaces the usual books column. The bibliographer opines that: "Cyril Kornbluth's short stories may never be completely identified.
In his prolific teens, he was writing under 18 or 19 pseudonyms at once." Kornbluth's loss was keenly felt by those at the magazine.
The lead story in the issue is the Odyssean-inspired space adventure "Brother Charlie" by Gordon R. Dickson.
In the intro to "The Reign of Tarquin the Tall" by Kit Reed, the editor notes that it's a difficult story to classify. He writes that it's one of those stories in F&SF which "are not, strictly speaking, either fantasy or science fiction, but simply strange stories, commercially unsuited to virtually any other markets." He adds: "It would be handy to a have a term for such off-beat stories." Today Reed's tale would be probably be called slipstream or weird fiction by critics (and it would still have a place in the magazine).
F&SF has a long history of translated stories. This issue includes the first English version of "Gil Braltar" by Jules Verne, trans. by I. O. Evans.
The rest of the issue has the usual variety you expect from F&SF. "The Day of the Green Velvet Cloak" by Mildred Clingerman is a curiosity shop story with a twist of time travel. "The Up-to-Date Sorcerer" by Isaac Asimov is, despite the title, a science fiction story that's full of Gilbert and Sullivan puns. "The Vandals" by Stephen Barr, and two reprints, "The Eighth Lamp" by Roy Vickers and "The Blue-Eyed Horse" by Michael Fessier, along with a science column by William Morrison, round out the issue.
comments
Copyright © 2006–2020 The Magazine of Fantasy & Science Fiction • All Rights Reserved Worldwide
Powered by WordPress • Theme based on Whitespace theme by Brian Gardner
If you find any errors, typos or anything else worth mentioning, please send it to sitemaster@fandsf.com.

Designed by Rodger Turner and Hosted by: