Interview: Robin Furth on "The Bride in Sea-Green Velvet"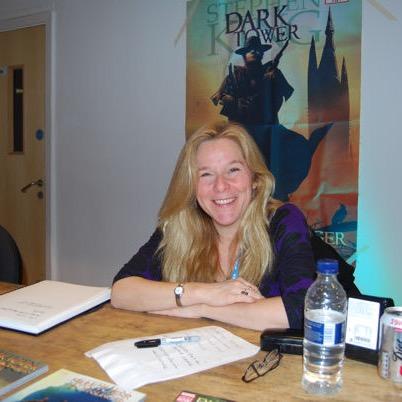 Tell us a bit about "The Bride in Sea-Green Velvet."
Creatively speaking, "The Bride in Sea-Green Velvet" marks a real breakthrough for me. I often laugh about it, but I'm very aware that just a couple of centuries ago, the way I view reality could have gotten me burned at the stake! I love fantasy, but I also love traditional folklore and every form of magical practice. In this story, I wanted to bring together traditional seafaring beliefs—ones in which mermaids and sea monsters exist—with the type of spell-casting that people have done for centuries. I'm not talking about Wicca or Gardnerian magic, but about something more primal and instinctual. The magician Austin Osman Spare said that magic needed to be practiced as an art form, so as I was creating Sir Henry's spell for bringing his inanimate bride to life, I tried to imagine what I would do in such a circumstance.  I'm a fan of medieval grimoires, so I thought a lot about ingredients used in those old spells, as well as the kind of chanting that would go along with it.
What was the inspiration for this story, or what prompted you to write it?
I have always loved stories of transformation and magic. They are the oldest tales in the world, and for me, they remain the most powerful. I grew up reading Russian Wonder Tales, Hans Christian Andersen, and the Brothers Grimm, and in college I fell under the spell of Ovid's Metamorphoses. The first time I saw the work of the sixteenth century Italian painter Giuseppe Arcimboldo, I was amazed. His portraits of people made entirely of fruits, vegetables, flowers, and books were like images drawn from my own imagination. Archaeology, ancient history, mythology, and ancient religions are also passions of mine, and each of these areas of interest fed into "The Bride in Sea-Green Velvet."
Back in 2013, I watched a BBC documentary about Pompeii and Herculaneum. In it, an anatomical facial reconstruction specialist took two skulls–one of a man from Pompeii and one of a woman from Herculaneum–and rebuilt them to show what they would have looked like with flesh and skin. Although the man's skull seemed to be treated with strict scientific interest, what really intrigued me was the reaction that the woman's skull elicited from the men handling it. They named her Bella Donna–Beautiful Lady–and enthused about every aspect of her loveliness, from her cranial sutures–which indicated she was very young–to her large eye sockets and unusually symmetrical bone structure. Watching the program was both fascinating and unnerving. Until that time, I'd never realized that even stripped to the bone, a beautiful woman could captivate the imagination…
Another influence was the discovery of Seahenge in Norfolk–a Bronze Age timber circle that had been hidden under sea mud for millennia. Buried in the center of the circle was an upside-down oak. No one knew why the tree had been placed this way, but some archaeologists surmised that it was to ritually join the world of the living to the world of the dead.
These two stories about the ancient past were already percolating in my mind when I traveled to Aberystwyth with my husband Mark. At the time I was rereading Patricia A. McKillip's wonderful fantasy trilogy, The Riddle-Master's Game. While Mark was on campus giving a paper on the Welsh poet and painter David Jones, I sat in our room overlooking the sea. The gray waves crashing against the sand made me think of McKillip's shape-shifting Earth-Masters. What would ancient gods of the sea be like, I wondered, and what would they demand of those who served them . . .?
Over a two-year period, the skull of Bella Donna, the upturned oak of Seahenge, and McKillip's Earth-Masters began to weave themselves into a story. In the eerie light of the southwest coast of England at the Summer Solstice, the tale took on a life of its own.
Was "The Bride in Sea-Green Velvet" personal to you in any way?  If so, how?
Over the past twenty-five years I have published poems in numerous respected journals and magazines, and I have spent much of the last decade writing about Stephen King's mythical land of Mid-World, but in "The Bride in Sea-Green Velvet" I finally found a way to share something of my secret imagination–a place haunted by old gods and dark magic.
What kind of research, if any, did you do for this story?
It's interesting you asked this question, since I ended up doing a lot of strange research for this tale.  In order to get my details right, I had to research forensic facial reconstruction, which is a fascinating area. My Masters Degree focused on Edwardian Era fiction (both US and UK), so the Edwardian setting was a very familiar one for me. That being said, I still wanted to make sure my details were correct, so had to research everything from Edwardian clothing and the pre-decimal monetary system to what an Edwardian gentleman would drink to cure a hangover! The description of Sir Henry's estate was based on several stately homes near where I live in England. All of them had originally belonged to religious orders, but after the dissolution of the monasteries by Henry VIII, they passed into the hands of the king's allies.
I'm fascinated by the ancient landscape of the British Isles, and by the fact that so many ancient sites of the southwest are linked by Neolithic stone avenues. Years of visiting these powerful places influenced the landscape I describe in this story. The church I mention, which contains a carving of a mermaid holding a comb and a mirror, actually exists in Cornwall, though the mermaid isn't on the church's facade but on the side of a pew. The cliffs full of fossilized sea creatures which Sir Henry has to climb down with a rope is also real and exists on the northeast coast of England. (My husband and I go fossil-hunting there with our brother-in-law and his kids.) But perhaps the weirdest research I did was into ancient rituals.  The chant I use at the end of the story is taken from Precatio Terrae, an ancient Roman prayer to the earth goddess who both gives life and accepts the dead back into her womb.
I love fantasy, but I'm also fascinated by the form magical practice takes in our world. I've read a lot of Dion Fortune's work, as well as the writings of other members of the Golden Dawn, so I wanted to make the magic in my story seem plausible. Granted, few magical practitioners have access to the skeletons of mermaids or attempt to create life from inanimate objects, but within the confines of my world, where such things are possible, I wanted to create believable and powerful rituals. Whether they work or not is up to the reader. (And if anybody tries them and they actually DO work, please let me know!)
What are you working on now?
Over the last ten years I've co-written about fifteen Dark Tower graphic novels for Marvel Comics, all of which are based on Stephen King's Mid-World. Now that the Dark Tower film is finally hitting the big screen, we're taking a break from the comics for a while. Comic book deadlines are notoriously tight, so now that I have a breather I'm trying to finish up some of my own stories as well as—believe it or not—two novels. I also have a short piece of graphic fiction coming out in Femme Magnifique, a great anthology about inspirational women. It's edited by Shelly Bond, who for years was the head of DC Comics' Vertigo imprint.  My piece is about Ursula Le Guin, who has been a tremendous inspiration. My partner was the wonderful artist Devaki Neogi.
For the past two years I've been a consultant for the Dark Tower film. That has been a fascinating journey into a whole new creative medium. Although much of my professional work has focused on Stephen King's Dark Tower series, I recently finished another Concordance about his work. This one covers the Bill Hodges Trilogy, which is a series of thrillers with a supernatural twist. Like my Dark Tower Concordance, it is published by Scribner. Right now it is available in ebook form, but a limited print edition is also in the pipeline.
But back to fiction—which is my first great love—I can't tell you how honored I am to have appeared in the pages of Fantasy & Science Fiction. Over the years you have published so many of the authors I love.
Thanks so much for taking the time to talk to me. I've really enjoyed it! If anyone out there would like to read more about my work, I'm finally setting up a website at robinfurth.com.
"The Bride in Sea-Green Velvet" appears in the July/August 2017 issue of F&SF.
You can buy a copy of the issue here: https://www.sfsite.com/fsf/toc1707.htm
You can subscribe to the print edition of F&SF here: https://www.sfsite.com/fsf/subscribe.htm
You can subscribe to the electronic edition of F&SF at the following links:
Weightless Books (non-Kindle): https://weightlessbooks.com/category/publisher/spilogale-inc/
Amazon US (Kindle edition): http://www.amazon.com/dp/B004ZFZ4O8/
Amazon UK (Kindle edition): http://www.amazon.co.uk/dp/B004ZFZ4O8/
comments
Copyright © 2006–2020 The Magazine of Fantasy & Science Fiction • All Rights Reserved Worldwide
Powered by WordPress • Theme based on Whitespace theme by Brian Gardner
If you find any errors, typos or anything else worth mentioning, please send it to sitemaster@fandsf.com.

Designed by Rodger Turner and Hosted by: