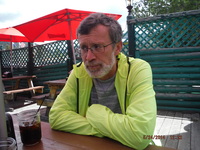 Tell us a bit about "Leash on a Man."
I used to own a red husky, and I'll never love another dog as much.  At least I hope not.  Included in my Roxie memories are two leashes:  A twenty foot lead that lasted for years and then finally failed at the clip, not in the invincible fabric itself.  And a six foot leather leash that proved equally long-lived.  She also wore a succession of pinch-collars.  Pinch-collars with their spikes were the only way to effectively control her behaviors while we ran together.  Choke-collars would have strangled her.  Simple collars and halters would have ruined my shoulder and slammed my face to the ground.  She was stubborn and very strong, and unlike any other dog that I've known, she could manage a long lead and not get tangled.  We became a team.  This isn't some spiritual bullshit.  We were six legs and two heads and a single agenda.  And it's important to note here that leashes run in both directions.  The man holding the leash can imagine himself being in charge, but the reality can be rather more complicated.  Just ask a Siberian husky who's running this clumsy slow nose-blind man through the deer-infested woods.
What was the inspiration for this story, or what prompted you to write it?
"Leash on a Man" is the title.  And by that, I mean that I came up with the title and liked it without knowing what it meant.  But that puzzle made me curious.  I decided to write a story wearing those four words on its head.  This kind of adventure happens sometimes.  I don't remember examples just now, but I'm sure it has happened before to me.  I got to thinking about the difficulty in determining who was in charge when a leash is strung between two personalities, and I know a man who used to be a prison guard, and I've watched a few prison movies.  So there.
What would you want a reader to take away from "Leash on a Man?"
What to take away from "Leash?"  Maybe I hope that readers end up believing that several of these lives are going to have fascinating trajectories.  But I wouldn't count on me writing about them.  I feel this is a once-and-out circumstance.
What are you working on now?
Working on now?  Mostly I'm writing a sequel to MEMORY OF SKY, which also happens to be a novel taking place on my Greatship.
"Leash on a Man" appears in the September/October 2017 issue of F&SF.
You can buy a copy of the issue here: https://www.sfsite.com/fsf/toc1709.htm
You can subscribe to the print edition of F&SF here: https://www.sfsite.com/fsf/subscribe.htm
You can subscribe to the electronic edition of F&SF at the following links:
Weightless Books (non-Kindle): https://weightlessbooks.com/category/publisher/spilogale-inc/
Amazon US (Kindle edition): http://www.amazon.com/dp/B004ZFZ4O8/
Amazon UK (Kindle edition): http://www.amazon.co.uk/dp/B004ZFZ4O8/
Clicking on Mr. Reed's photo will take you to his website.