Interview: Robert Reed on "An Equation of State"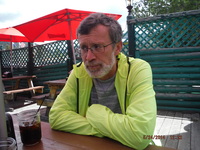 Tell us a bit about "An Equation of State."
I had a market that needed a story about warfare.  I don't remember the particulars about the assignment, but I felt pretty confident about my plan when I was in Kansas City, at the Nelson-Atkins Museum of Art. Edward Hopper's "Light Battery at Gettysburg" caught my eye.  A roadside scene, horses and young men pulling artillery towards the coming battle.  But the moment itself is sun-washed, quite peaceful.  I started thinking about youngsters enjoying a pleasant day while preparing for slaughter, and somewhere I started to believe that one of those horses was smarter than anyone else.
"An Equation of State" was refused by its intended market.  So it goes.
What would you want a reader to take away from "An Equation of State?"
Take away?  Pick what you like best, and let the rest go.  That's what I do with stories I read, and even more with the stories that I write.  In "Equations," my favorite scene involves the Vietnamese soldier.  A fantasy of the super warrior, sure.  But I used to work in a factory that was half-Vietnamese, and I knew people who had fought for the South.  And while they considered American soldiers to be scared little boys who were dangerously quick with triggers, they had been deeply impressed by how our B-52s leveled hills.  And by impressed, I mean terrified.  I mean scarred.  I mean that years later, they would hold a Pepsi can in one hand and shake their heads, describing the deep craters that became deep ponds and nothing like a body left behind by the thunderous explosions.  Americans had reached down from the stratosphere and killed more people than anyone could ever count, and war is a miserable mess where the lucky are able to eat rats.
What are you working on now?
Last week, I finished up a Greatship novel.  THE DRAGONS OF MARROW needs a home, and being 61, I have a sense that maybe I shouldn't linger too long trying to place it in the traditional addresses.  Publishing takes too long, and editors get fired, and I have maybe five more books to write.  So wouldn't it be nice just to throw my work to the world and make a few bucks and collect social security and leave my biggest, best story behind for the AI superminds to enjoy?
On a similar note, I'm also learning how to publish on Kindle.  I have a library of nearly 300 stories and out-of-print novels, and sad to say, I've reached that point in the career when my catalog is more valuable than my future.
"An Equation of State" appears in the January/February 2018 issue of F&SF.
You can buy a copy of the issue here: https://www.sfsite.com/fsf/toc1801.htm
You can subscribe to the print edition of F&SF here: https://www.sfsite.com/fsf/subscribe.htm
You can subscribe to the electronic edition of F&SF at the following links:
Weightless Books (non-Kindle): https://weightlessbooks.com/category/publisher/spilogale-inc/
Amazon US (Kindle edition): http://www.amazon.com/dp/B004ZFZ4O8/
Amazon UK (Kindle edition): http://www.amazon.co.uk/dp/B004ZFZ4O8/
Clicking on Mr. Reed's picture will take you to his website.
comments
Copyright © 2006–2020 The Magazine of Fantasy & Science Fiction • All Rights Reserved Worldwide
Powered by WordPress • Theme based on Whitespace theme by Brian Gardner
If you find any errors, typos or anything else worth mentioning, please send it to sitemaster@fandsf.com.

Designed by Rodger Turner and Hosted by: