Congratulations to all the winners and honorees at this year's Nebula Award Ceremony hosted by the Science Fiction and Fantasy Writers of America. Those of us here at the magazine offer special congratulations to William Ledbetter, who won the Nebula for Best Novelette for his story "The Long Fall Up," which originally appeared in the May/June 2016 issue of The Magazine of Fantasy & Science Fiction.
Locus Magazine lists all the winners here: http://www.locusmag.com/News/2017/05/12490/
This picture of him accepting the award is courtesy of the Twitter feed for @sfwa.
Today's Featured Article on Wikipedia is The Magazine of Fantasy & Science Fiction. Almost 68 years of great and groundbreaking stories.
Weightless Books is celebrating by running a one-day subscription special. 50% off the current issue and 25% off any subscription. But you'll need to act fast!
To take advantage of the Weightless promotion: https://weightlessbooks.com/updates/wikipedia-1-day-fsf-special/
To read the full article on the magazine's history and highlights, visit Wikipedia at: https://en.wikipedia.org/wiki/The_Magazine_of_Fantasy_%26_Science_Fiction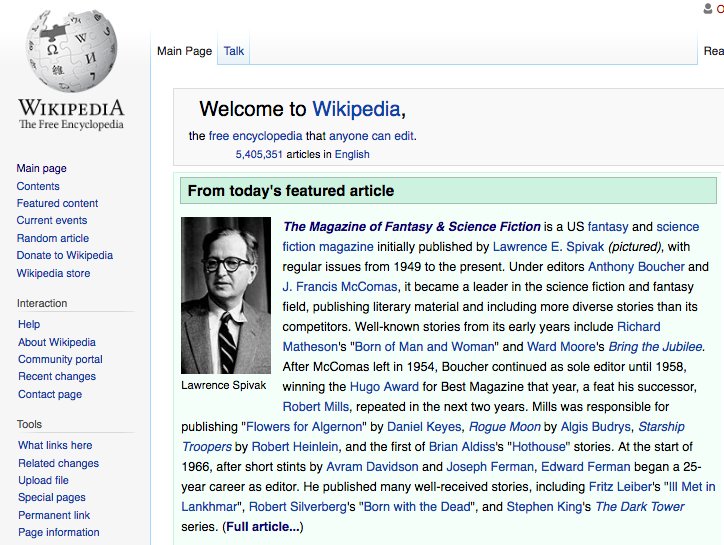 New stories by Richard Bowes, Leah Cypess, Nina Kiriki Hoffman, Matthew Hughes and more!
The May/June issue of the magazine can be found in most Barnes & Noble stores, as well as many local independent booksellers. You can order a single copy from our website or buy an electronic edition from Amazon, AmazonUK, and — now, available worldwide and in every format — through Weightless Books.
This month's cover is by Maurizio Manzieri, illustrating "The Prognosticant" by Matthew Hughes. To see more of his work, visit his website at http://www.manzieri.com/.
BALDEMAR LEVELS UP
In the March/April issue we published "Ten Half-Pennies," in which Matthew Hughes introduced us to a new character in his Archonate universe — Baldemar, a young wizard's henchman. Baldemar's adventures continue in this issue with "The Prognosticant." As you can probably tell by the cover image, his problems get much larger.
MORE GREAT FICTION
Along with the new Hughes story, we have a wide variety of great fantasy in this issue. Elgin Award winning poet Shannon Connor Winward makes her F&SF debut in this issue with a traditional fantasy, "Witch's Hour." Richard Bowes marks his twenty-fifth anniversary of F&SF stories with "Dirty Old Town," a contemporary fantasy about growing up in Boston. And Leah Cypess offers us "Neko Brushes," a story inspired by the Japanese folktale "The Boy Who Drew Cats." And Zach Shephard, another writer making his first appearance in the magazine, brings us dense world-building and a complex character in his flash story, "The Woman With the Long, Black Hair."
You'll also find a wide variety of science fiction in this issue. Brian Trent, who first appeared in F&SF a year ago with "The Last of the Sharkspeakers," returns to the magazine with "A Thousand Deaths Through Flesh and Stone," a story about human identity in a post-human world. Kelly Jennings returns us to a more familiar — and more threatened — Earth with her F&SF debut, "A History of the Invasion Told in Five Dogs." Gregor Hartmann returns to the planet Zephyr and his outer space adventure series with "What the Hands Know." John Schoffstall makes his first appearance in the magazine with another fast-paced story that explores identity, "The First Day of Someone Else's Life." And Nina Kiriki Hoffman, who last appeared in our January/February issue with the charming fantasy story "Cinnamon and Vinegar," returns to our pages with "Rings," a darker space adventure that shows off her versatility and range.
And we're also pleased to introduce you to the work of R. S. Benedict, a writer who makes her fiction debut in this issue with a compelling and hard-to-categorize story, "My English Name."
OUR REGULAR COLUMNS AND FEATURES
Charles de Lint suggests Books to Look For by Justine Larbalestier ("Wow!"), Elizabeth Hand, and Joe R. Lansdale, as well as a graphic novel by Ben Aaronovitch, Andrew Cartmel, and Lee Sullivan, a new anthology edited by Jaym Gates and Monica L. Valentinelli, and the Bookburners series by Max Gladstone, Margaret Dunlap, Mur Lafferty, and Brian Frances Slattery. Elizabeth Hand recommends new books by Peter S. Beagle and Graeme Macrae Burnet, along with Literary Wonderlands, edited by Laura Miller. In our television column, David J. Skal considers "Western Histories" as interpreted by HBO's "Westworld" series and season 2 of Amazon Prime's "The Man in the High Castle." And for our Curiosities column, Mark Esping explores the work of obscure writer/artist Annabell Krebs Culverwell, who published much of her work under the name of "Columba," including her first novel The Moon is Inhabited (1961).
As we announced in January, the Science Column by Pat Murphy and Paul Doherty has returned to every issue. This month continues their exploration of robotics with driverless cars and other "Robots On The Road".
Paul Di Filippo contributes a new Plumage from Pegasus column, "Happiness is a Worn Gunn." (Yes, it is. Yes, it is.)
And we also publish the results of F&SF Competition #93, "True Names," and announce a new competition with a chance to win some fabulous prizes, including subscriptions to F&SF.
LET US KNOW WHAT YOU THINK
We hope you'll share your thoughts about the issue with us. We can be found on:
In the meantime… enjoy!
C.C. Finlay, Editor
Fantasy & Science Fiction
fandsf.com | @fandsf
It's been a few months since we posted recent acquisitions, but contracts have been sent out and accepted for this group of stories acquired in January and February that will be coming soon to the pages of F&SF:
"Hollywood Squid" by Oliver Buckram
"Tasting Notes on the Varietals of the Southern Coast" by Gwendolyn Clare
"The Hermit of Houston" by Samuel R. Delany
"We Are Born" by Dare Segun Falowo
"The Bride in Sea Green Velvet" by Robin Furth
"Stillborne" by Marc Laidlaw
(poem) "The Path to Peace" by Mary Soon Lee
"Riddle" by Lisa Mason
"Whatever Comes After Calcutta" by David Erik Nelson
"An Equation of State" by Robert Reed
"Starlight Express" by Michael Swanwick
The Laidlaw story is a new Gorlen Vizenfirth novella. The Delany, Furth, and Nelson stories are novelets. Clare and Furth will be making their first appearances in F&SF, and this will be Falowo's first published story.
Over the past couple years, we've been doing an irregular series of #TBT (Throw Back Thursday) features here on the F&SF blog, where they can easily be found under the "F&SF History" tag. We also share them on the F&SF Twitter account and Facebook page.
For #TBT this week, here are the covers for all of Richard Chwedyk's saur stories. You can order copies of back issues for most of these direct from the F&SF website here: https://www.sfsite.com/fsf/backish.htm