Over the past couple years, we've been doing an irregular series of #TBT (Throw Back Thursday) features here on the F&SF blog, where they can easily be found under the "F&SF History" tag. We also share them on the F&SF Twitter account and Facebook page.
* * *
#TBT to the July 1991 issue of F&SF. Malgorzata Rapnicka's cover illustrates "Autumn Mist" by Nancy Springer.
This was Kristine Kathryn Rusch's first issue as editor. Rusch begins the issue with an editorial, which would become a hallmark of her term as editor — she wrote more of them than anyone else, before or since. "I feel the weight of history tonight," she writes near the beginning, and describes that history in both general and personal terms. She ends by calling F&SF "a magazine that has always shown us the future while letting us keep everything that is precious about our past."
The intro for Springer's cover story picks up the same theme and discusses how it "ties together the motifs of the issue: the need for change, for preserving the past, and the effect we have on our environment."
The issue also includes stories by Michael Cassutt, Larry Tritten, Tony Daniel, Elizabeth Engstrom, Esther M. Friesner, and Kathe Koja. Rusch would become known for introducing many new writers to readers of F&SF: here, it's with "Fetch Felix," the first published story by Sally Caves, who also wrote a couple episodes for Star Trek — "Hollow Pursuits" on The Next Generation and "Babel" for Deep Space Nine.
The issue is rounded out with book reviews by Budrys and Card, a science column by Asimov, an F&SF competition, and several cartoons. The perfect mix of old and new, beginning a new era for the magazine.
Over the past couple years, we've been doing an irregular series of #TBT (Throw Back Thursday) features here on the F&SF blog, where they can easily be found under the "F&SF History" tag. We also share them on the F&SF Twitter account and Facebook page.
* * *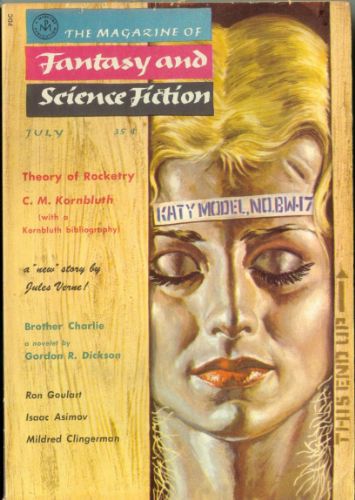 #TBT to the July 1958 F&SF. Barry Waldman's cover is for Ron Goulart's story "The Katy Dialogues" about a robot actress and a slimy PR guy stranded in space.
The main story, and the last story in the issue, is "Theory of Rocketry" by C. M. Kornbluth, who died of a heart attack in March 1958 on his way to a job interview at F&SF. Kornbluth had been tapped to replace Anthony Boucher as editor of the magazine. He was only 34 years old. "Theory of Rocketry" was a Hugo finalist in 1959, along with 2 other Kornbluth stories. But this wasn't his last published work: Kornbluth was so prolific that new stories, many finished by Frederik Pohl, continued to be published from his files until 1988. The full-page introduction to the story functions as a memorial to Kornbluth. A bibliography of his work replaces the usual books column. The bibliographer opines that: "Cyril Kornbluth's short stories may never be completely identified.
In his prolific teens, he was writing under 18 or 19 pseudonyms at once." Kornbluth's loss was keenly felt by those at the magazine.
The lead story in the issue is the Odyssean-inspired space adventure "Brother Charlie" by Gordon R. Dickson.
In the intro to "The Reign of Tarquin the Tall" by Kit Reed, the editor notes that it's a difficult story to classify. He writes that it's one of those stories in F&SF which "are not, strictly speaking, either fantasy or science fiction, but simply strange stories, commercially unsuited to virtually any other markets." He adds: "It would be handy to a have a term for such off-beat stories." Today Reed's tale would be probably be called slipstream or weird fiction by critics (and it would still have a place in the magazine).
F&SF has a long history of translated stories. This issue includes the first English version of "Gil Braltar" by Jules Verne, trans. by I. O. Evans.
The rest of the issue has the usual variety you expect from F&SF. "The Day of the Green Velvet Cloak" by Mildred Clingerman is a curiosity shop story with a twist of time travel. "The Up-to-Date Sorcerer" by Isaac Asimov is, despite the title, a science fiction story that's full of Gilbert and Sullivan puns. "The Vandals" by Stephen Barr, and two reprints, "The Eighth Lamp" by Roy Vickers and "The Blue-Eyed Horse" by Michael Fessier, along with a science column by William Morrison, round out the issue.
IMPORTANT NOTICE: The electronic submissions form for Fantasy & Science Fiction will be closed temporarily from 12:01 A.M., Pacific Time, U.S.A., on Tuesday, July 18, 2017, until 11:59 P.M., Pacific Time, U.S.A., on Friday, August 11, 2017.
F&SF's editor, C.C. Finlay, will be teaching the final two weeks at the Clarion Writers Workshop at the University of California, San Diego, this year and won't be available to keep up with new submissions.
Because of the temporary closing there is currently no waiting period between submissions.
Paper submissions via the postal service will still be open, but since there won't be anyone in the office to answer them, it'll be faster to wait for the online form to reopen.
When it comes to paper submissions vs. electronic submissions, our editor strongly prefers for writers to use the online form whenever possible. The online system is free to use and it means that you don't need to worry about the cost of postage or stamps. In addition, using the online form will give you a tracking number, so you can follow the progress of your story through our system. On our end, it lets us keep all correspondence about a story in one place while putting the submission on our to-do list every day until we reply. Electronic submissions take about a quarter of the time to handle administratively, giving us more time to read the stories and pay attention to the writing. And the first thing we have to do when we buy something sent by snail mail is contact the writer and ask them to send us an electronic file! Our current median response time for online submissions is about 4 days, so the turnaround is also usually going to be faster for online submissions.
A reminder that our online submission form is available at: https://ccfinlay.moksha.io/publication/fsf
New stories, new writers, new worlds… and one old house.
The July/August issue of the magazine can be found in most Barnes & Noble stores, as well as many local independent booksellers. You can order a single copy from our website or buy an electronic edition from Amazon, AmazonUK, and — now, available worldwide and in every format — through Weightless Books.
This month's cover is by Nicholas Grunas, illustrating "There Was a Crooked Man, He Flipped a Crooked House" by David Erik Nelson. To see more work by this Detroit artist, visit his FineArtAmerica page at https://fineartamerica.com/profiles/djjustnick08.html.
HE FLIPPED A CROOKED HOUSE
The story's not over when someone builds a crooked house… eventually, the neighborhood declines, the house gets neglected and repurposed for other uses, and then someone comes along with a plan to buy it cheap and flip it for profit.
Take, for example, the David Whitney House, a monumental Romanesque mansion made of pink jasper and Tiffany windows built in Detroit during the city's early heyday in the 1890s. Less than a hundred years later, by the early 1980s, it had been divided into a labyrinth of low-rent offices. One of those offices was occupied by young David Erik Nelson's father…
Those are some of the raw materials for this month's novella as Nelson gives us a modern variation on a classic premise with "There Was a Crooked Man, He Flipped a Crooked House."
MORE GREAT FICTION
In May, William Ledbetter won the Nebula Award for his hard science fiction novelette "The Long Fall Up," published in the May/June 2016 issue of F&SF. He leads off this month's issue with a brand new space adventure, "In a Wide Sky, Hidden." We also bring you the F&SF debut of G. V. Anderson. Her story "I Am Not I" may at some turns remind you of Sarah Waters' Fingersmith and at others of China Miéville's Perdido Street Station; either way, we think it will impress you.
We have a wide variety of great fantasy in this issue. Auston Habershaw introduces us to some delightful characters in his adventure of murder and manners, "The Masochist's Assistant." Robin Furth, who some of you may previously know as the author of The Dark Tower: The Complete Concordance or The Dark Tower graphic novels, makes her F&SF debut with a very unsettling story, "The Bride in Sea-Green Velvet." Gardner Dozois offers us a short tale closer to home with "A Dog's Story." And Marissa Lingen returns to our pages with another thoughtful fantasy as she explores "An Unearned Death."
Two other authors make their F&SF debuts (and first pro sales) in this issue. Justin Key — or rather Dr. Justin Key (he wrote this story while he was finishing med school) — brings us an alternate history of the American South with "Afiya's Song." And Sean Adams offers up "An Obstruction to Delivery," a story that's difficult to classify but not to enjoy.
OUR REGULAR COLUMNS AND FEATURES
Charles de Lint recommends some Books to Look For by P. L. Winn, Nathan Van Coops, Patricia Briggs, and James E. Coplin, along with a new illustrated edition of Goblin Market by Christina Rossetti and Omar Rayyan and Gods & Goddesses: The Fantasy Illustration Library Volume Two edited by Malcolm R. Phifer and Michael C. Phifer. In Musing on Books, Michelle West reviews new books by Megan Whelan Turner, Peter S. Beagle, and Frances Hardinge. In our film column, David J. Skal considers "Ghouls, Ghosties, Beasties" — a review of Disney's new version and "Beauty and the Beast." The Science Column by Pat Murphy and Paul Doherty has "The Best of Intentions" as it describes the perilous fate of bees. And for our Curiosities column, Paul Di Filippo returns to A Report from Group 17 by Robert C. O'Brien (1972).
The issue also offers up a new poem by Sophie M. White and a cartoon by Nick Downes.
LET US KNOW WHAT YOU THINK
We hope you'll share your thoughts about the issue with us. We can be found on:
So grab a copy on your way to the beach, and enjoy some great summer reading.
C.C. Finlay, Editor
Fantasy & Science Fiction
fandsf.com | @fandsf
Over the past couple years, we've been doing an irregular series of #TBT (Throw Back Thursday) features here on the F&SF blog, where they can easily be found under the "F&SF History" tag. We also share them on the F&SF Twitter account and Facebook page.
* * *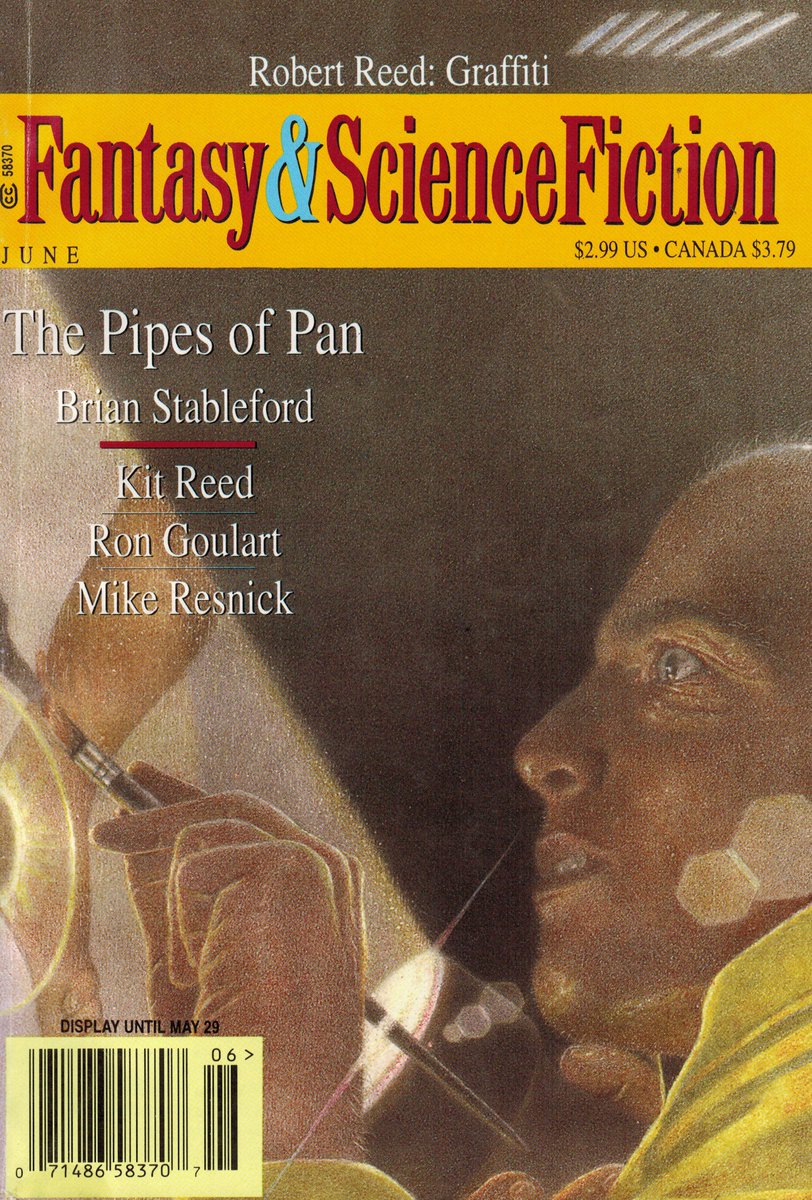 #TBT to the June 1997 issue of F&SF. The Stephen Gervais cover illustrates Robert Reed's story "Graffiti."
Last week's #TBT cover was Ed Ferman's last issue as editor; this week marks Gordon Van Gelder's first. (In July we'll get to Kristine Kathryn Rusch's debut.)
Van Gelder lays out his vision for the magazine in his first editorial: "my goal is to bring you the most entertaining magazine possible each month — the best blend of fiction, the most interesting columns, and a surprise or three to keep you on your toes. I sort of envision this magazine's appearance each month in your mailbox as being like a visit from an old friend bearing gifts." This first issue lives up to that goal, with a wide variety of stories, columns, and more.
Reed's cover story mixes a painter, a small town, and a dark secret. Robert Reed is followed by Kit Reed and her story "Rajmahal," a story about an American woman's affair with a rebel in India. M. Shayne Bell offers "Bright, New Skies," about an ozone-free earth. It began as a play for teaching English to scientists from Siberia. "The Pipes of Pan" by Brian Stableford blends Greek myth with Neverland. It was picked up by Dozois and Hartwell for their respecitve Year's Bests. "Jelly Bones" by Robin Aurelian (aka Nina Kiriki Hoffman) begins: "Sometimes bones are just an inconvenience. I melted mine." Then it gets weird. "The Macklin Gift" by Pat McEwen is a disturbing story about a family with strange powers. It was her first appearance in the magazine. Ron Goulart closes the issue with "Why I Never Went Steady With Heather Moon," the first of his Heather Moon stories.
Reflecting Van Gelder's interest in books — and his belief that there's not enough discussion about them — the issue has four book columns. Add in a film column by Kathi Maio, four cartoons, and the announcement of the new science column by Pat Murphy and Paul Doherty, and you can see both the continuity with the past and the distinctive mark of the new editor on the magazine.