For the past six or seven months, we've been doing a #TBT (Throw Back Thursday) feature on the F&SF Twitter account and Facebook page. For the new year, we thought it might be good to add them here where they can be easily found under the "F&SF History" tag.
* * *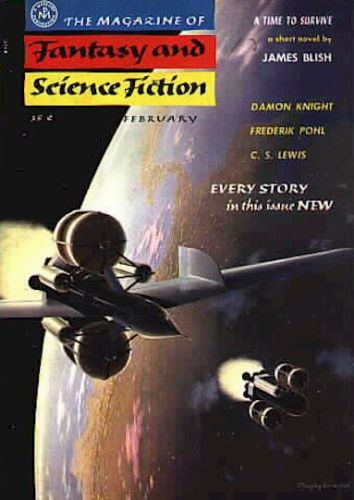 #TBT to the February 1956 issue of F&SF and this Chesley Bonestell illustration from The Exploration of Mars.
When F&SF first started publishing, many issues featured one or more classic reprints. The change to all (or mostly) new fiction was already well underway, but "EVERY STORY in this issue NEW" emphasized it for readers. This issue contains another change in direction. F&SF had experimented previously (and would again) with interior art. Here, on page 14, F&SF published a cartoon by Ronald Searle, the creator of St. Trinian's School and known for his work on Molesworth. Searle's sometimes dark humor was shaped by his time in a POW work camp during WWII and as courtroom artist during the Nuremburg trials. In lieu of a caption, the cartoon has an editor's note about the artist and his work that functions like a story introduction. F&SF would publish several more cartoons during 1956. Eventually they became a regular feature of the magazine and continue today.
This issue contains a famous story, some big-name authors, and secret gems, covering the spectrum of the speculative genre.
The lead story is Damon Knight's "The Country of the Kind," one of the classic idea stories of sf, about violence and artistic expression. "A Time to Survive" is a Pantropy story by James Blish. "The Shoddy Lands" marks C.S. Lewis's first fantasy story in any US magazine. Screenwriter Kem Bennett's "Rufus" is about interstellar smuggling. "Martie and I" by Miriam Allen DeFord is a time-twisted kidnap story. "The Ultimate Price" by Winona McClintic explores premarital sex, jealousy, and necromancy. "I, Claude," in the Claude Adams series, by Charles Beaumont and Chad Oliver, includes a Besterian spoof of typographic telepathy. "The Message" by Isaac Asimov is humorous flash, and "The Census Takers" by Frederick Pohl is his very first of many appearances in F&SF.
One piece of fiction and author worth special note is "Final Clearance," a ghost story by Rachel Maddux. Maddux was a Kansas-born writer who faced numerous hardships. Lifelong health issues forced her to drop out of medical school and work a variety of odd jobs. Although she published short fiction and novels during her lifetime, and had one book optioned for film by Katherine Hepburn much of her fiction had to wait for posthumous publication, when it was put out by University of Tennessee Press. For more information on Rachel Maddux and her fiction, check out the UNC-Asheville Archives: http://toto.lib.unca.edu/findingaids/mss/southern_appalachian_writers/maddux_rachael/maddux_rachel.htm
With great fiction, a book column, cartoon, and attractive design, this serves as a model issue of F&SF, easily recognized by readers today.
For the past six or seven months, we've been doing a #TBT (Throw Back Thursday) feature on the F&SF Twitter account and Facebook page. For the new year, we thought it might be good to add them here where they can be easily found under the "F&SF History" tag.
* * *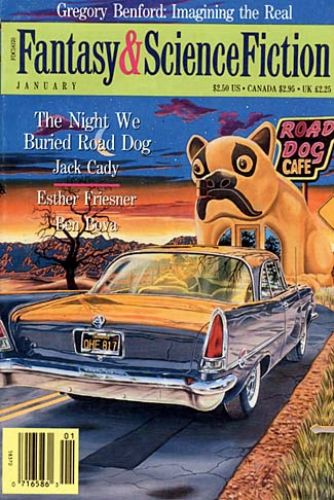 #TBT to the January 1993 issue of F&SF and this Kent Bash cover for "The Night We Buried Road Dog" by Jack Cady.
"The Night We Buried Road Dog" won the Stoker and Nebula awards, and was a finalist for the Hugo and World Fantasy Award. Former editor Kristine Kathryn Rusch, writing an intro to F&SF's 2009 classic reprint of Cady's novella, wrote that she didn't ask for a single revision. She added: "I'm not even sure the manuscript received much copyediting."
Cady's novella filled half the issue, but still left room for stories by Esther Friesner, Ben Bova, Diane Mapes, Nina Kiriki Hoffman, and Marina Fitch. Rusch's editorial marked the occasion of Algis Budrys' last books column for F&SF, which ran from September 1975 to January 1993. The issue also offered a science column by Gregory Benford, book reviews by Orson Scott Card, an F&SF Competition, and cartoons.
Cody's novella alone makes this one of the classic issues of F&SF. With everything else inside, it must have been a pleasure for subscribers to find this one in their mailbox.
For the past six or seven months, we've been doing a #TBT (Throw Back Thursday) feature on the F&SF Twitter account and Facebook page. For the new year, we thought it might be good to add them here where they can be easily found under the "F&SF History" tag.
* * *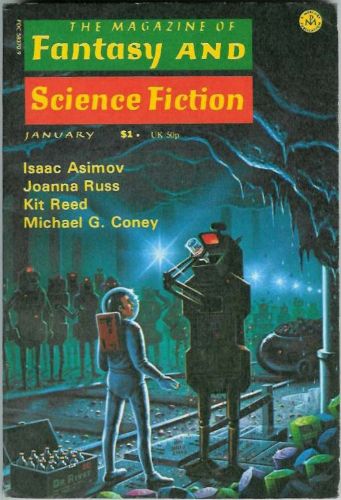 #TBT to the January 1976 issue of F&SF. David Hardy's cover illustrates "Doctor Rivet and Supercon Sal" by Gary K. Wolf. This issue contains science fiction, mystery, horror, and humor, and a couple stories ahead of their time.
The issue leads with "My Boat" by Joanna Russ, a story that starts out in a 1950s high school and ends by chasing Cthulhu. Any time you pick up a new Joanna Russ story, you're stunned all over again by just how brilliant and deft she can be. Reading Russ's treatment of the Mythos and the young woman central to her story calls to mind a recent anthology, She Walks In Shadows, a collection of Lovecraft-inspired stories by women edited by Sylvia Moreno Garcia and Paula R. Stiles.
The other stories in the issue show the usual variety. "Friday the Thirteenth" by Isaac Asimov is one of his Black Widowers mysteries, this time involving leap years and attempted assassination. "Horror Movie" by Stuart Dybek is both cinematic and horrific, starting with a room full of blood and ending with a hand full of knife. "Those Good Old Days of Liquid Fuel" by Michael G. Coney is the first of his Peninsula series about a Pacific Northwest spaceport. Coney's story was reprinted in Wolheim's and Saha's sixth annual World's Best SF anthology in 1977. Like a 1950s sci-fi movie, "The Attack of the Giant Baby" by Kit Reed cheerfully delivers everything the title promises and more.
The issue's main story is "Doctor Rivet and Supercon Sal" by Gary K. Wolf, a fun story about two grifters on a space mining colony. Like Russ's story, Wolf's novella feels ahead of its time and in this case could easily be the plot of a Futurama episode. Which is no surprise. Wolf went on to create Roger Rabbit, and has had a huge influence on adult cartoons.
The last story in the issue is "Time is Money" by Haskell Barkin, a comedy about advertising. Barkin was primarily a tv writer, penning episodes for Scooby Doo, The Love Boat, The Jetsons, 1980's Twilight Zone, and Darkwing Duck. The prophetic final line of his story is: "Well, I have seen the future, gentlemen. And it pays."
The columns are also notable in this issue. Algis Budrys's book column describes how bad editing screwed up John Brunner's proto-cyberpunk novel The Shockwave Rider. The novel contained two brothers, Josh and Jake, with different backstories, personalities, and roles. The US editor, seeing similar names, assumed Brunner wanted one character, changed them all to Josh, and published without sending proofs. Budyrs: "The result is a single character who is either a liar, a multiple personality, or a figure of mystery…" It provides an entertaining glimpse into publishing in the 1970s, a cautionary lesson for editors and writers, and an apology to readers. Baird Searles's film column discusses Michael Moorcock's script for the movie version of Edgar Rice Burroughs's novel The Land That Time Forgot. His verdict: one of the great pulp writers of the '70s could not salvage a terrible idea by of one the great pulp writers of the '10s. Isaac Asimov's second appearance in the issue is a science column devoted to lawyer jokes and the ozone layer.
The issue ends with the letters column, where reader and prolific letter writer Cy Chauvin asks "Do sf readers prefer trash?" The answer then, and now, is still "No." But readers do like to be entertained, and this issue does that.
For the past six or seven months, we've been doing a #TBT (Throw Back Thursday) feature on the F&SF Twitter account and Facebook page. For the new year, we thought it might be good to add them here where they can be easily found under the "F&SF History" tag.
* * *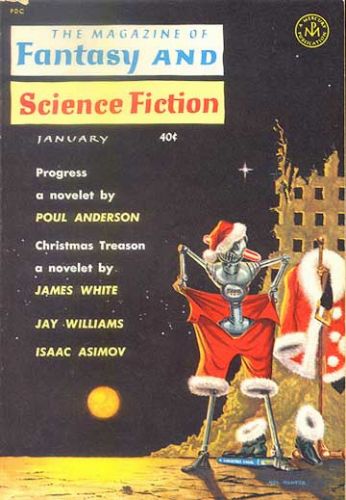 #TBT to the January 1962 issue of F&SF with this holiday lonely robot cover by Mel Hunter. We featured this cover last month as one of the classic Christmas-themed illustrations from F&SF, but the fiction is also worth noting.
The issue leads with "Christmas Treason" by James White, in which a group of children with special powers decide to help Santa Claus. Worried that Santa can't visit everywhere in the world, they hijack the world's ICBMs and replace nuclear payloads with toys. The children with talents in his story feel very much like a group of proto-X-men. (Prof. X and his gifted youngsters first appear in 1963.) White lived in Northern Ireland and was anti-violence, even in his fiction, a theme which shows up in this novelet.
White's story is followed by one of Grendel Briarton's Feghoots, this one about the migration of neo-beatniks to the moon around 1980. As might be expected, the only violence done by Feghoot is to the English language. Dig it or go back to Squaresville!
Then there's "A Time to Keep," Kate Wilhelm's first story for F&SF. There was a Special Kate Wilhelm issue in September 2001. Harrison is an English professor who keeps stepping through doorways to other, distressing places, with escalating effects as he returns. One of his colleagues and his doctor try to help him, but it may be too little too late. Fifty-four years after being published, Wilhelm's story still holds up very well.
It's followed by Jay Williams wry "Interplanetary Sex," which depends more on the mores of the period and seems quaintly dated today.
"The Deer Park" by Maria Russell appears to be her first and only published short story. The editor's intro says nothing about her. Russell's listing in isfdb states that her legal name is/was Mary R. Standard, without giving any source for the information. Our google-fu turned up a Mary R. Standard in NY during this period who commented on social and computer programming issues. The same? The writing in this story is polished and often beautiful, proof of some practice. One wonders where the other stories are and what happened to them.
"Please Stand By" by Ron Goulart, the second of his Max Kearney stories, concerns a man who turns into an elephant on holidays. It has been translated into numerous languages and reprinted at least a dozen times.
"Prelude to a Long Walk" is a short-short by Nils T. Peterson, one of three stories he published in F&SF in the early 1960s. The story begins (after an epigraphical quote): "He sat on his hill and watched the cities join one another. At first they touched gently like young lovers."
The issue ends with a second novelet, "Progress" by Poul Anderson, the second of his Sky People, or Maurai, adventures.
Add in a science column by Isaac Asimov and book reviews by Alfred Bester, and a poem by James Spencer on the last page that ends:
"And in the quiet of the night
We look out the window and watch
The planets circling like wolves."
…and you have another issue well worth 40 cents, even considering inflation. F&SF won the Hugo for Best Professional Magazine in 1963 for the stories it published in 1962.
For the past six or seven months, we've been doing a #TBT (Throw Back Thursday) feature on the F&SF Twitter account and Facebook page. For the new year, we thought it might be good to add them here where they can be easily found under the "F&SF History" tag.
* * *
#TBT sixty years to the January 1956 issue of F&SF and this cover by Solovioff. It doesn't illustrate a story in the issue and we'll be honest, we don't have any idea what's going on in this picture.
Nicholas Solovioff was a Harvard educated artist whose range of work spanned magazines, technical illustration, and the military. He taught at Parsons, was Artist in Residence for the New York Port Authority, and served in Vietnam as a USMC combat artist. (We wrote about Solovioff a little bit before back in July of last year when we covered the July 1955 issue of F&SF.) He did a number of covers for F&SF in the 1950s and was known for them.
The issue opens with "The Cosmic Charge Account" by C. M. Kornbluth, a satire about publishing and Functional Epistemology. The novelet shows Kornbluth's mastery of pacing, humor, and big ideas. Kornbluth was only 34 when he died of a heart attack in 1958, on his way to the F&SF offices to become the next editor.
The issue also includes "What Goes Up…" by Arthur C. Clarke, in the Tales From the White Hart series and "On the Hills and Everywhere" by Manly Wade Wellman from his John the Balladeer series, plus short stories by Robert Abernathy, P. Schuyler Miller, Theodore Cogswell, and Paul Carter.
The issue closes with the other outstanding story in the issue, the semi-autobiographical "Mr. Sakrison's Halt" by Mildred Clingerman. Clingerman's story is a bittersweet fantasy about an old woman and a girl, outsiders stuck in a small town during Jim Crow. F&SF's editor, Anthony Boucher, called it "as fresh and clear a draft of imagination as even she as yet offered us." He included the story in The Best from Fantasy and Science Fiction: Sixth Series, which was reprinted several times over the next decade. Boucher dedicated the seventh volume in the Best From series to Clingerman, calling her "the most serendipitous of discoveries." Clingerman lived in Arizona where she was a founder of the Tuscon Writers' Club and taught at the University of Arizona.
The issue also includes "The Jet Propelled Couch," a psychological essay/story by Dr. Robert Lindner, who wrote Rebel Without A Cause (1944). The lengthy essay is a factual account of an atomic scientist who believed himself capable of travel to other dimensions of space and time and the therapist who eventually comes to believe him also. A fascinating account of sex, science fiction, and the suspension of disbelief. A reader on Twitter pointed out that Carl Sagan discusses this account in his book, The Demon-Haunted World.
Throw in a poem by Winona McClintic and a book review column by Anthony Boucher, and the 128 pages feel packed. A good start to a new year.