Our weekly #TBT Throwback Thursday feature usually focuses on a specific issue of the magazine, but we're headed into a summer holiday weekend that usually includes some of the newest movie blockbusters, so this week we're bringing you a special edition…
The Top 10 stories from F&SF that were turned into TV shows or movies.
10. "The Dark Tower" (2017)
We'll start with this one because the movie hasn't been completed yet. Here's a first glimpse of Idris Elba as The Gunslinger, Roland Deschain. Scheduled for release in February 2017.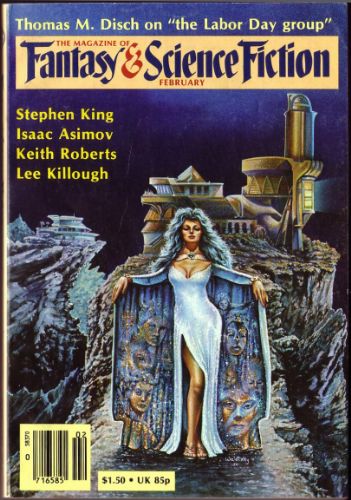 Based on: A series of stories by Stephen King that appeared in F&SF between 1978 and 1981, which were published in book form as The Gunslinger in 1982.
"The Gunslinger" (F&SF, October 1978)
"The Way Station" (F&SF, April 1980)
"The Oracle and the Mountains" (F&SF, February 1981)
"The Slow Mutants" (F&SF, July 1981)
"The Gunslinger and the Dark Man" (F&SF, November 1981)
If you haven't seen Wall-E yet, you should drop whatever you're doing and go see it right away because it's freaking awesome. Tor art director Irene Gallo agrees, and points out some interesting parallels between the robot design in the movie and the iconic covers Mel Hunter did for F&SF.