IMPORTANT NOTICE: The electronic submissions form for Fantasy & Science Fiction will be closed temporarily from 12:01 A.M., Pacific Time, U.S.A., on Tuesday, July 18, 2017, until 11:59 P.M., Pacific Time, U.S.A., on Friday, August 11, 2017.
F&SF's editor, C.C. Finlay, will be teaching the final two weeks at the Clarion Writers Workshop at the University of California, San Diego, this year and won't be available to keep up with new submissions.
Because of the temporary closing there is currently no waiting period between submissions.
Paper submissions via the postal service will still be open, but since there won't be anyone in the office to answer them, it'll be faster to wait for the online form to reopen.
When it comes to paper submissions vs. electronic submissions, our editor strongly prefers for writers to use the online form whenever possible. The online system is free to use and it means that you don't need to worry about the cost of postage or stamps. In addition, using the online form will give you a tracking number, so you can follow the progress of your story through our system. On our end, it lets us keep all correspondence about a story in one place while putting the submission on our to-do list every day until we reply. Electronic submissions take about a quarter of the time to handle administratively, giving us more time to read the stories and pay attention to the writing. And the first thing we have to do when we buy something sent by snail mail is contact the writer and ask them to send us an electronic file! Our current median response time for online submissions is about 4 days, so the turnaround is also usually going to be faster for online submissions.
A reminder that our online submission form is available at: https://ccfinlay.moksha.io/publication/fsf
Today's Featured Article on Wikipedia is The Magazine of Fantasy & Science Fiction. Almost 68 years of great and groundbreaking stories.
Weightless Books is celebrating by running a one-day subscription special. 50% off the current issue and 25% off any subscription. But you'll need to act fast!
To take advantage of the Weightless promotion: https://weightlessbooks.com/updates/wikipedia-1-day-fsf-special/
To read the full article on the magazine's history and highlights, visit Wikipedia at: https://en.wikipedia.org/wiki/The_Magazine_of_Fantasy_%26_Science_Fiction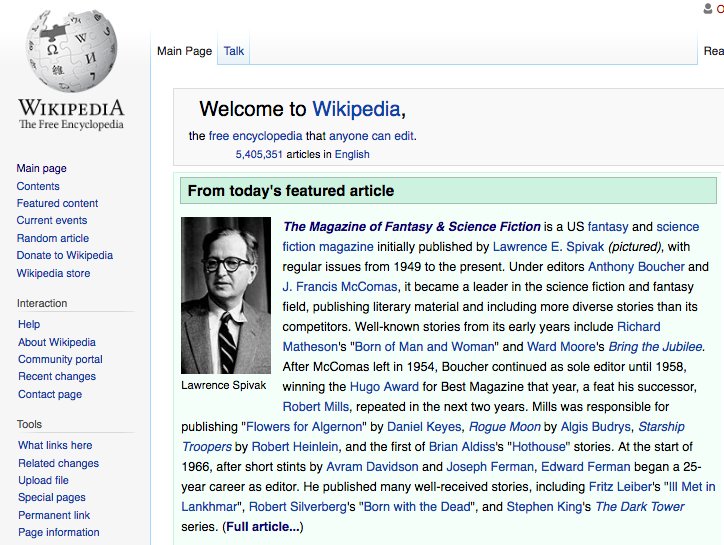 The September/October issue of The Magazine of Fantasy and Science Fiction is now on sale! The magazine can be found in most Barnes & Noble stores, as well as many local independent booksellers. You can order a single copy from our website or buy an electronic edition from Amazon or AmazonUK. Or just subscribe now and never miss another issue.
Not sure if you want to subscribe? For a very limited time, Amazon is offering a $5/£5 annual Kindle subscription to residents of the US and UK. That's just $5/£5 for six issues, more than 450,000 words of fiction, plus columns, cartoons, and more. Check it out: Amazon US | AmazonUK.
This is the 727th issue of Fantasy & Science Fiction and the 67th anniversary issue of the magazine, which debuted in October 1949. And we think it's special. David A. Hardy created this cover for the David Gerrold Special Issue. To see more of his work, visit his website at http://www.astroart.org/.
YES, THAT'S RIGHT,
A DAVID GERROLD SPECIAL ISSUE
David Gerrold hasn't just had one remarkable career in science fiction, he's had four or five. His first professional sale was "The Trouble with Tribbles" to Star Trek: The Original Series, which also won him his very first Hugo nomination. He went on to write other episodes for that series, plus the Animated Series, as well as novel tie-ins (including Encounter at Farpoint) and three non-fiction books about the show. His other television work included writing for Tales from the Darkside, The Twilight Zone, Babylon 5, Sliders, and Land of the Lost, where he created the Sleestaks.
At the same time, he was building a career as a classic science fiction writer of ideas, whose early novels included The Man Who Folded Himself and When HARLIE Was One (1972), another Hugo and Nebula finalist, and one of the first works anywhere to describe the idea of a computer virus.
He followed that up with a career writing science fiction adventure series, including both The War Against The Chtorr and Star Wolf books among others.
And throughout the decades, Gerrold was writing short fiction, which, in the early 1990s, took a personal turn that elevated his work to a whole new level. When "The Martian Child," a story about a single gay father raising a young boy who believes he's an alien, was published in F&SF in 1994, it won the Hugo, Nebula, Locus, and HOMer Awards, and later was made into a feature motion picture. It was the first of many much more personal stories that have redefined his career again over the past twenty years.
Gerrold has also long been both a behind-the-scenes and vocal advocate for more LGBTQ representation in science fiction, particularly in the Star Trek universe, a goal that was finally realized this summer with the release of Star Trek Beyond.
Few writers with this kind of range are this prolific. Few writers as prolific as David Gerrold have his kind of range. That's why we are proud to present this David Gerrold Special Issue, our first special author issue in almost a decade. It includes two very different new novellas — "The Further Adventures of Mr. Costello" and "The Dunsmuir Horror" — plus an appreciation essay by former F&SF editor Kristine Kathryn Rusch and a brief autobiography by Gerrold titled "My Life in Science Fiction."
MORE GREAT FICTION
But this is a double-sized issue so it includes a double-sized amount of great stories, starting with "Talking to Dead People," a moving new story about murder, loss, and artificial intelligence by Nebula and Sturgeon award-winning author Sarah Pinsker. Lisa Mason explores the future of interactive television in "Anything for You." And we bring you an alternate history novelet by Geoff Ryman; "Those Shadows Laugh" revisits the premise of Charlotte Perkins Gilman's novel Herland, and considers how it might look in the modern world.
On the fantasy side, we offer "The Green-Eyed Boy" by Peter S. Beagle, a new tale about a very familiar wizard set in the world of The Last Unicorn. We also offer "The Sweet Warm Earth" by Steven Popkes, a more contemporary fantasy set in the world of horse racing and gangsters.
Three other writers make their F&SF debut in this issue. Desirina Boskovich gives us a horror-tinged science fiction story, "The Voice in the Cornfield, the Word Made Flesh." Ian Creasey invokes the spirits of Boswell and Johnson in a historical ghost story, "A Melancholy Apparition." And Leah Cypess takes a hard look at how science might help solve — or not — the problems of marriage in "Cupid's Compass."
We also have a new poem, "The Dragon" by Aimee Ogden, who is making her first appearance in F&SF, plus all the regular columns and features.
OH YES, THE COLUMNS AND FEATURES
Charles de Lint reviews new books by Seanan McGuire, Michael L. Peters, and others. Michelle West reviews books by Lawrence M. Schoen, Patricia A. Mckillop, and Joe Hill. In the film column, Kathi Maio highly recommends the new science fiction film "The Lobster." And for our Curiosities column, Robert Eldridge considers The Adventures of Hatim Tai a Persian novel first translated into English in 1830. Plus cartoons by Arthur Masear, Danny Shanahan, and S. Harris.
LET US KNOW WHAT YOU THINK
After you read the issue, or even part of it, we hope you'll share your thoughts with us. We can be found on:
In the meantime… enjoy!
C.C. Finlay, Editor
Fantasy & Science Fiction
fandsf.com | @fandsf
Electronic submissions for F&SF will be temporarily closed from 11:59pm PST on Friday, May 27, through midnight PST, on Monday, July 4 — basically from Memorial Day weekend through the July 4 holiday — so that editor C.C. Finlay can catch up on reading submissions and other editorial work. Electronic submissions will re-open on Tuesday, July 5, 2016. The website for electronic submissions is: http://submissions.ccfinlay.com/fsf/
Postal submissions will still be accepted during this period, but replies may take longer than normal. Guidelines for submitting by mail may be found at: https://www.sfsite.com/fsf/glines.htm. Electronic submissions are still strongly preferred.
Thank you for your understanding and we look forward to reading your stories.
The May/June issue of The Magazine of Fantasy and Science Fiction is now on sale! You can order a single copy from our website or buy an electronic edition from Amazon or AmazonUK. Or just subscribe now and never miss another issue!
This is the 725th issue of Fantasy & Science Fiction.
Max Bertolini's cover illustrates "The Stone War" by Ted Kosmatka. Bertolini is a multi-talented artist who did the chocolate bunny cover for our September 2005 issue that featured Kelly Link's "Magic For Beginners." His first cover for us illustrated our June 2004 issue, twelve years ago, and this issue marks his 12th cover for the magazine. Bertolini lives in Italy, but his work has appeared in comics and on covers of books and magazines around the world. You can find out more and see examples of his work at maxbertolini.com.
"THE STONE WAR" BY TED KOSMATKA
For the past few years, Ted Kosmatka has been busy writing video games and working on novels. His quantum physics driven thriller, The Flicker Men, was published last year to wide acclaim. With this new novelet for F&SF, Kosmatka shows his versatility, using the fantasy setting to explore some big thematic issues. It's unlike anything we've read in quite some time.
MORE GREAT FICTION
This issue contains several other fantasy stories. Canadian author Charlotte Ashley debuted in F&SF last year with "La Héron," a Dumas-inspired tale about dueling and broken vows that is currently a finalist for the Prix Aurora award. Ashley returns this month with "More Heat Than Light," a new adventure set in a parallel world where the French Revolution comes to Quebec and revolutionaries take up arms against the English in the monster-ridden wilderness. In "Steamboat Gothic," Albert E. Cowdrey returns to the fictional suburbs of St. Genevieve Parish, Louisana, previously visited with "The Private Eye" in our August 2009 issue. And "Ash" by Susan Palwick is a look at tiny houses, and the things we make room for in our lives and why.
Our science fiction this month includes "Last of the Sharkspeakers," a novelet by Brian Trent that we can't say too much about without spoiling some of the surprises. "The Nostalgia Calculator" by Rich Larson is wry science fiction satire by one of the field's most energetic new young talents. "The Great Silence" was written by Ted Chiang for a video installation by artists Allora & Calzadilla at Philadelphia's Fabric Workshop and Museum. We're reprinting the text here for our readers who haven't had the chance to read it. "Caribou: Documentary Fragments" by Joseph Tomaras is a look at biological behavioral controls – how they might work and how they might go wrong.
On the horror side, we offer "The Secret Mirror of Moriyama House" by Yukimi Ogawa, a multi-lingual writer living in Toyko who has published a small handful of outstanding stories over the past few years. This is her first appearance in F&SF.
This month's novella, "Coyote Song" by Pat MacEwen, brings you a story at the intersection of horror, fantasy, science, and police procedurals. Regular readers of the magazine know Pat MacEwen for her fiction, most recently "The Lightness of the Movement" (March/April, 2014), which was a Tiptree Award finalist, but her work outside these pages is just as interesting. It includes a decade as a Crime Scene Investigator, war crimes investigations for the International Criminal Tribunal, and her current position as a consultant on archaeological matters involving human remains. Her new novella combines forensics with three traditions of magic – Cambodian, Native American, and Voudoun. We think it will surprise you.
READ "THE LONG FALL UP" FOR FREE
Every issue features one story that we also offer for download online, via our free electronic digest for Kindle. (The UK version is available here.) This month's free story — which you can also find in the print edition — is "The Long Fall Up" by William Ledbetter.
"The Long Fall Up" is a classic science fiction story that explores how humanity will bring forth new generations in microgravity? And what happens when the people who control access to gravity control reproductive rights? William Ledbetter has worked for almost thirty years in the aerospace industry, where he has designed aircraft components, and helped design rockets and parts of the International Space Station. Now he turns that expertise to fiction, and brings us a story about the ways people adapt technology to choose their own destinies.
Even if you don't subscribe to the magazine – and why don't you? – you can click on this link and read Ledbetter's story and all the columns in the issue for free.
OH YES, THE COLUMNS
Charles de Lint reviews the Bookburners serials by Max Gladstone, Margaret Dunlap, Mur Lafferty, and Brian Francis Slattery, Nebula Awards Showcase 2015, edited by Greg Bear, the Never Never trilogy by Colleen Hoover and Tarryn Fisher, a pair of genre-themed art books by Design Studio Press, and Here's To My Sweet Satan by George Case. Elizabeth Hand reviews Interior Darkness: Selected Stories by Peter Straub, Good Girls by Glen Hirshberg, and The Ballad of Black Tom by Victor LaValle. David J. Skal reviews the first season of Amazon's television series "The Man In The High Castle" based on the novel by Philip K. Dick. We share the winners from our F&SF Competition #91. And for our Curiosities column, Paul Di Filippo reads Twilight Stories by Rhonda Broughton, an 1872 collection of fantastic stories by one of the forgotten early masters of the genre.
LET US KNOW WHAT YOU THINK
After you read the issue, or even part of it, we hope you'll share your thoughts with us. We can be found on:
In the meantime… enjoy!
C.C. Finlay
Editor
Fantasy & Science Fiction